Last Updated on February 11, 2023 by Leepu Da Maxim
When Toyota announced the fifth generation Toyota supra, every supra enthusiast expected it to have a 3JZ engine that would be Toyota-built and legendary just like the 2JZ edition. However, Toyota decided to outsource an inline-six engine from BMW to cut the cost of the car. 
Key Takeaways
The 3JZ engine was developed after the production of the Toyota Supra had ended and it is the main reason Toyota doesn't build the 3JZ engine for the Supra model
The Toyota Supra was last produced in 2002 while the 3JZ engine was first produced in 2007
Toyota produced the 3JZ engine for the Toyota Crown and this engine was specially designed for the luxury vehicles
The main object of Toyota to introduce the 3JZ engine was to ensure a smooth and comfortable ride
History Of The JZ Engine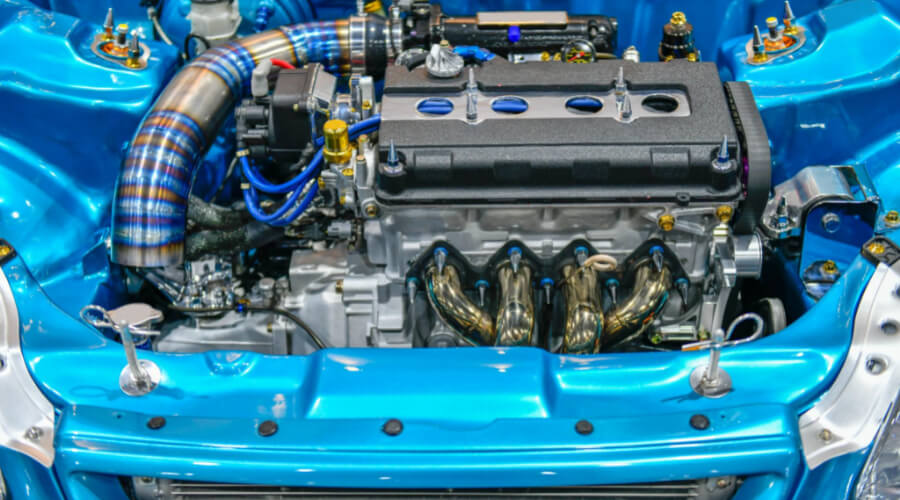 The Japanese automaker Toyota has a family of JZ engines that are a series of the inline-six engine with great performance potential. The JZ engine replaced M-series inline-six engines and came with two options: 2.5 and 3.0-liter.
The JZ engine has two engine options:1JZ, the 2.5-liter engine, and 2JZ, which is 3.0 liter. Both engine options have three categories that we shall look at in detail.
1. 1JZ
The Toyota 1JZ engine came in three variants: 1JZ-GE,1JZ-GTE, and 1JZ-FSE.  The IJZ version was produced from 1990 to 2007 and was last sold in the mark II and crown athlete. It was a 24-valve engine featuring two belt-driven camshafts. The JZ engine family has codes that make it easier to differentiate between them. "G" stands for a dual overhead cam setup that is performance-oriented, "T" is for turbocharged, and "E" stands for Electronically fuel injected. Let's look at the three variants and see what they are capable of:
2. 1JZ-GE
This engine is designed for rear-wheel-drive and longitudinal mounting; the 2.5-liter 1JZ uses square bore dimensions and a 10:1 compression ratio. All the models with this engine came with a 4-speed automatic transmission as the standard. The output for this engine was 125kW at 6000 rpm, but in 1995, VVTI was added for an output of 147Kw at 6000 rpm.
3. 1JZ-GTE
The first generation of the 1JZ-GTEs brought together the revving ability of its short stroke and the smoothness of an inline -cylinder. These engines were more prone to turbo failure due to a faulty intake valve which caused blow-by gases to get into the intake manifold. Toyota recalled these engines to repair the issue, and the second generation had this issue fixed. In 1996, Toyota introduced the third generation of the 1JZ-GTE engine, a 2.5-liter turbo with Toyota's BEAMS architecture. It had a (VVT-i) variable valve timing mechanism, a reworked head, and modified water jackets that offered better cylinder cooling. It also had a single turbo as opposed to a parallel twin turbo. 
The single turbo was more efficient thanks to a smaller exhaust which allowed escaping gases to have higher velocity, thus spooling the turbo faster at a lower RPM. The improvements in the engine reduced fuel consumption by 10% and increased engine efficiency. The IJZ-GTE was the engine used in Toyota Supra MK III.
4. 1JZ-FSE
The 1JZ-FSE was the least recognized variation and was only used in a few models like the Mark II, Brevis, Progress, and Verossa. This variation aims to achieve no loss performance, minimal fuel consumption, and emissions.
2. 2JZ
The 2jz shares a common bore pitch bore size and architecture with the 1JZ, but it has long connected rods and a taller block deck. This engine has 2,997cc and has been produced since 1991. This engine also had three variations
1. 2JZ-GE
The 2JZ-GE is common and used in various models, including Toyota Supra. It has an aluminum head, cast iron cylinder block, and 4 valves per cylinder. This version uses sequential electronic fuel injection and uses one coil to fire two cylinders
2. 2JZ-GTE
This variation is an inline-six engine with an aluminum head with a belt-driven camshaft cast-iron block. It is air-intercooler and twin-turbocharged and was produced in Japan between 1991 and 2002. The 2JZ-GTE came with a 6-speed manual and 4-speed automatic transmission gearbox. It was initially used in Toyota Aristo and later in the Toyota Supra RZ. The only notable difference between this engine and the 2JZ-GE is its air-to-air side-mounted intercooler, which uses sequential twin turbochargers.
3. 2JZ-FSE
This engine uses the same direct injection principle as the 1JZ-FSE but is 3 liters and has a higher compression ratio. This engine is always used with an automatic transmission gearbox.
As you can tell from the history and evolution of the JZ engine, it has been legendary, and it keeps getting better with each generation. Toyota gave their all to making the JZ engines great durability regardless of the condition and enviable power outputs. If Toyota made a 3JZ engine, it would be phenomenal, and that's why fans were disappointed to learn that the engine was outsourced from Germany's BMW.
However, this new engine is not all doom; it is also well-thought-out and gives off an excellent performance. Let's have a look at the engine of the 2020 supra and other specs to establish its durability and performance.
2020 Toyota Supra Specifications 
| | |
| --- | --- |
| Engine  | 3.0-liter 6cylinder turbo |
| Horsepower  | 335@5000 |
| Fuel  | Unleaded premium |
| transmission | 8-speed automatic transmission |
| Standard MPG | 24/31 |
| Drivetrain | RWD |
| Cylinder configuration | Inline |
| Engine type | Turbo gas |
The 2020 Supra model comes with an eight-speed automatic transmission and a rear-wheel drive. The car has an impressive acceleration of 0-60 mph in 3.8 seconds, beating even speed giants such as the chevy corvette. The BMW B58 engine ranks among the best engines in the market today, and Toyota made adjustments to ensure this engine works as excellently as a 3JZ engine would. Toyota was not only looking to cut the cost of the supra model, but they also wanted to ensure they got great performance and durability from the engine they ended up with, and that's why they chose BMW.
Final Word
Toyota would have made a 3JZ engine to please their fans who had awaited the return of Toyota supra. However, building a new engine would have been costly, thus increasing the price of Toyota supra, and also it didn't make sense since they would only use the engine for only one vehicle model. Toyota decided to outsource the engine from BMW to save on cost and get the best in the market. Maybe in the future, Toyota will make a 3JZ engine when they have enough models that require it.
The BMW B58 engine used in the 2020 Toyota supra is just as good and reliable as the JZ engines, and those who have driven the vehicle love it. It also has great tuning potential making the vehicle as popular as the preceding models. We hope this article has answered all your questions regarding the 3JZ engine and the BMW sourced engine on the 2020 supra.