Last Updated on February 4, 2023 by Leepu Da Maxim
Anker car charger is very popular for its various features and affordable prices. Anker car chargers offer a variety of options with different power outputs, USB ports, etc. Some key features of Anker car chargers are compact size, fast charging speeds, and durable construction, etc.
Key Takeaways
The Anker 24W car charger has duel ports, so you can charge two devices simultaneously
This car charger has a 24W total power output, so every port will deliver 12W of power
The PowerIQ technology of the Anker car charger can detect the optimal charging current for devices and ensure fast charging
Some important safety features of this product are over-voltage protection, temperature control, etc.
The Anker 24W car charger is the USB-type powerhouse you should own, but you don't know that yet. It's an ultra-compact item that saves you up to one hour of charging. Who doesn't want that, especially in these fast-paced times?
What Is The Anker Car Charger Review?
This is:
1. A car adapter charger with two USB A ports and basic power technology.
2. It uses your car battery to provide fast charging.
3. Also, it has a unique blue LED light to show that the charger is ready for use.  
Are There Any Different Variations?
You can get this car charger in these color variations:
1. Black
2. Silver
3. Red
Other than color, there are no different types of this charger. But, Anker provides this Anker Car Charger, 36W Metal Dual USB Car Phone Charger Adapter, PowerDrive III 2-Port 36W Alloy for.... 
Who Is The Anker Car Charger For?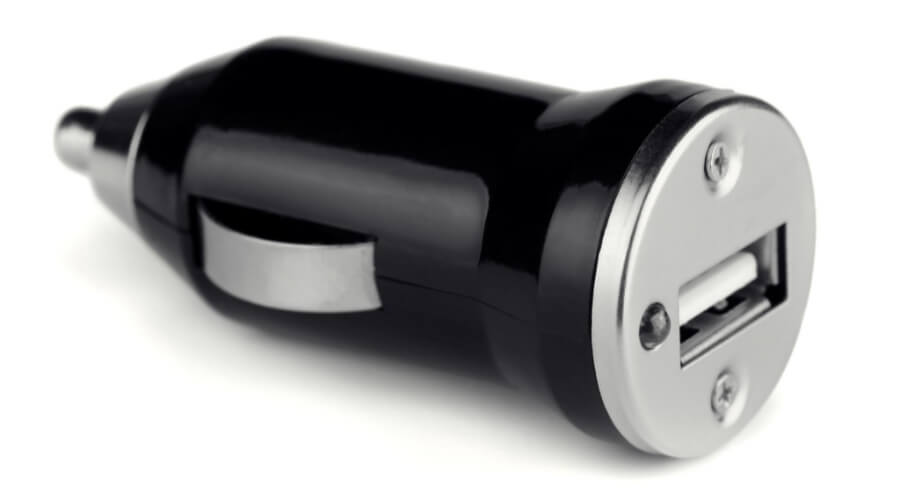 This charger is for you and all other drivers, especially those who carry their phones around. When your battery is running low, the charger will step in before you get home.
But, this charger will serve best all Uber and Lyft people. If you drive a taxi, you may not get have time to go home and recharge your phone. But with this Anker product, you can give life to your phone wherever you are.
How Much Does The Anker Car Charger Cost?
Here's a little table showing the Anker car charger costs:
| | |
| --- | --- |
| Variation | Cost |
| Black | $11.99 |
| Silver | $12.99 |
| Red | $12.99 |
| Used – Like New | $9.99 |
Compared to other brands, Anker gives you the best prices. So, check your budget and pick your option from the table.
What Are Its Specifications?
These are the technical details of the product:
| | |
| --- | --- |
| Product Dimensions | 0.98 by 0.98 by 1.73 inches |
| Item Weight | 0.635 ounces |
| Special Technology | PowerDrive 2 |
| Exterior | Aluminum Alloy |
| Special Spec. | Premium Gold-Plated Coils |
What Are Its Features?
Now, here's what you'll enjoy when you buy this product:
1. Double-Duty Charger
This item has twin USB-A ports pumping out 24 W. It provides full-speed charging for any two phones at once. But, it's only some phones that will charge fast. Others won't respond to the Qualcomm Quick Charge.
2. Ultra-Compactness
This charger bears a super-small design. The compactness saves you space on the dashboard. So, your hands won't clash with the charger.
Note: The charger's head has the same width as a quarter!
3. Heavy Exterior Metal
Anker finishes this metallic charger with a special aluminum alloy. It's scratch-resistant, meaning that it'll make your interior look sharper.
4. Premium Components
The charger includes premium gold-plated coils. These reduce heat while maximizing charging efficiency and speed.
5. Special Anker's MultiProtect Technology
Anker uses its exclusive safety feature on this item. That way, you and your devices are completely protected.
From Anker, here is a fantastic video showing the features. You'll like it.
Compatibility
Here's a snapshot showing the phone brands compatible with the Anker car charger:
And here's another:
Besides the snapshots, the charger will work if your phone supports USB A.
How To Use The Anker Car Charger
Installing this charger is as easy as falling off a tree. Follow these steps:
1. Plug it into the Cigarette Lighter
Use the ridged ends and push the item into the power source.
2. Insert the USB Cable
Push the USB end into the product.
3. Insert the Charger
Then, plug the USB A port into your phone. Next, check your phone to see if it responds to the power source.
Pros
1. Easy to install
2. Flush-fit
3. Superior safety
4. Heavy metal exterior
5. Ultra-compact size and design
Cons
1. It may not work on all car cigarette lighters
Customer Questions & Answers
1. If I plug in 1 phone, will the charger supply 24 W to one phone? Or will it give only 12 W per port?
For each port, you get 12 W 5V/2.4 A max, not 24 W to each phone. 
2. Does the Fast-Charge Feature Work on Samsung Phone?
No, it doesn't.
3. Does it give over 2.4 A?
Per-port, yes.
What Buyers Say About This Product
From the review section, this Anker product gets pleasant words. It's a quality item that sits flush during charging. Also, its tiny LED light doesn't distract you, thus improving your focus on the road.
Buyers have also complimented Anker's customer service. If you buy the item and wish to replace it, the people at Anker will make it snappy.
The only notable complaint is that the charger can fry old car batteries. So, consider changing to a new one before adding this item to your cart. 
Final Thoughts
Anker is years ahead of its competitors, thanks to two things:
1. It sells one of the best car chargers .
2. It has heavily invested in customer satisfaction.
With the PowerPort2 Alloy, you get a small charger for long journeys. As you travel, you'll plug in and out to enjoy the little powerhouse.
Your only regret will be not buying it sooner. So, don't delay anymore. Instead, click here and add the item to your car.
Among other accessories, car chargers are a must-have. If you travel long distances, I'm sure you'd want your phone on all the time. Anker puts that power in your hands. 
If you enjoyed reading, I'm sure you'll love these other car accessories:
Baby car seats:
1. Graco SnugRide 35 Versus 35 LX
2. GRACO Grows4Me 4-in-1 Car Seat
Don't forget to share and comment below.
Thanks much!
References:
https://www.amazon.com/product-reviews/B00VH84L5E