Last Updated on December 24, 2022 by Leepu Da Maxim
Yes, you can install a lift kit on the Ford Flex. It is easy to install a lift kit and other advanced suspension enhancements on Ford Flex. If you need your Ford to overcome muddy and bumpy terrains, a lift kit is all you need.
Key Takeaways
The Ford Flex is a mid-size SUV with enough room for luggage and passengers, easy-to-navigate information, and an entertainment system
Increasing the height of the Ford Flex will absorb ground shocks and you can easily drive the bumpy roads without scraping the underbody of your vehicle
The ground clearance of a Ford Flex depends on the specific model and trim level but usually, it ranges between 5.9 inches to 7.0 inches
You will need tools like a hydraulic jack, jack stands, torque wrench, drill, drill bits, etc. to install the lift kit on the Ford Flex
Ground Clearance of Various Ford Flex Models
| | |
| --- | --- |
| Model Name | Ground Clearance |
| Ford Flex SE | 6.9 inches (175 mm) |
| Ford Flex SEL | 7.0 inches (178 mm) |
| Ford Flex Limited | 7.0 inches (178 mm) |
| Ford Flex Titanium | 7.0 inches (178 mm) |
| 2009-2012 Ford Flex | 6.3 inches (160 mm) |
| 2013-2018 Ford Flex | 6.3 inches (160 mm) |
| 2019-2021 Ford Flex | 6.2 inches (158 mm) |
How to Install Ford Flex Lift Kit On Ford Flex?
Installing a lift kit on a Ford Flex is a complex and time-consuming process but you can follow the below steps to do it by yourself. Now follow the below steps –
First, you have to ensure you have all the required tools for this process like a torque wrench, spring compressor, lift kit, drill, jack stands, various sockets, and wrenches
Now take your Ford Flex on a flat, stable surface and then engage the parking brake
Next access the suspension by removing the tires and other equipment
Then, use a spring compressor to remove the old springs and install the new ones
You must ensure that the springs are properly seated and aligned, then tighten the bolts using a torque wrench
After that remove the old shock absorbers and install the new ones according to the manufacturer's recommended torque specification
Once you install the new springs and shock absorbers, the next and final step is to reassemble the vehicle
Improving Ford Flex Ground Clearance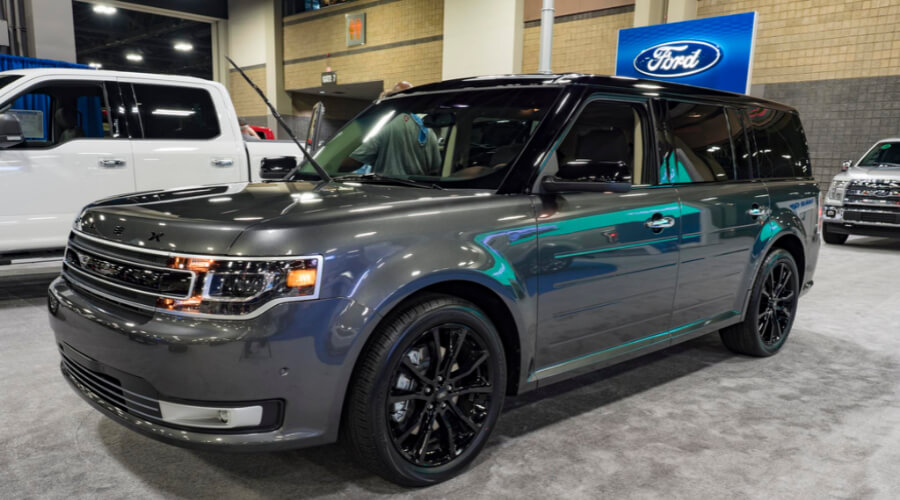 This car brand was produced between 2009 and 2019 and manufactured as a multi-purpose vehicle (MVP). However, the company later transformed it into a wagon to meet the client's needs—this brand's trims: SE, SEL, and Limited all ride at the height of 5.9 inches. 
The average ground clearance lies between 4 and 6 inches for most cars sold in the same market section. Nevertheless, this is not too high, especially if you come from an area that receives heavy snow. 
You also need to avoid hitting any gravel trucks. The least ground clearance for this typically lies between 6.6 and 8.7 inches. This also applies to over-landing, where ground clearance should be between 8.8 and 9.4 inches. 
If you wish to drive on harsh terrain, you should get a vehicle with the proper ground clearance and more space between the ground and its underbelly. Without this, the car can damage its underbelly when moving over obstacles.
Comparison Between Ford Flex Ground Clearance To Its Competitors
Ford Flex had several competitors in the market during its existence. Its main competitors included; Honda Pilot, Buick Enclave, Toyota Highlander, GMC Acadia, Chevrolet Traverse, Lincoln MKT, Dodge Nitro, Cadillac SRX, Honda Crosstour, Mitsubishi Endeavor, Infiniti QX60, Nissan Pathfinder, Toyota Venza. 
The Table Below Shows Flex's Ground Clearance Against The Other Competitors:
| | |
| --- | --- |
| Vehicle | Ground Clearance in Inches |
| Ford Flex | 5.9 |
| Lincoln MKT | 5.9 |
| Honda Crosstour | 6.2 |
| Infiniti QX60 | 6.5 |
| Nissan Pathfinder | 7.0 |
| Cadillac SRX | 7.0 |
| GMC Acadia | 7.0-7.2 |
| Honda Pilot | 7.0-7.3 |
| Toyota Venza | 7.7 |
| Buick Enclave | 7.7 |
| Toyota Highlander | 8.0 |
| Chevrolet Traverse | 8.0 |
| Dodge Nitro | 8.1 |
| Mitsubishi Endeavor | 8.3 |
Lincoln MKT matches with Ford Flex on ground clearance. The other listed cars have more ground clearance. Such include Infiniti GX60 at 6.5 inches, Honda Crosstour at 6.2 inches, Cadillac SRX, and Nissan Pathfinder at 7.0 inches. From here, there is a significant increase in ride height in other types as well. The GMC Acadia has a ground clearance of 7.2 inches, Honda Pilot at 7.3 inches, Toyota Venza, and Buick Enclave at 7.7 inches. 
In this market segment, Chevrolet Traverse, Toyota Highlander, Mitsubishi Endeavor, and Dodge Nitro cross the line to reach 8.0 inches mark to provide a good amount of ground clearance.
What Activities Can I Enjoy While Riding Ford Flex with Increased Ground Clearance?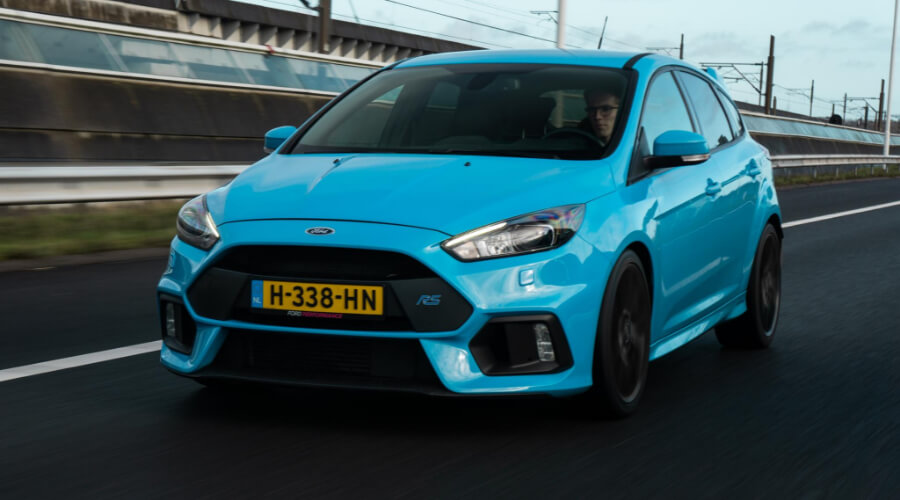 The Ford Flex is not the most comfortable or athletic SUV that you will find. It has a 3.5-liter V6 engine joined with a six-speed automatic transmission; this allows it to produce 287 horsepower. 
Ford also has a twin-turbocharged 3.5 liter V6 EcoBoost engine that produces 365 horsepower in the Limited model. 
There's also a standard all-wheel-drive setup that offers more strength and an improved driving experience. When you drive a Ford Flex, you will do the following activities with ease:
1. Daily Driving
The base model is the best if you need enough power to drive you around the city. However, this model can feel overwhelmed when filled with cargo and passengers. Nonetheless, the Limited model will perform better because of its turbocharged engine. 
Some users have claimed that it is better at acceleration and doesn't feel overworked in demanding situations. It is faster on open roads and reaches high speeds easily. It has an exciting athletic engine and can be worth your money if you want a more abled family hauler.
2. Off-Roading
The Ford Flex doesn't have enough ground clearance to go through an adventurous off-road trip, but its 5.9 inches of ride height enable easy movement on some rough terrains. Therefore, you will have to choose a better model with a higher ride height. Nevertheless, this does not mean that Flex is entirely incapable. 
It is wide lean, and its long body enables it to become responsive and maneuver even in worse situations. It performs better in sharp turns and moves in corners without straining. Its body roll and swaying are maintained at a minimum, and comfort is kept perfect for its class. 
It is a good SUV if you want a vehicle with good handling and redefined nature. It is also your ideal vehicle if you are not much into off-road traveling.
3. Towing
When appropriately equipped, the Ford Flex can tow up to 4,500 pounds. This is quite a significant deal with a mid-size SUV. In addition, Flex does not feel strained or overwhelmed when towing a boat or an open-air trailer so long as the turbocharged engine gives it power.
 Some of its other market rivals offer more towing capacity when compared to Ford Flex. Models produced between 2012 and 2019 may need a class III package installed and a weight-distributing hitch to obtain maximum capacity.
How To Reduce Danger After Installing Lift Kit To A Ford Flex
A lift kit is an added feature that the manufacturer did not intend to use. This means that there are dangers involved whether you choose to do it alone or by a professional mechanic. However, the following tips can help you reduce any risks:
1. Get A Trusted Brand
Do your research to identify the best kit in the market. Go for a kit with the most reviews. Choosing a cheap brand with little or no reputation might make you regret it later. It's good to invest in quality products.
2. Avoid Second-Hand Items
You might decide to buy an already used lift kit, but there are consequences of doing this because you won't know how long they used and how they used it. The user might have overused and caused damages to it. 
Many people who sell used kits may be forced to conceal such information to get their money back.
3. Use An Older Vehicle
It is not advisable to put lift kits on new vehicles because they might cancel the warranty. It would be better if you had an older truck whose warranty has expired. It is appropriate to use the older car while off-roading instead of the newer ones because they will get dirty and scratched in the end.
4. Look For A Professional
If you are not sure how to install the lift kit correctly, look for professionals and allow them to help you install it. Obtaining the services of professionals is the best way to avoid damage. Suppose you haven't done it previously; you might cause an error that will be long-term and expensive to repair.
Importance Of Lift Kits
If lift kits were bad, no one would be using them. If you install them in your car, you will get the following benefits:
1. Improved Visibility: Lift kits raise the height of your car, thus improving your visibility.
2. Improved Traction: Since lift kits will require bigger tires, you will get improved traction when off-roading.
3. More Clearance: An improved clearance will prevent your car from being damaged. Large bushes, rocks, and other debris will not scratch the underbelly of your vehicle.
Reference:
https://www.quora.com/Can-you-put-a-lift-kit-on-a-Ford-Flex-Has-anyone-done-that-Why-dont-more-people-do-that