Last Updated on December 25, 2022 by Leepu Da Maxim
There are some significant differences between Celica GT Vs. Celica GTS. For example, The Celica GT has a 4-cylinder engine, while the Celica GTS has a more powerful 6-cylinder engine. Moreover, The Celica GTS has a sport-tuned suspension and wider tires compared to the Celica GT.
Key Takeaways
The first generation of the Toyota Celica had four initial trim levels: ET (1.4L 4speed), LT, ST (1.6L 5Speed), and GT (1.6L 5peed)
In 1982, Toyota added the Celica GTS model to the North American market with higher peak horsepower (180 hp) and torque (130 lb./ft)
The Celica GTS has independent rear suspension, fender flares, a sporty interior, special seats, and leather-wrapped steering and gear shifter knob which are missing in the Celica GT
The Celica GTS typically had a higher price tag than the GT, due to its additional performance and feature upgrades
Let's Have A Look At The Differences Between A Celica GT And Celica GTS:
| | | |
| --- | --- | --- |
| | Celica GT | Celica GTS |
| Horsepower  | 140 bhp | 180 hp |
| Torque  | 125 lb./ft | 130 lb./ft |
| Engine  | 1ZZ-FE VVT-i engine (variable valve timing with intelligence) | 2ZZ-GE VVTL-I engine (variable valve timing with lift and intelligence) |
| Chassis  | ZZ230 | ZZT231 |
| Fuel type  | Regular gasoline | Premium gasoline |
| Transmission | Four-speed automatic or five-speed manual | Four-speed automatic with sport shift or six-speed manual |
| Brake type | Front disc, rear drum brakes | Front and rear disc brakes |
| Wheels  | Standard 15-inch steel wheel with hubcaps and optional 15-inch alloy rim | Standard 15-inch alloy rim with optional 16-inch alloy rim |
| Tires  | All season tires | Performance tires |
| Entertainment system | Standard 6 speaker JBL system | Standard six-speaker JBL system, optional eight-speaker system, and 6-disc changer |
| Interiors  | Standard cloth interior | Standard cloth interior, optional leather |
| Steering and shifter knob design | Standard steering wheel and shifter | Leather-wrapped steering wheel and shifter |
| Estimated city/highway mileage manual | 24/33 | 27/33 |
| Estimated city/highway mileage automatic  | 25/31 | 29/36 |
| Pedal type  | Regular pedals | Drilled aluminum sports pedals |
| Curb weight in lbs.(manual/automatic) | 2425/2460 | 2500/2580 |
The table above shows that the Celica GT and Celica GTS are pretty similar, with the latter being more powerful and sporty. The models have lots of common features that are standard in both. These include driver and passenger front airbags, slightly tinted glass, and donut spare.
They also had common features that are optional in both models; the optional features include: 
1. ABS (anti-lock braking system) is a safety system that prevents wheels from locking when you use the brakes. The system enables the driver to control the steering, and the vehicle won't skid due to locked-up wheels, thus keeping them safe. In modern cars, this is now standard in all cars
2. Action package or TRD kits that improve the performance and off-road capabilities of the Celica GT/GTS
3. Keyless entry
4. Floormats 
5. Rear spoiler
6. Upgraded JBL stereo system
7. Leather seat surfaces
8. Vehicle intrusion protection Alarm with a door lock and unlock feature
9. Moonroof
10. Cruise control
11. Cargo net
12. Side impact airbags
13. Liftback cargo cover
14. Driver and passenger seat-mounted side airbags
15. Cold area package (starter motor, heavy-duty battery, and rear wiper)
16. High-Intensity discharge headlights
Similarities Between The Celica GT And GTS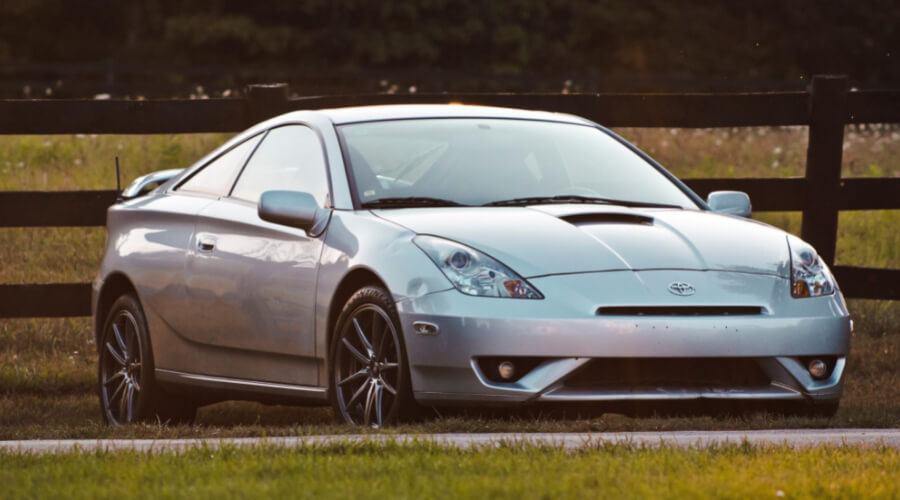 Although these two models had striking differences, they were also similar in ways that cannot be overlooked. Both were offered in the US and Canada, with GT as the base model and GTS as the high-performing model. They were all liftback only.
They both featured dual front airbags, four cupholders (two in front and two in the rear), and daytime running lights with auto-on parking and headlights. The power window and power door lock switches were mounted on the center console to reduce cost. The backseats were contoured for two passengers and could be split 50/50 to increase cargo capacity. 
The front wipers were two speeds and had a variable intermittent adjustment, while the rear wipers had a single speed and fixed intermittent speed. The windshield and rear window washers were also standard.
Why Did Toyota Stop Production Of The Celica GT?
The Celica GT was discontinued due to deteriorating sales. In 2004 July, Toyota announced that they were discontinuing the Celica and MR2 in the United States at the end of the 2005 model year due to a lack of sales. Celica sales were at 52,406 units in 2000, but they dropped sharply to 14,856 in 2003. In 2004, only 8,710 Celica's were sold and only 3,113 in 2005. There was a rapid shrinking in the sports coupe market partly because of the collapse of the "Japanese bubble economy" and the 1997 Asian financial crisis
What Does GT Mean?
GT stands for grand touring or grand tourer. This badge refers to vehicles that are better equipped, higher performing, and specified versions of an existing vehicle. This name comes from the Italian word (Gran Turismo), which refers to a generation of cars that were designed and built for long-distance, high-speed cruising in luxury and comfort and can also step up to be a credible sports car.
GT vehicles combine handling, speed, relative practicality, and luxury into one package.
Is Toyota Celica GT A Good Car?
Yes, the Celica GT is a good car that looks very sporty and reliable. Most owners say that it's the most reliable car they have ever owned.
Is Toyota Celica GT Fast?
Yes, the Celica GT is relatively fast; it has a naturally aspirated 18-liter 16v inline-four gasoline engine that accelerates to 62mph in 7.2 seconds and can reach a maximum speed of 140 mph.
Will Toyota Bring Back The Celica?
According to best car web, Toyota might be looking to bring back the Celica as an all-electric or hydrogen-powered vehicle. This site claims that Toyota recently re-registered "Celica" in North America, so time will tell when they will bring back the model.
Final Word
The Toyota Celica is a highly revered model loved for its design, speed, and performance. The most popular trims of the Celica were the GT and GTS, which were quite similar, with the GTS being sportier. We hope that you can now confidently differentiate between the GT and GTS.
Reference:
https://www.motortrend.com/reviews/acura-integra-type-r-vs-toyota-celica-gts/