Last Updated on September 10, 2022 by John K. Clifford
Is the sun baking your child with its UV rays? Or do you want to dim the glare down? Or maybe you want to make their passenger experience cooler? If yes, yes, and yes, Enovoe's got you. They are the #1 bestseller for car side window sunshades, and you'll love what they bring to you today.
The Enovoe car window shade provides absolute sun protection. UV rays can beat roughly on the sides and make a passenger's think they're melting. What Enovoe's product does is 'tint' your side windows. That way, UV rays come in slowly, making the interior cooler and the experience bearable.
As a brand, Enovoe 'helps to make parenting easier.' So, these sunshades are for your child. Enovoe also sells products along these lines:
1. Nursery
2. Toys and Games
3. Travel (our products and others like the kick mat)
In this article, you'll know more about their car window shade. In the end, it'll be easier to shop with the facts and figures.
Let's get into it! 
What Is The Enovoe Car Window Shade?
1. This is a cover made of clingy material and bears a dark, shaded color.
2. The front side feels like regular fabric.
3. The other 'sticky' side is clingy plastic, like the Saran wrap.
Are There Any Different Variations?
The only variations that Amazon offers are in terms of size. Our item is a 4-pack size, but you can also a 2-pack one.
Who Is The Enovoe Car Window Shade For?
Enovoe makes these sunshades for child passengers. If your child is on their baby car seat, this item covers the side windows. That way, the glare doesn't make the ride uncomfortable for them.
But, you can use the items for other passengers, especially those with special needs. If someone's on the backseat and can't move freely, the sun may burn them hard. When you get the shades, you'll protect them at their convenience.
Also, if your car doesn't have tinted windows, you can try this product. 
How Much Does The Enovoe Car Window Shade Cost?
At the moment, Amazon sells this product at $11.87. If you want the 2-pack, you'll pay $10.17. If you do the math, the 4-pack gives more value for your money.
What Comes With Your Purchase?
1. Four window sunshades (sizeable ones for larger sedans and SUVs)
2. A black storage pouch
3. A free eBook about child safety tips (in the heat)
NOTE: It comes in three sizes (Click here to watch the product video).
What Are Its Specifications?
Here are essential technical details you should know:
| | |
| --- | --- |
| Vehicle Service Type | SUV, Passenger Car |
| Item Dimensions | 20.87 by 0.04 by 13.78 inches |
| Item Weight | 1.06 ounces |
| Folding | No |
What Are Its Features?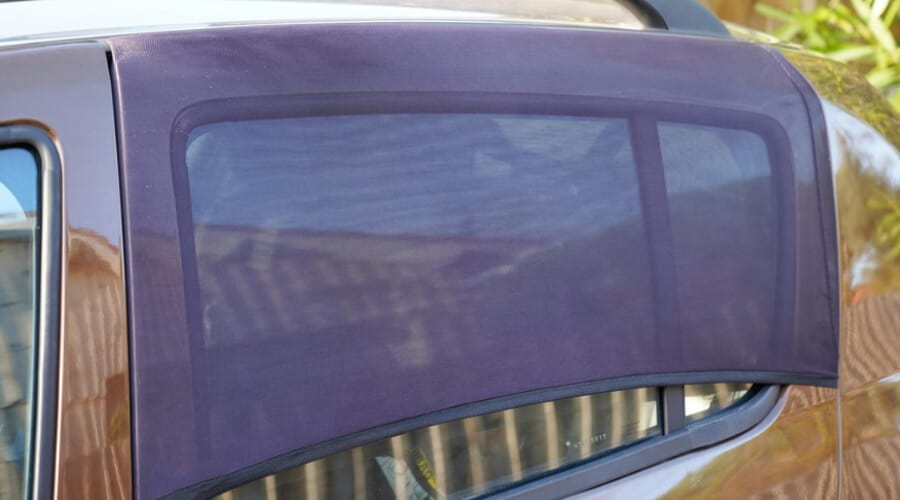 Now, here's what makes the Enovoe car window shade the best:
1. Excellently Protective
Enovoe uses a tough fabric in this car window shade. Because of its structural integrity, it blocks over 97% of harmful sun rays. Such UV light would otherwise cause skin irritation and damage.
So, buying this item means offering total protection to your child passenger.
2. Unique Design
These shades have a dual-layer design, meaning both sides are functional. And you don't have to worry: they don't create any visibility issues for the driver. 
3. Easy Installation And Removal
The items bear cling backs which allow for easy application. You won't need any suction cups or adhesives, making your driving hassle-free.
Compatibility
Each of the four shades is 21 by 14 inches. Such dimensions cover most (if not all) windows. So, you don't have to worry if your car has larger side windows. 
How To Use The Enovoe Car Window Shade
Installing these windows is as easy as ABC:
1. Unpack them from the storage pouch.
2. Place one shade on any side window.
3. Run your hand across it.
4. Repeat the process for the other three shades.
Pros
1. Blocks harmful sun rays
2. Easy to install
3. Made of high-quality material
4. It fits cars with large windows
5. Easy to store
Cons
1. They are too thin
Customer Questions & Answers
1. Does The Cling Technology Work Well In Extreme Heat, Over 105 Degrees? 
Yes, it can. The sunshades stick well in hotter areas, even over 110 degrees.
2. Can The Shades Fit A Honda RV?
Yes.
3. Can It Warp A Tinted Window?
No, the shades won't damage your tint.
4. Can It Work On The Back Car Window?
Yes, but you wouldn't want to place it there. Many states forbid putting anything upfront or on the rear. If you do, you may have problems seeing. And if a cop pulls you over, that's a ticket.
5. Are They Made In The USA?
No, they are straight out of China.
What Buyers Say About This Product
Satisfied customers say that this product eliminates the sun's glare even if you don't have children. They are a must-buy for anyone who wants to deal with UV rays. Also, it's easy to apply and reapply them, and the storage pouch comes in handy.
Parent buyers say that these shades are highly functional. They protect their children from the sun and make their driving experience better.
One complaint says that since the shades are thin, they may slide down into the door. So, before you roll your windows down, take them off.
Final Thoughts
This Enovoe car window is not a bestselling product for nothing. Most people find it functional, and you too will. When you buy it, you'll get absolute sun protection with no obstruction to your visibility.
If you're a parent, this accessory will make your child feel better. And when they do, you'll be at ease while driving. Who doesn't what that?
Now, you've got all the info you need. If that item tickles your fancy, buy it here.
And if you liked it, I'm sure you'll like these too:
1. Car vacuum
As you read more, don't forget to leave your comment below. Also, share this product with others; they'll like you even more.
Cheers!
References:
https://www.amazon.com/Enovoe-Car-Window-Shade-Protection/product-reviews/B00X2TUW1I
https://www.whattoexpect.com/baby-products/best-car-sun-shades