Last Updated on January 17, 2023 by Leepu Da Maxim
Everstart batteries are manufactured by Johnson Controls, a global diversified technology, and multi-industrial company. Johnson Controls was founded in 1885 and is headquartered in Milwaukee, Wisconsin, United States. Johnson Controls produces a wide range of products and services, including automotive batteries, HVAC systems, fire protection systems, etc.
Key Takeaways
The quality of an EverStart battery can vary depending on the specific model and how it is used and maintained
Usually, the Everstart Batteries are sold exclusively through Walmart stores
In general, car batteries can last anywhere from 5 to 7 years but the actual lifespan of a car battery can vary and depends on how the battery is maintained
If the engine cranks slowly, the battery is leaking or the battery is swollen or bulging then you have to replace the old battery with a new one
Pros & Cons Of Some Everstart Batteries
Battery
Pros
Cons
EverStart Maxx Group 24
A suitable operation for automobiles
In the cold start, it offers 700 amps
Excellent shelf life
Generally, no returns are allowed through the mail
EverStart Maxx Group 26
Duracell quality energy
Superior functionality
525 starting amperage
Shorter life span than other models
EverStart Maxx Group 27
Cold start with 810 amps
The wide level of compatibility
3-year shelf life
Unsafe operation in low temperatures
EverStart Maxx Group 29
Optimal deep cycle
Excellent recyclable battery
85 minutes of booking time capacity
One of the most expensive 
Are EverStart Batteries Any Good?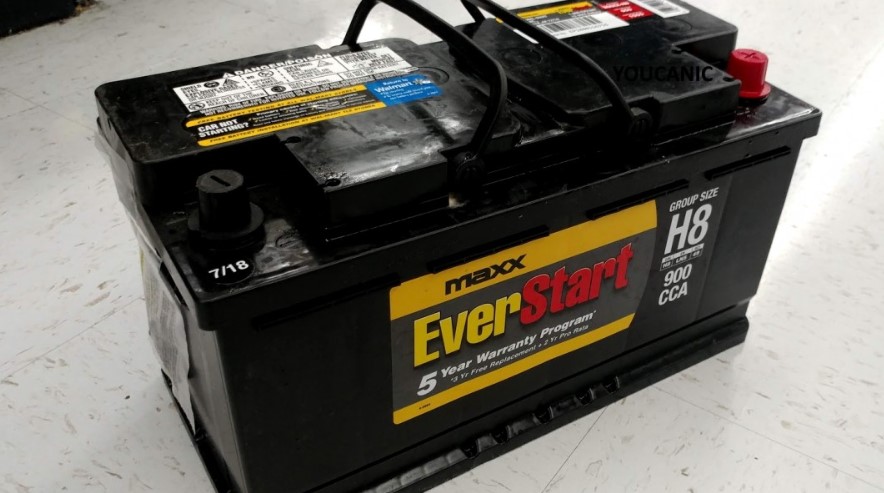 Today, experts believe that this type of battery can provide excellent results for users. Thus, a large number of users can obtain excellent benefits without requiring a large budget for it. Each of the different performance factors of these batteries is superior to the vast majority of models on the market.
In particular, the factors that offer excellent potential are the capacity, the life of the unit, and the amperage that is obtained in cold starting. It is necessary to take into account that these units allow protection of the functionality of several cars or vehicles.
Also, it is an affordable option when a user wants to make a long-distance trip. Of course, it is not the superior option although it is an excellent battery.
What Brand Of Car Battery Lasts The Longest?
These days there are some brands of batteries that can offer a lot of advantages and features to the user. Among the most recommended options are Acdelco, Odyssey, Exide, and Optima. These 4 options in particular can provide a life span that averages three years. 
Along with this, the rest of the advantages that each of these options can offer is also affordable. In particular, Exide and Acdelco batteries have dominated a large part of the market. Besides, free maintenance is often offered when purchasing one of these batteries. In general, users prefer to choose one of these four brands for superior vehicle performance.
How Long Do EverStart Batteries Last?
In particular, this type of battery provides guaranteed functionality for 3 years. At the same time, the vast majority of models have a guarantee that provides greater security and confidence to the user.
The manufacturer assures that if the battery suffers any kind of damage then the replacement is free. So, you'll get a new battery within these three years.
However, the only difference here is that each user will have to pay the taxes generated on the price of the battery. Of course, this is not a large total amount because the user does not have to pay the cost of the new battery.
For this, it is necessary to maintain the warranty and a pro-rata of 2 years can be obtained in some cases. This is certainly an excellent way to provide security to the user. 
Does Walmart Have Good Car Batteries?
In particular, Walmart has some battery models available that offer excellent results. Among the most notable batteries are the Everstart and Champion lines. Here, any user can get excellent performance for a large number of vehicles. You don't even need a big budget to do it.
These battery models are usually very cost-effective. So, you can get exactly what you're paying for. Of course, they are not the highest-performance batteries on the market. However, a large number of users claim that these batteries from Walmart are superior to the vast majority of the competition. 
How Many Cold Cranking AMPS Do I Need?
To find out exactly how much amperage is needed in cold starts, you should consider the engine your vehicle has. In particular, you should first consider the number of cubic inches of displacement of your vehicle's engine. From there, you must have a battery that provides one cold start amperage for each cubic inch.
If your vehicle has a diesel engine, you must calculate at least 2 amps of cold start for each cubic inch of engine displacement. This way, the battery can provide the amount of amperage your vehicle needs even at low temperatures. Conversely, if you purchase a battery with lower functionality, the results will also be lower or insufficient. 
Are AGM Batteries Better?
Generally, batteries that have this amount of time in technology can avoid some common failures. In principle, this technology is spill-proof throughout its lifetime. A very thin fiberglass mat is included for this purpose. So, this component can absorb sulfuric acid to a great extent.
Also, other excellent advantages obtained with AGM technology are the low level of self-discharge and resistance to low temperatures. Otherwise, the rest of the batteries without this technology could be damaged or fail more easily in certain low-temperature locations.
Concerning deep cycle capacity and charging speed, AGM technology is also superior. For one thing, the life span is longer than the flooded battery and the chances of failure are lower. On the other hand, this type of battery has a charging speed that is five times higher than other models.
How Can You Tell If A Car Battery Needs Replacing?
There are some symptoms or signs that appear when a battery needs to be replaced. Of course, from time to time, it is possible to fully recharge your vehicle's battery. However, this is only recommended once, as most of the unit's components are worn out.
On the one hand, the vehicle's lights may flicker and come on weakly. On the other hand, some additional components such as a sound system and the vehicle's starter are also insufficient. It could be that the car's starting is difficult or even impossible in the worst-case scenario.
That's why you need to buy a new battery to protect the rest of your vehicle. Conversely, a battery that has been in use for too many years could get punctured inside. This can undoubtedly lead to acid spillage, which will damage other electrical circuits in the car. So, if you don't want to spend more money on repairs, it will be cheaper to buy a new battery. 
Is The EverStart Battery Maintenance Free?
As with a large number of batteries that are available on the market, the everstart models are maintenance-free. Thus, the acid level inside the battery is usually more than sufficient for the entire life of the battery. Besides, the design of these units often contemplates the acid spills that could exist.
Beyond that, the manufacturer provides a warranty that covers the three-year life of these batteries. So, in case of any inconvenience, the user can replace and get a new battery. At the same time, as a precaution, each user should analyze the liquid level of a battery. In this way, it will be easier to know if a replacement is necessary at any time.
Can You Revive Dead Rechargeable Batteries?
On the one hand, some users may prefer to purchase new batteries when a certain rechargeable unit is completely depleted. On the other hand, other users may prefer to find some way to revive and continue using these batteries. To do so, you will need to perform a few simple steps if you want to revive some rechargeable batteries.
First of all, you should connect two rechargeable batteries through the negative parts. Here, the contact must be efficient and complete for the procedure to work.
Next to that, you should use a clamp to hold the positive ends. You must hold everything together for approximately 30 seconds. After that, the batteries should be able to be used and recharged as before.
Does Putting Batteries In The Freezer Work?
When you store a battery at a very low temperature, you might get some benefits. To do this, it is necessary to freeze or store some types of batteries easily at temperatures below zero degrees. This will allow the user to retain battery power longer. However, this does not work with all types of batteries available on the market. 
Also, it is not very easy to store vehicle batteries because their size is too big for any freezer. For this, it would be necessary to have a freezer that is too big in a home. Also, if the cold is too excessive, then the battery would start to fail and discharge faster. 
So, it would be best to use a plastic container to store the original battery pack. If you wish to store a battery, it is not recommended that you choose the same vehicle for this purpose. Instead, you should have an environment with a low level of humidity and place each unit vertically. 
References:
https://www.doityourself.com/forum/passenger-cars-mini-vans-suv-service-repairs-no-trucks/623979-walmart-everstart-battery-still-made-johnson-controls.html
https://www.bankovia.com/retail/who-makes-everstart-batteries/