Last Updated on February 9, 2023 by Leepu Da Maxim
If you've been dreaming of driving a luxury car, then Lexus is a great brand to try out. Buying a used Lexus is an excellent idea to enjoy value while saving some coins. These vehicles are known for their longevity and incredible performance over the years.
Key Takeaways
According to autoauctionmall.com, a brand-new Lexus ES has an MSRP of $39,945 to $42,815, while a used one has a price range of $21,000 to $25,000
Whether it is worth buying used or older Lexus cars totally depends on the condition of the vehicle, maintenance history, model, features, etc.
You should keep in mind that older Lexus models usually require more maintenance and repairs
While buying a used Lexux car you have to consider the specific model and year of that car
Pros And Cons Of Buying Used Lexus 
Buying a used luxury car has both advantages and disadvantages depending on the specific model you choose. This section looks at the good and bad of buying a used Lexus to help you weigh the options and decide if it's worth buying.
Pros Of Buying A Used Lexus
1. You Get Better-Perceived Value
New cars lose about 20-30% of their value immediately after getting off the dealer's lot. When you buy a used car, you get better value since you will save more than 30 % of the vehicle's MSRP. Buying a used car also gives you the advantage of affording a luxury car that you wouldn't have been able to buy. It is also easy to find a vehicle that comes with the upgrades and features you need without going over your budget. For most people, buying a luxury car becomes expensive when you add the cost of extra features to the initial MSRP. Below is a table showing the prices of a new vs. used Lexus car to help you understand how much you will be saving when you get a used Lexus.
| | | |
| --- | --- | --- |
| Lexus model | Brand new MSRP  | Average price when used  |
| Lexus LS  | $75,000 | $15,000(2011 LS) |
| Lexus GS  | $51,000 | $14,000 (2013 GS) |
| Lexus ES  | $40,000 | $17,000 (2015 ES) |
| Lexus RX  | $44,00 | $16,000(2013 RX) |
2. Used Cars Have Little Risk Of Having Problems That Might Cause Recalls
When you buy a new car, you don't know what to expect for the first few months since that's when most problems are discovered and vehicles recalled. You don't have to worry about such issues when you buy a used Lexus because the car has been tried and tested. Any problems with the vehicle have most probably been identified and repaired. When you buy a used Lexus, you are sure that what you are getting is dependable.
3. Lexus Cars Are Durable, And A Used One Will Still Be In Good Shape
Lexus models are designed for reliability and durability while still giving you the luxury you deserve. Even after years of use, a Lexus vehicle will still be in good shape mechanically and in appearance. It is easy to get a car that performs and is new at an affordable price. As a car buyer, always ensure you consult with your mechanic when buying a used car to ensure that your vehicle is in perfect shape.
4. Lower Registration Fees And Insurance Premiums 
The rate of your car's annual registration fees and insurance premiums depends on the car's model year and current value in most states. The costs and rates are usually the highest during the first years of a car's existence. Buying a vehicle that's at least three years old will save you a lot of money in registration fees and insurance premiums. You will not need gap insurance with a used car since depreciation has already happened.
5. Wide Variety To Choose From
When looking for a used Lexus, you have a wide variety to choose from that's within your budget. New Lexus has a higher price tag, limiting your options when you are looking to buy. With an older Lexus, you have more options available to buy at a lower price than new ones. If your budget is $20,000, you will have more options with used cars than you would with new ones.
Cons Of Buying Used Lexus 
1. They May Not Have Newer Features
The main disadvantage of getting a used or older Lexus is that it doesn't have the latest features and technology. You may not find the latest features on the market on a car that's more than three years old. The good part is that you can have some of these parts installed as aftermarket parts if you need them.
2. Used Cars Don't Have A Warranty
Most times, used cars don't have any manufacturer's warranty. If you are lucky, the vehicle might have transferable security or a little of the manufacturer's warranty left. Since used Lexus is dependable, you can take the risk and cater to any repairs if they arise. You can also purchase an extended warranty and have your car covered. 
Top 5 Lexus Models To Buy Used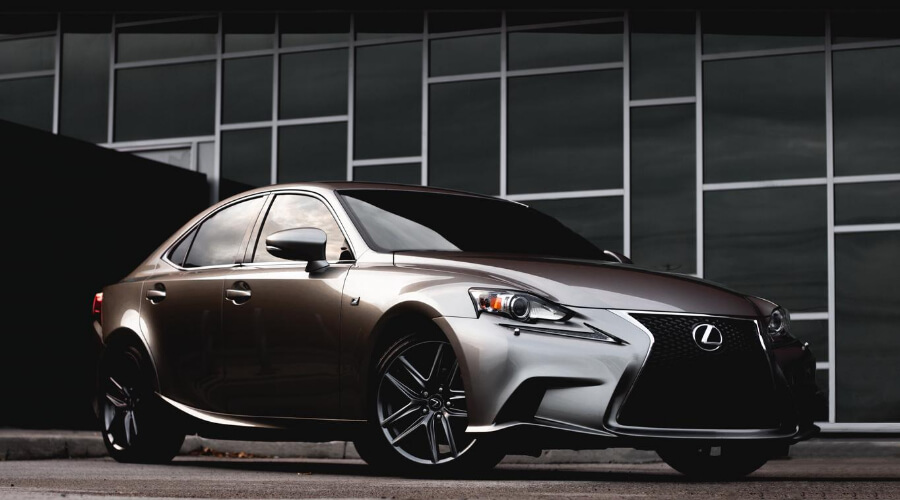 Used Lexus has an excellent reputation in reliability and safety, however not all cars are the same, and some models perform better than others. If you are unsure which Lexus model to buy, consider our suggestions below. You will be able to get a fantastic luxury vehicle regardless of your budget.
Lexus IS
Lexus IS is among the most popular models from the brand because of its comfortable ride. Buying it used costs an average of $25,374, meaning you save more than $13,000. With this car, you are assured of value for money and exceptional performance. It has a powerful engine that handles twisty roads with ease. You can find the vehicle in either a six-speed manual or automatic transmission.  Other than the reasonable price of this vehicle, you will also enjoy high-tech features, a quality design and construction, and an outstanding sporty design.
Lexus GS
The Lexus GS is a real sports sedan that is sporty and luxurious. The average price for a used Lexus GS is $18,000, while a brand-new one costs about $50,000. The vehicle gives users a smooth ride, outstanding build quality, and a quiet cabin. This vehicle has a 3.5-liter V6 engine that produces up to 303 horsepower coupled with a six-speed automatic transmission. It has a fuel efficiency of 19mpg in the city and 27 mpg on the highway.
Lexus ES
The Lexus ES is well-built, refined, and comfortable. It has a powerful V6 engine that enhances its performance and handling. The vehicle is also relatively fast and can accelerate from 0-60 mph in 7 seconds. You won't go wrong with this model if you look for speed, performance, and smooth handling. The price for a used Lexus ES averages $40,419, while a new one costs around $53,500. When you shop around, you will get a better deal depending on your bargaining power and additional features on the car.
Lexus RX
If you are interested in a used crossover SUV, consider getting the Lexus RX.  From its debut, this vehicle has been a customer favorite due to its spacious cabin, high-tech features, and plush ride. The car also stands out on reliability records and is quite dependable. If you want a powerful and comfortable ride with high-quality interiors, this is the car for you. With a budget of around $40,000, you will get a good-used Lexus RX that's in perfect condition.
Lexus GX 
Lexus GX is ideal for anyone who wants an off-road SUV without missing out on the luxury of highway driving. This car has everything that a luxury ladder-on-frame SUV should have. It has a 4.7 v8 engine that produces enough torque for handling a mountain and enough horsepower for the highway. With just $45,000, you can get a good Lexus GX and enjoy the trails in a luxurious car.
Winding Up: Should You Buy A Used Lexus?
As you can already tell, buying a used Lexus has more advantages than disadvantages. You are assured of getting value for money and driving a luxury car without breaking the bank. If you find a good deal and the vehicle matches your taste and preference, we advise that you go for it.