Last Updated on February 4, 2023 by Leepu Da Maxim
If you're looking for the best car phone holder, the market's got lots of them. One is this Loncaster car phone holder that we'll be looking at today. Unlike others like VICSEED, Loncaster bears a unique structural style. Also, it has an attractive price. But that's just the tip of the iceberg.
Key Takeaways
The Loncaster Car Phone Mount is compatible with most smartphones and can hold phones with a width of 2.2-3.5 inches
The Loncaster Car Phone Mount is made from high-quality materials that make it durable and long-lasting
You can easily install and uninstall this phone month and it won't leave any residue on your dashboard
The Loncaster Car Phone Mount supports multiple viewing angles so you can use your phone hands-free and at a comfortable angle
Loncaster is a Chinese-owned trademark based in Guangdong. At the moment, they only have two products. These are two car phone holders (see here).
In this article, we'll focus on the silicone car phone holder. So, keep reading this review till the end to know if it's a suitable phone mount for you. When you finish, you'll be ready to shop.
Let's go!
What Is The Loncaster Car Phone Holder?
This is a unique car phone holder which blends functionality and simplicity. Compared to other top-rated phone holders, it has no:
1. Click the button
2. Adjustable arms
3. Nuts
4. Rotating balls
It's an all-in-one item made of silicone, which is where the trick is. Since silicone is a rigid material, it provides a solid structure to the phone holder. 
That should tickle your fancy.
Are There Any Different Variations?
Loncaster sells this phone holder in the following colors:
1. Black
2. Blue
3. Pink
4. Red
Besides color, it's all the same product. 
Who Is The Loncaster Car Phone Holder For?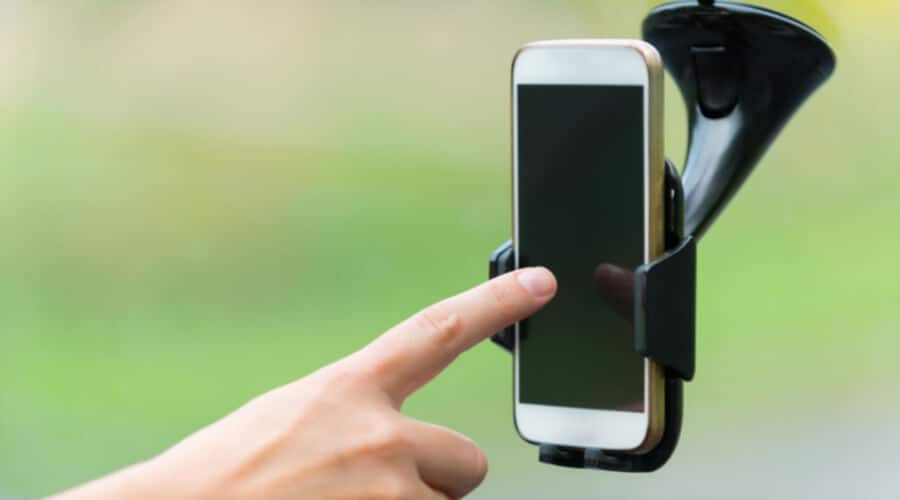 Like most car accessories, this phone holder is for every driver. Driving needs total focus, so you need to handle everything else with care. That includes your phone. This silicone card holder will hold your phone as you use the voice assistant feature.
If you're a taxi driver, this product will serve you best. Every day, Uber and Lyft people move from phone to the steering wheel. Unfortunately, this compromises their safety, which is not a good thing. A phone holder like our item will make them secure and comfortable.
Also, this stand will stick well on a desk. So if you want an accessory to improve your work experience, this one's for you.
How Much Does The Loncaster Car Phone Holder Cost?
At the time of this writing, the cost of this phone holder was $13.95. Other sellers charge 4 cents more, which is not a significant difference.
What Are Its Specifications?
Here are the technical details of this Loncaster car phone holder:
| | |
| --- | --- |
| Mounting Type | Dashboard |
| Item Dimensions | 4.8 by 4.8 by 1.8 inches |
| Item Weight | 5.9 ounces |
| Display Feature | Wireless |
| Material | Silicone |
What Are Its Features?
So, what makes this Loncaster car phone holder a highly rated product?
1. Wide Compatibility
Most GPS devices and phones will fit in this phone holder, and better if they are between 6 and 12 mm in thickness.
2. Slip-freeness And Stability 
This phone holder is silicone-made and has sticky pads. Those two combine to make it a little phone-holding powerhouse. Thus, your phone will be free from:
1. Scratching 
2. Bumping
3. Flying out
So, don't twitch before applying those emergency brakes. This item will hold your phone for you.
3. Washable Bottom
Loncaster uses high-tech adhesives on the bottom of this holder. So, don't worry if you have to clean it because the stickiness won't fade away. Instead, apply clean water, rinse, and dry under the sun.
One-Hand Operation
This Loncaster car phone holder is easy to operate, mount, and release with one hand. So, you won't have to drive hands free to slip your phone in and out. 
Compatibility
You can use this phone holder with many devices like:
1. iPhones
2. Samsung Galaxy series
3. LG
4. Sony
5. HTC
6. Huawei
7. Mi
8. Pixel
9. And so on.
How To Use The Loncaster Car Phone Holder
Once the item gets home:
1. Unbox The Package
Pull out the mount and confirm that you have the correct item.
2. Remove The Pad
The sticky bottom will come sealed. So, pull the pad out.
3. Find A Flat Surface On Your Dashboard
Place the holder correctly before mounting the phone.
If you've followed through all the steps well, secure your phone into the holder.
Pros
1. Widely compatible
2. Slip-free
3. Stable
4. Reusable
5. Washable
6. Easy to install
Cons
1. Offers only one view (landscape)
Customer Questions & Answers
1. If The Phone Is In An OtterBox, Will It Fit In This Holder?
No, it doesn't. You'll have to take your phone out of the OtterBox whenever you want to use the holder. If you want a perfect fitting, you'd have to modify it.
2. Can You Use The Phone In A Vertical Orientation?
Unfortunately, no. You can only use a horizontal style. 
3. Can Heat Affect The Holder's Secureness? And Does It Leave Anything Behind When Removed?
The high-tech adhesive keeps the holder secure even on the hottest days. And it doesn't leave any residue.
4. Does The Bag Part Carry A Lot Of Weight?
No, the back isn't weighted.
5. Is It Better Than A Suction Holder Or A Magnetic One?
Yes, it is.
What Buyers Say About This Product
Satisfied customers say that this item has a better style than others. Also, it has a fantastic price. For drivers with bulkier phones, this is a must-have. And if other mounts don't work for you, this is the best solution.
In a nutshell, this Loncaster car phone holder is:
1. Unobtrusive
2. Sleek
3. Functional 
From the top critical reviews, the item doesn't hold devices with thick cases. Also, its adhesion is so-so.
Final Thoughts
The Loncaster car phone holder is convenient, valuable, and something you should buy. The silicone material will mold to fit any of your needs. Also, it's affordable, and unlike other phone holders, it does not break.
It grips your dashboard, and so, no worries about it coming off. Also, it doesn't leave scratch marks. You'll only have to wash it frequently because silicone gets dirty quickly. If you don't mind that inconvenience and the size-related caveat, buy it here.
If you enjoyed reading about that product, leave your comment below. Then, check these out (you'll like them):
1. VICSEED Car Phone Mount Review
2. iOttie Easy One Touch 4 Review
Other car accessories:
3. Govee Car Lights for Interior
4. IMDEN Bluetooth Transmitter
Thanks much!
References:
https://www.amazon.com/Loncaster-Silicone-Dashboards-Compatible-Smartphones/dp/B07TZSC1P3
https://www.androidauthority.com/loncaster-silicone-car-phone-holder-review-1212265/