Last Updated on February 12, 2023 by Leepu Da Maxim
The Nissan Skyline GT-R R34 and the Toyota Supra are the most popular and admired Japanese cars ever to be produced. Both models had a lot in common but they also had significant differences in engine, performance, design, drivetrain, and price.
Key Takeaways
The Nissan Skyline GT-R R34 was first introduced in the 1960s while Toyota Supra was first introduced in 1978
The Nissan Skyline GT-R R34 is powered by a twin-turbocharged 2.6-liter inline-six engine; on the other hand, Toyota Supra is equipped with a turbocharged 3.0-liter inline-six or a turbocharged 2.0-liter inline-four engine
Toyota Supra can produce more horsepower than the Nissan Skyline GT-R R34
The Nissan Skyline GT-R R34 supports an all-wheel drive system while the Toyota Supra supports either rear-wheel drive or all-wheel drive
A Brief History Of The Models
Before we dive right into the comparison, let's understand how each of these models came to be. The Nissan Skyline R34 had its debut in 1998 as the tenth generation of the GT-R lineup. This model was fuel-efficient and became a revolutionary car due to its straight-six engine performance. The model came with a twin-turbocharged 2.6-liter engine that boasted 276 brake horsepower.
The A80 Toyota supra was introduced in 1993 way later than the original Nissan skyline, but it was a hit in the sports car segment since day one. This model was the icon of the supra model, which had evolved since 1979 as Celica supra. The A80 supra model had a twin-turbocharged 3liter 2JZ-GTE engine model. This engine could produce up to 280 brake horsepower. The vehicles became famous after being successful in expressway races, and they both featured in the fast and furious movie.
Differences Between Nissan Skyline Gt-r And Toyota Supra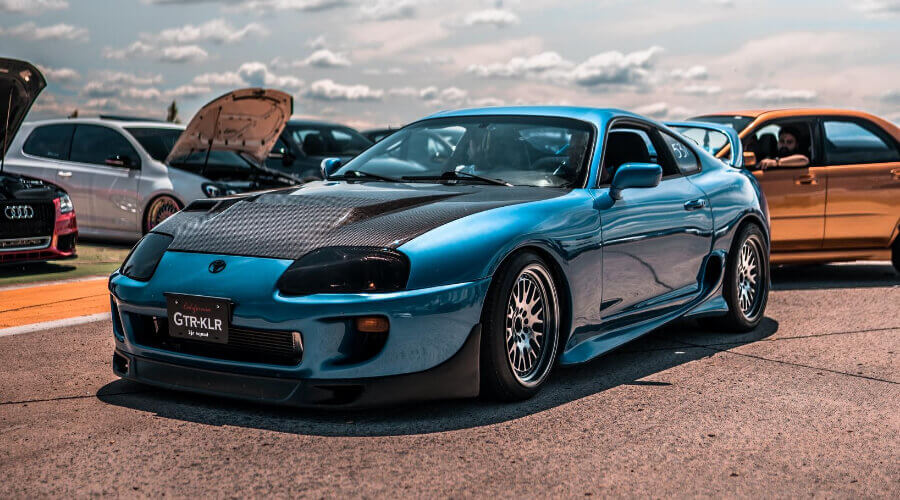 While these models had many similarities to Japanese domestic sports cars, they also had differences in appearance and performance. This section looks at the differences between these models to understand which was better than the other.
| | | |
| --- | --- | --- |
| Category  | Nissan Skyline GTR R34 | Toyota Supra RZ |
| Engine layout  | 2.6-liter R6 | 3.0-Liter R6 |
| Max torque (Nm/lb.-ft) | 391/288 | 451/333 |
| Max power (PS/bhp) | 280/276 | 284/280 |
| Power/tone (PS/ bhp) | 168/166 | 173/171 |
| Curb weight (kg/lb.) | 1666/3673 | 1640/3616 |
| 0-100 kph performance | 4.9s | 5.3s |
| 0-100 mph performance  | 12.3s | 13.1s |
| Est 1/8 mile | 9.1s @ 88.2 mph | 9.6s @ 88.9 mph |
| Top speed  | 266kph (165 mph) | 250 kph (155 mph) |
| Straight-line speed  | 400 | 330 |
| Track performance  | 200 | 191  |
As you can tell from the table above, the Nissan Skyline GTR R34 is a winner in speed matters. It accelerates faster than the supra and achieves higher top speeds effortlessly. On the other hand, the Toyota Supra is a winner in matters of engine power. This makes it the better option when you are looking for a Japanese sports car with higher tuning potential. Let's compare these models and see how they fare in different performance measures.
1. Appealing Design
The Toyota supra comes as a complete package offering a stylish design and a sporty look, making it irresistible to the eye. It has a lower base with big tires to complete the sporty appearance. It is designed to give off a feeling of luxury when you are driving and also to onlookers. Most people love this model's color options; they include silver, red, black, green, yellow, and red. These colors are in demand, and even if you plan to resell the car in the future, you will find a buyer who loves the color choices.
The Nissan skyline is sporty and stands out regarding innovation and technology. This model has a stylish and sleek body with a cozy interior that gives drivers a premium experience. With this model, be ready to have glances from onlookers all the time.
If you are looking for a vehicle that gives you the 90's feel ad vibe, the R34 is the better option. The Toyota Supra is better for anyone who wants a car with a timeless look and feel.
2. Tuning Potential 
The tuning potential refers to a vehicle's ability to be modified to become a custom car. A vehicle's tuning potential is mainly determined by its engine potential and the availability of parts and kits for tuning. Tuning a car makes it more appealing and increases its speed and performance. The supra has better-tuning potential because it debuted before the R34, and its parts and tuning kits were readily available in most garages. 
Nissan also has factory tuning options from the company's race development team. They had a lot of features that enhanced performance and reliability, making them better at handling insane quantities of power output.
Both models can be modified to reach close to a thousand horsepower when it comes to tuning potential. However, Nissan R34 is better at handling large amounts of power while remaining durable. It is easier to tune a skyline and make it last than a Toyota supra.
3. Fuel efficiency 
Both models are pretty fuel-efficient and perform better than most models in the market. The average fuel consumption of the Nissan skyline is about 17 miles per gallon, while that of the Toyota Supra is 15 miles per gallon.
4. Performance Efficiency And Maximization 
When it comes to performance efficiency, both vehicles have unique standings. Nissan was introduced to the market as a front-engine, rear-wheel-drive that was later upgraded to four-wheel drive in the 1990s. This upgrade gave more power to the wheels and boosted the engine to have a better grip on the road. The engine has also been upgraded severally to make the vehicle handle the rough and tough. The Toyota Supra has also improved as the years go by. The discontinuation gave Toyota time to rethink its modification allowing it to come back as a unique hybrid option in 2011. Both models keep improving to achieve the next level of performance efficiency.
Conclusion 
The Nissan Skyline R34 and Toyota supra are the most iconic Japanese Domestic manufacturers (JDM) sports cars. They are built for performance, durability, and reliability while still delivering impeccable numbers at top speed. Both models are excellent and famous, but you end up liking more will depend on what you want. If you like a sleek car with an easily tunable and powerful engine, the Toyota supra is the perfect match. If you love speed and a vehicle that the manufacturer tunes, the Nissan Skyline is what you should be eyeing. We hope this article is enlightening and you can now differentiate between these two popular models with ease.