Last Updated on February 13, 2023 by Leepu Da Maxim
The number 150 on the Ford F-150 signifies the weight capacity of this truck. It means the Ford F-150 has a weight capacity of 1500 pounds. This weight capacity includes the vehicle's own weight as well as cargo and passenger weights.
Key Takeaways
The F-150 refers to 1,500 pounds, F-100 refers to 1,000 pounds and F-250 refers to 2,500 pounds
The F-150 is available with different engines like turbocharged 2.7-liter V6, 5.0-liter V8, and a 3.5-liter EcoBoost V6
The body of the F-150 is made of military-grade aluminum and it provides a strong foundation for the truck
The F-150 has off-road capabilities so it will easily handle tough off-road conditions
What Does The Number 150 On A Ford F-150 Mean?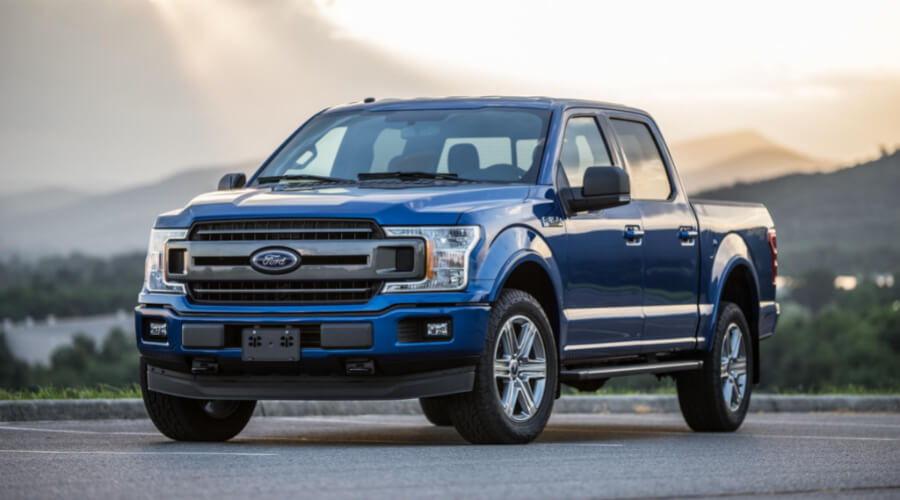 The quick answer is that it signifies that the trucks weigh half a ton. Both Chevrolet and dodge use 1500 to represent this, with 2500 for 3/4 ton and 3500 for 1 ton. Ford only uses the terms F150, F250, and F350 respectively.
The most common payload capabilities were a half-ton (1,000 pounds), three-quarters of a ton (1,500 pounds), and one ton (2,000 pounds). This was later altered to F-100 (for a 1,000-pound payload capacity), F-150 (for a 1,500-pound payload capacity), and F-250 (for a 2,500-pound payload capacity).
The Ford F-150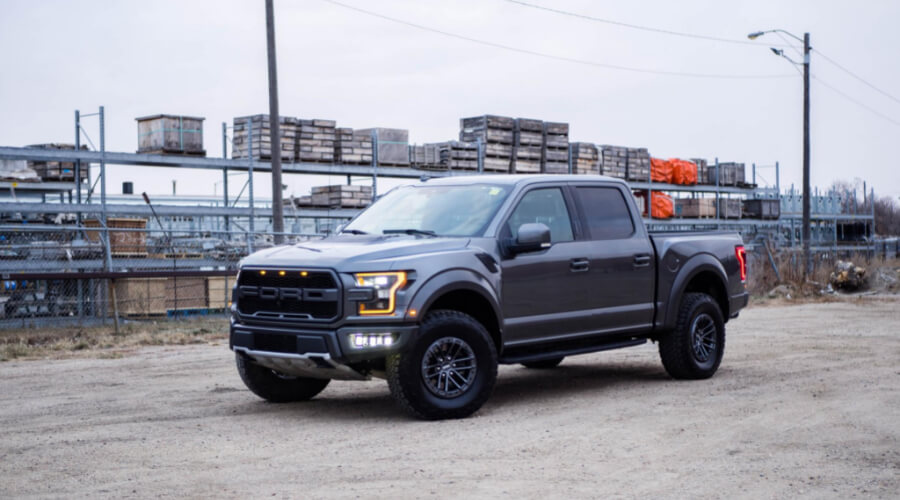 The Ford F-150 pickup truck, now in its 14th generation, is a true symbol of the American automotive industry. The F-150 is designed for adventurers and explorers, and it exemplifies Ford's famed "built tough" mantra.
Ford's larger "F-series" of trucks, in production since 1948, gave birth to the F-150. In response to new pollution regulations, the Ford F-150 got introduced in 1975 to compromise the F-100 and the F-250. It soon soared through the ranks of Ford trucks and became one of the company's best-selling cars. After a few years of redesigns (including the removal of the original 460 engine), the F-150 finally took on the shape we know it in today.
Is The Ford F-150 A Reliable Vehicle?
Is the Ford F-150 a Reliable Workhorse? The Ford F-150 is, without a doubt, a fantastic full-size pickup vehicle. It comes with a wide range of powerful engines, including V6, V8, and diesel engines, as well as a brand-new hybrid. None of its competitors can pull or haul as much as the F-150, which features poised handling and a pleasant ride.
The Ford F-150 is manufactured in Dearborn, Michigan, and Claycomo, Missouri, at the Kansas City Assembly Plant. The news is a big setback for the Dearborn, Michigan-based corporation, as the F-150 has been America's best-selling vehicle since 1981.
Every F-150 engine is built to meet any driver's needs, delivering an unmatched combination of horsepower and torque to help you handle any job. The horsepower and torque ratings for each F-150 engine are listed in the table below.
| | | |
| --- | --- | --- |
| Engine | Power | Thrust |
| 3.3 Ti-VCT V6 | 290 HP | 265 lb-ft |
| 2.7L EcoBoost T-turbo V6 | 325 HP | 400 lb-ft |
| 5.0 Ti-VCT V8 | 400  HP | 410 lb-ft |
| 3.5L EcoBoost T-turbo | 400 HP | 500 lb-ft |
| 3.5L PowerBoost Hybrid V6 | 400 HP | 570 lb-ft |
What Is The Indication Of The Truck Numbers?
To begin with, the numerals on the sides of trucks have no relation to engine sizes. Those are model numbers representing the truck's approximate weight-carrying capabilities back in the day.
Full-size pickup trucks are usually classified into three categories:
1. The capacity of half a ton is about 1,000 pounds.
2. The capacity of three-quarter-ton is approximately 1,500 pounds.
3. The capacity of one ton is approximately 2,000 pounds.
Ford has actively marketed a 12-ton version known as the F-450.
Each rating is assigned a numeric designation by the manufacturer – the numbers you see on the sides and back of these vehicles.
For years, it was considered that the numeric values related to the weight-bearing capability and that the two figures were fairly close. Half-ton trucks, for example, used to be labeled with the numbers 1, 10, 100, or 1000. 
The numbers 15 150 were seen on some of the earliest half tons. This "between the number" usually meant that the pickup was built with heavy-duty parts to raise the payload significantly over a conventional half-ton. Two-thirds-ton pickups wore 2, 20, 250, or 2500, while one-ton trucks donned 3, 30, 300, 350, or 3500.
In case you believe these figures are insignificant. Just consider Ferrari on how important the letters "F," "1", "5", and "0" are when placed in this order. Ford filed a lawsuit against Ferrari overusing the F150 pickup truck. Since then, the case has been downplayed.
Ford has held to its roots and employs the three-number system led by the letter "F." From around 1948, this letter got used to distinguish Ford trucks from Mercury trucks made in Canada. 
Is The Ford F-150 A Reliable Truck?
Something that is consistently good in quality and performance is defined as reliable. That's exactly what you're looking for in a new truck—a vehicle you can rely on. Not only for years of trouble-free driving but also all of your towing and hauling needs in Fairlawn, Akron, and Cleveland Ohio.
The F-150 is constructed from some of the most durable materials available. The Ford F-150 is built with a high-strength, military-grade aluminum-alloy body that provides considerable strength while remaining relatively light. The aluminum alloy resists dents and has a good strength ratio, which aids towing and cargo capability.
The F-150's fully boxed frame is built of high-strength steel. The frame is strong and sturdy, with huge cross-sections. Even though the structure is stronger, the engineers could keep the weight down when constructing it. Even as you relax comfortably in the F-150's cabin, you'll be aware that your truck is crafted of high-quality, long-lasting materials.
The Ford F-150's performance is another aspect that makes it a very reliable vehicle. It all begins with the engine. From the basic 290-horsepower V6 to the optional EcoBoost engines, you'll be able to enjoy powerful performance for years to come with each engine. Here are some of the several engines available for your Ford F-150 truck.
What F-150 Truck Should One Not Consider?
The Ford F-150 was available with two engine options from 2003 to 2008: the 4.6 L Triton or the 3-valve 5.4 L 3V Triton V8. There were a lot of outstanding and reliable trucks and engines throughout this time, but one to avoid is the 2004 Ford F-150, which is infamous for having one of the worst engines in automotive history.
What Makes The F-150 Common?
The Ford F-150 is the most popular automobile, introduced in 1948. … The current edition of the highly renowned Ford, now in its 13th generation, is the first pickup truck to depend mainly on aluminum construction, which has lowered its curb weight by 700 pounds.
Which Is The Biggest F-150 Flaw?
Problems with The Transmission And Engine. Ford F-150 trucks produced between 2015 and 2017 have concerns ranging from interior difficulties to functional component failure. The majority of the 2015 Ford-150's difficulties have been related to gearbox issues, which have caused owners to have difficulty shifting their trucks. 
Due to several F150 engine difficulties, there was a high demand for engine repairs on the Ford F-150 truck. With the F-Series, gearbox problems have been a major issue. Ford experienced so many issues that in 2017, the company announced a major recall due to a faulty transmission gear indication.