Last Updated on December 26, 2022 by Leepu Da Maxim
Well, most truck bed covers are removable. Depending on the truck design, you can easily remove and re-install the truck bed covers. There are various types of truck bed covers available and every type has its own process of removing and re-installing. Some covers can leave the frame in the truck box while the cover is removed. This type of cover is very easy to re-install.
Key Takeaways
Soft roll-up covers are made of a flexible, waterproof material and they are easy to remove
Hard roll-up covers are made of a rigid material, such as aluminum or fiberglass and they are also very easy to remove
Hinged covers are made of a hard material and they are a bit difficult to remove
If your truck has fiberglass or plastic shell covers then you might need tools to remove the vover
Different Types of Truck Bed Covers and Features
| | |
| --- | --- |
| Type Of Cover | Features |
| Soft Covers | It is the most economical option for others |
| Roll-Up Covers | Easy to install an intermediate option |
| Folding Covers | Properly installed soft or hardcover |
| Retractable Covers | Wide variety of materials and easy to use |
| Fiberglass Lids | Excellent combination and protection of the chassis |
| Fiberglass Truck Caps | Customizable option and excellent design |
| Aluminum Truck Caps | Excellent additional protection and durability |
What Are Soft Covers?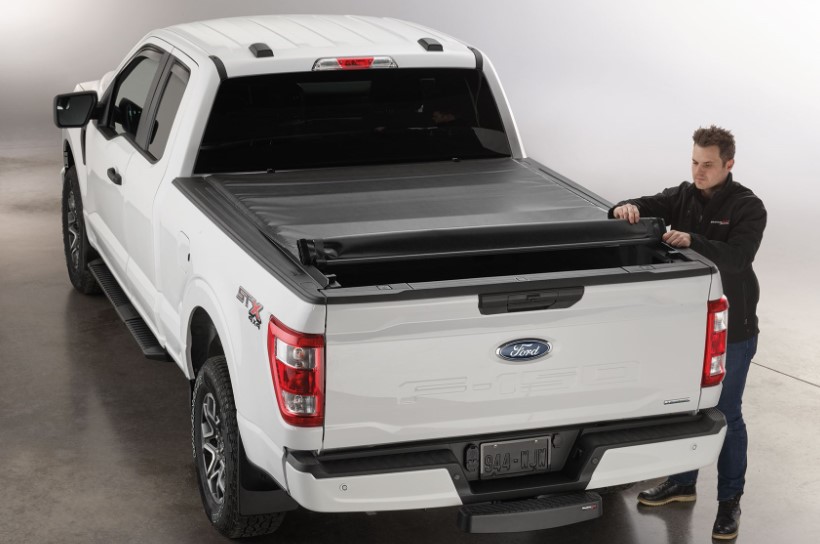 One of the ways to purchase a truck cover is to opt for a soft cover. In particular, this is one of the covers that can provide excellent benefits for users. Besides, its truly accessible cost makes it one of the most useful options for transporting a large number of objects.
In this case, you will find different flat covers for a truck. Some of them are the following.
1. Fiberglass covers
2. Soft coverings
3. Roller covers
4. Folding covers
5. Retractable covers
In particular, each of these options can provide certain advantages and functionalities for each truck. Here, it is important to mention that soft covers are generally the cheapest option concerning all the options that exist. Also, these options can provide a very simple installation since not many elements are required.
Therefore, a frame with support arches is necessary when installing these covers for correct fastening with the truck. This is necessary since strong wind or similar weather conditions could damage the integrity of that type of roof.
Also, there is no need to drill or puncture your truck bed at any point. So this allows for less installation work and of course less cost. You will notice that the placement of these soft covers is very simple and provides excellent protection for the elements you decide to transport.
What Are Roll-Up Covers?
Once you start climbing in the quality of the covers you will be able to find the roller covers. As the name suggests, the functionality here is much more convenient at all times. You can choose between having your cover rolled up or unrolled. It is an excellent way to adapt to different weather conditions that may exist.
It is important to mention here that just like the softcover, there is no need to drill into your truck's box at any point. So, once again this is one of the most convenient options that decrease the total effort and work time during installation. Beyond that, we can still name several additional advantages compared to the previous model.
You will notice that this option has a frame that serves as a guide for the entire roof. This vinyl is on both sides which improves the functionality of this option.
On the other hand, you will not have any inconvenience when using this cover in low-temperature places. Thus, the back tension system allows you to maintain the integrity of this cover at all times. Besides, a locking system from the rear rail is also included to provide greater security when transporting certain objects.
What Are The Folding Covers?
Once again we can continue to advance the best covers you can find available today. In this case, you will notice that this type of cover can be found in two different types. What these covers are:
1. Soft folding cover
2. Foldable hardcover
Here, you will notice that each of these covers specializes in providing certain benefits to users. On the one hand, the folding covers can provide an intermediate level of protection for the objects you wish to transport in your truck. Beyond that, the most important thing here is that you get very simple functionality at any time.
As a soft folding option, you can easily remove this component and have better access to your truck's box. On the other hand, it is also possible to find hard and foldable covers that provide simple functionality in general terms.
Here, the most essential difference is that you get an extra level of safety as it is a hardcover. In other words, either option is highly convenient for truck drivers who need to transport objects. Therefore, since it is a folding cover you get constant handling of this very simple component.
What Are The Retractable Covers?
A large number of users may need a certain variety when choosing a cover for their truck. In particular, retractable covers should be placed specifically flush with your bed. To provide more appropriate functionality, there is a great deal of variety in the materials.
In particular, this is another option that can provide easy use for drivers to save effort. A cover that is easy to use is necessary for transporting products and items over long distances. Also, this particular component has the advantage of offering a clean and more suitable appearance.
Moreover, it is not necessary to remove these covers completely at any time. You will notice that they can be easily removed to provide convenient access to your truck's box. So, you can use the locking system so that these covers can remain fixed in one place throughout the entire journey.
What Are The Fiberglass Covers?
In particular, these components have become very famous in recent times. A lot of truck drivers need a fiberglass cap to mix efficiently with the truck. This is especially so because this type of option can be painted and fitted to the requirements of each truck driver or owner.
In this way, the desired effect is achieved, as if the fiberglass cover were a unique part of the entire vehicle. Besides, it is a removable option so that easy access to the truck is obtained. Beyond that, it is one of the heaviest options as it weighs approximately 110 pounds. So, removing the fiberglass covers might not be so easy.
On the other hand, it is possible to notice here that not all models have the same functionality. Therefore, sometimes the fiberglass lid requires some accessories to proceed with the removal. In turn, this leaves behind the frame that works together with the fiberglass lid.
It is also possible to find other options that work with release clamps to remove both the frame and the lid. Therefore, this option could be more convenient according to the needs of each user.
In turn, the fiberglass covers can lock to leave the tailgate completely closed. It is also one of the options that offer greater security due to its high resistance.
What Do Fiberglass Truck Covers Look Like?
When we talk about trucks we must also talk about specially designed fiberglass caps. They are one of the most useful and complementary accessories for a large number of truck drivers. In particular, this type of cap can provide a set of benefits for transport trucks.
Firstly, fiberglass truck covers can provide a nice appearance and proper design. In particular, this is because they are painted and molded to match the design of the vehicle. After that, it is possible to notice that both parts can effectively complement each other.
On the other hand, it is a really useful cover to be used in a great number of situations such as outdoor activities or others. Also, professional contractors can work in a much more adequate and safe way when transporting their tools. So, investing in a fiberglass truck cover is highly appropriate.
Read this article: Is The Truck Bed Coating Waterproof? (Full Details!)
What Do Aluminum Truck Covers Look Like?
Another popular choice is truck covers that are made of high-strength aluminum. When a high-strength complement is required, then aluminum lids are the ideal choice. For one thing, you will notice that this option is available in a few standard colors.
In the same way, the windows also have a common and unskilled design. On the other hand, the best features are not found in the colors or design of an aluminum cover. Here the main objective is to protect the truck and the load from objects that need to be transported inside.
This is why the owner of the truck gets additional protection and security that protects the load at all times. Also, a set of locking mechanisms is incorporated to improve the functionality of these aluminum lids for trucks at all times. Therefore, it is also the most expensive option due to the materials and benefits that the owner can obtain.
References:
https://www.homedepot.com/c/ab/types-of-truck-bed-covers/9ba683603be9fa5395fab90143d41c9a
https://www.liveabout.com/truck-bed-cover-pros-and-cons-3274032