Last Updated on February 8, 2023 by Leepu Da Maxim
Some of the Toyota vehicles that look like a jeep are the Toyota FJ Cruiser, Toyota 4Runner, 2021 Toyota RAV4, Lexus X460, etc.
Key Takeaways
The Toyota FJ Cruiser is capable of tackling tough off-road terrains, such as high ground clearance, short overhangs, and skid plates
The Toyota 4Runner has a touchscreen display, Apple CarPlay, Android Auto, and satellite radio
The 2021 Toyota RAV4 has all-wheel drive for improved traction and handling in all weather conditions
The Lexus GX 460 is equipped with a 6-liter V8 engine that produces 301 horsepower and 329 lb-ft of torque
Top 4 Toyotas That Are Similar To A Jeep
1. Toyota FJ Cruiser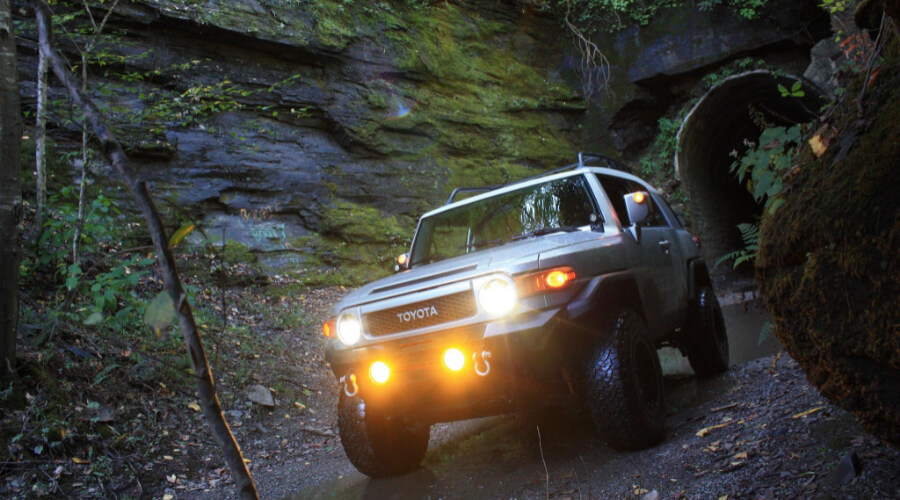 The Toyota FJ Cruiser resembles the Jeep wrangler and comes at a relatively affordable price. The FJ Cruiser is famous for its ruggedness, off-road design, and reliability. This vehicle not only has an off-road design but also comes with the capabilities of off-roading and Overlanding. It features the standard rear-wheel drive, a four-wheel-drive system that includes a locking rear differential, and a limited-slip center differential. It also has a ground clearance of 9.6″, a wading depth of 27.5″, and several skid plates.
If you're not only about off-roading, then you can drive your Toyota FJ cruiser comfortably in the city and on highways. It comes with traction and stability control and has a tighter turning circle than a jeep wrangler. The car's interior is also quite impressive, with the floor and seats designed to be waterproof. You can wash them down if it gets muddy. The vehicle also comes equipped with an audio system with Bluetooth and airbags for extra safety. 
Unique Features Of The FJ Cruiser 
1. It has a roomy engine design for ease of repair and maintenance
2. Multiple methods of accessing the cargo area
3. Built-in compass and temperature gauges
4. A 90-degree dashboard that offers more legroom for off-road adventures
5. It has a spacious backseat
6. Spare parts are more readily available compared to other off-road vehicles 
7. Has three windshield wipers to ensure your entire windscreen stays clean when driving in mud, snow, or rain
8. Features a small light on the side mirrors that offers extra illumination when headlights are on.
Specifications Of The FJ Cruiser
| | |
| --- | --- |
| Engine model | 1GR-FE |
| Maximum power | 276PS(203kW)/5600rpm |
| Maximum torque | 38.8kg.m(380N.m)4400rpm |
| Displacement  | 3955cc |
| Compression ratio | 10.4 |
| Fuel tank capacity | 72L |
| Bore x stroke | 94.0mmx95.0mm |
| Minimum turning radius | 6.2m |
| Transmission  | 5AT |
| Tire size  | 265/70R17 |
Common Problems Of Toyota FJ Cruiser
1. The most common issue with the FJ Cruiser, specifically the 2007 model, is problems with the automatic transmission's torque converter, which caused a shuddering sensation at 30-45 mph.
2. According to the owner forum users report, some 2007 and 2008 models also exhibited cracking and bulging fenders which compromise front crumple zones. 
3. Poor rear visibility due to the retro styling but 2009 and later models come with optional rearview cameras.
2. Toyota 4Runner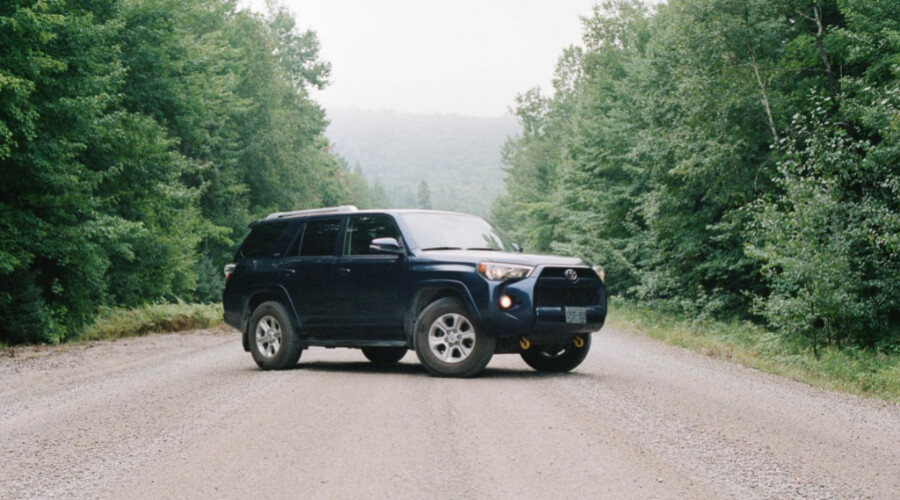 The Toyota 4Runner closely resembles Jeep Cherokee and competes with it in terms of performance. However, it is more of a luxury SUV than an off-roader, but it drives excellently in cities and off-road situations. The 4Runner has ample cargo space and beats the grand Cherokee by about 20 more cubic feet. It has 46.3 cubic feet with seats up and 8.8 cubic feet when the seats are down. On the other hand, the Grand Cherokee has a capacity of 3.9 with seats raised and 68.3 cubic feet with seats folded.
When you compare the fuel economy of jeep Cherokee and Toyota 4runner, the jeep grand Cherokee takes the win with a mileage of 19 mpg in the city and 26 mpg on the highway. Toyota 4Runner follows closely with 16mpg in the city and 19mpg on the road. The jeep has a higher gas mileage and comes with a bigger tank to ensure you cover more miles per fill-up.
Outstanding Features Of The Toyota 4runner
1. Unique technology features to keep you entertained and safe throughout your adventure: 8″ touch screen display, eight speakers, auxiliary audio jack, USB ports, Bluetooth connectivity, hands-free phone capability, and advanced voice recognition
2. It comes with Toyotas base safety package, which combines a pre-collision system, lane departure alert, dynamic radar cruise control, automatic high beams, and Toyota safety sense 
3. The towing capacity of 5,000 lbs. for carrying your camping or kayaking gear
Specifications Of The Toyota 4Runner
| | |
| --- | --- |
| Base Engine Size | 4.0 l |
| Base Engine Type | Gas |
| Cam Type | Double overhead cam (dohc) |
| Cylinders | V6 |
| Horsepower | 270 hp @ 5,600 rpm |
| Torque | 278 lb.-ft @ 4,400 rpm |
| Turning Circle | 37.4 ft. |
| Valve Timing | Variable |
| Valves | 24 |
| Transmission  | 5-speed shiftable automatic |
| Drive type | Four-wheel drive |
| Combined MPG | 17 |
| Basic warranty  | 3yr/36,000miles |
Common Problems Of Toyota 4Runner
1. Brake system problems
2. Automatic transmission problems causing rough shifting and loss of power
3. 2021 Toyota RAV4
The 2021 Toyota Rav4 can easily be mistaken for the Jeep compass: it has a compact and impressive exterior and delivers crossover utility. The vehicle comes in different variations; some that use gas and others that are hybrid. You can choose your desired gas mileage for both off-road and city adventures. Compared to the jeep compass, the Toyota Rav4 is more convenient because it offers fewer stops at the gas station. It is also as comfortable as the jeep compass, and even tall drivers and passengers will fit comfortably in the car.
Features Of The Toyota RAV4
1. It has a high torque engine that transmits power efficiently to the wheels
2. Features standard front-wheel drive and an option of all-wheel-drive systems depending on the trim
3. It has a competitive fuel economy and can manage up to 35 mpg on the highway.
4. Comfortable and ergonomic interior 
5. Designed to guarantee occupants' safety: has emergency braking with pedestrian detection, features standard adaptive cruise control, and a lane-keeping assist.
Specifications Of Toyota RAV4
| | |
| --- | --- |
| Drivetrain  | All-wheel, front wheel |
| Horsepower  | 203hp |
| Towing capacity  | 1500-3500lb |
| Transmission  | Automanual  |
| Engine  | Inline 4 |
| Seating capacity  | Five seats |
| MPG | 25-35 mpg |
| Cargo space  | 69.7-69.8ft |
| Basic warranty  | 3 years, 36,000miles  |
Common Problems Of Toyota rav4 
1. Powertrain and transmission issues
2. Engine problems such as excessive oil consumption, water pump leaks
3. Steering problems
4. Lexus X460
Did you know that Lexus is a product of Toyota? Well, now you know. The Lexus GX460 is a Toyota product that looks like a jeep. It is designed for excellent performance and has a 4.6-liter UR-FE V8 engine. The vehicle works excellently for off-road adventures and has a modern design suitable for day-to-day town use. It has ample space making it quite comfortable and reliable.
Features Of Lexus X460 
1. Sleek and attractive exterior
2. Well-thought-out entertainment features include radio with seek-scan, audio input jack, nine speakers, CD player, 4 USB ports, Bluetooth connectivity, etc.
3. Lots of safety features, including a lane-keeping assist and driver monitoring alert
4. It comes with 4years/50,000miles basic warranty, six drivetrain years/70,000 drivetrain miles, unlimited corrosion miles warranty, four roadside assistance years,10,000 maintenance miles.
Specifications Of The Lexus X460
| | |
| --- | --- |
| Drivetrain  | Four-wheel drive |
| Engine and recommended fuel type  | v-8, premium unleaded |
| Displacement  | 4.6L/281 |
| Max horsepower/RPM | 301/5500 |
| Max torque/RPM | 329/3400 |
| Transmission speeds | 6 |
| EPA Fuel economy, combined/city/highway(mpg) | 16/15/19 |
| Max towing capacity  | 6500 pounds |
Common Problems Of Lexus X460
1. Airbag problems 
2. Suspension issues
Conclusion 
Jeep stands out for best off-road car brands, but these cars come at a price that not everyone can afford. Some people also prefer Toyota to jeep because Toyotas are known for their reliability and excellent after-sale maintenance. If you are looking for something more affordable, that looks and performs almost as well as a jeep. Opt for any of the Toyota alternatives on our list. With these cars, you are guaranteed excellent performance while still getting the sleek design you want.