Last Updated on February 9, 2023 by Leepu Da Maxim
The prices of Toyotas have always been relatively high, be they new or used. This is always because they are high quality and are made to last. They don't lose their value as fast as other car brands.
Key Takeaways
Toyota has a high reputation for reliability, durability, and longevity and it is one of the main reasons used Toyotas are expensive
Toyotas have a strong resale value and this is why used Toyota cars are more expensive
There is a high demand for used Toyota cars in the market and it also plays a very important role in the high price of used Toyota vehicles
The price of a used Toyota mostly depends on the model; the more popular the model is the higher the price is
1. Toyotas Are Made To Last
Toyotas are made to last, meaning that they are of high quality. Even though Toyotas depreciate, their depreciation rate is not the same as other brands. They depreciate at a slower pace than other brands; Toyotas have an average depreciation rate of 35% for the first three years, and for this reason, they are seen as pre-owned cars rather than used cars. With a Toyota, everything lasts longer, and the repair is not much. Meaning that when you buy a used one, almost every part will be the original one. Toyotas have a lifespan of more than ten years.
2. Supply And Demand
Compared to other car brands, Toyotas may not be selling new cars as much as the other brand, Ford. This leads to less number of used Toyotas than other brands. When the demand for a used Toyota is high compared to the supply, the price will automatically increase compared to other brands whose supply may be more than the demand, so the prices automatically drop. The price drop sometimes encourages people to buy them because they are cheaper. 
3. Market 
The market of a product is what determines its price. If people are willing to buy it regardless of the high cost, it will remain high. However, if people are not ready to buy it because they think its value is not worth the price, the price may decrease. Toyotas are no different, and the fact that you are thinking of buying a used Toyota at that price tells it all.
4. Repair And Maintenance 
The maintenance of Toyotas is not complex, nor is it pricy. It just needs an oil change per year. If you need to replace a spare part, finding one will not be difficult as they are readily available. Toyota being a big brand used by quite a high number of people, you wouldn't miss spare pats. That's not all; Toyota has several offices; it would be easy if you wanted to talk to the dealers directly. It also requires frequent repair as the parts don't break down quickly, making it a go-to brand. 
5. Outstanding Performance
If there is a brand with outstanding performance in the industry, it is Toyota. For instance, the Toyota Tacoma base model can tow up to 3500 lb, has 16" steel wheels, and the engine is a 2.7 liter with four cylinders, providing 159 horsepower and a torque of 180 lb-ft. It is a six-speed automatic transmission and rear-wheel drive. However, you can upgrade and tow up to 6800 lb when equipped the right way. If you upgrade to the 3.5-liter V6 engine, acceleration will be smooth. It will provide 278 horsepower and 265 lb-ft of torque. You can also upgrade from rear-wheel drive to 4×4 for about $4000.
6. New Toyotas Are Expensive
New Toyotas are expensive because producing them is not as cheap as one may assume. For this reason, they tend to raise their prices to cover the cost of producing higher-quality cars; if a product is expensive when new, it will be costly even when used.
7. Marketing 
Any company that wants to succeed has to market its products to the target market properly. Marketing is one of the significant expenses. Technology and consumers themselves are influencing the car industry, it is ever-changing, and the consumers have to be updated. Marketing and great products have led to Toyota being a great brand. A great brand name always leads to a higher price, and the price remains high even when the product has been used.
8. Research And Development
When researching its products, a company invests in the future of the product. The company will understand the consumers better; they will know which car model is exemplary and should be scrapped off-market altogether. It is how Toyota comes up with a product that you love. These expenses have to be included in the product cost to have profit. This leads to a high price for a Toyota, whether new or used.
Comparing Toyota RAV4 With Honda CR-V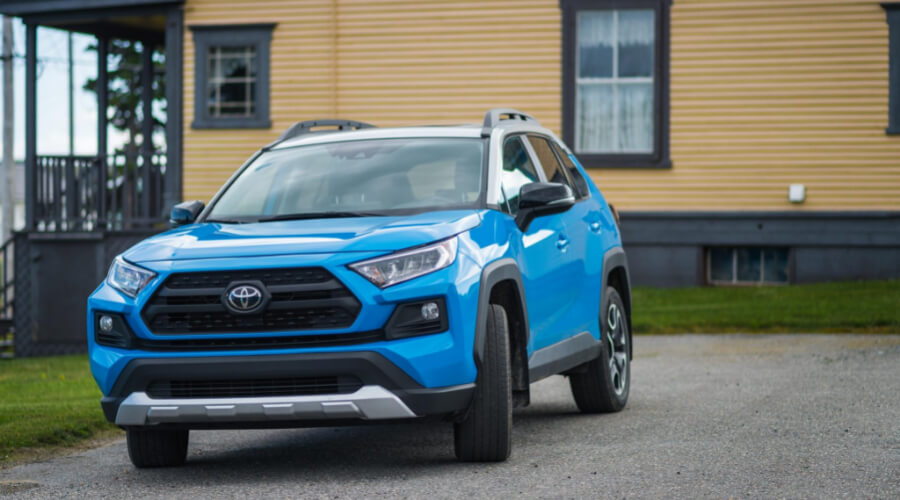 The new Toyota RAV-4 model has come a long way, and the latest one is the most masculine ever. The exterior design is impressive, with a model-specific front bumper. It also has a grille, skid plate, rear bumper, and wheel-arch moldings. The interior space has increased due to the increase in exterior, leading to more room. The exterior dimensions are 4615mm long for the Edge guise and 1865mm wide.
For Honda CR-V, the changes that have been made over the years have resulted in some visual upgrades. The front end has a new bumper design, and unique alloy wheels have been adopted. The interior has always been among the best in the class, so no significant changes have been made.
The standard features of a Toyota RAV-4 include auto LED headlights, taillights, and LED front fog lamps. The wipers are automatic, with 17-inch alloy wheels. The interior has fabric seat trim, a urethane steering wheel, an 8-inch touchscreen monitor, and a sound system with six speakers stereo. All grades have emergency brakes, with day/night pedestrian and cyclist detection during the day. It also has blind-spot monitoring, rear parking sensors, and rear cross-traffic alert. You will get mats for your floor for every model. This car has a 2.0-liter four-cylinder petrol engine with 127 horsepower and a torque of 203. The storage is good with bottle holders on the four doors, and loose item storage near the shifter and between the seats. The space in the second row is ample, enabling even a big person to sit comfortably. It consumes 6.5 liters per 100 kilometers. The Toyota RAV4 will provide its new customers with a 5-year warranty for unlimited kilometers, which can be extended to 7 years as long as your car has logbook servicing. The servicing plan is $210 per visit, occurring every 12 months or 15,000 kilometers. They will also do a battery check at the 5-year point, and the warranty for that is ten years.
On the other hand, Vi is the one model that has no turbo engine and the only one that does not have a Honda sensing safety suite. It has 17-inch alloy wheels and a 7-inch touchscreen monitor compatible with Apple CarPlay and Android Auto. The seats are cloth-trimmed, and it costs about $30,490. The engine is a 2-liter four-cylinder petrol engine that produces 113 horsepower at 6500rpm and a torque of 189. The cabin is mid-size, ensuring comfort for everyone. The door pockets are of a good size and a glovebox is. The 7-inch screen is somewhat fidgety during operation and can be pretty slow. The fuel consumption of the Vi is 7.6 liters per 100 kilometers. The warranty is 5 years for an unlimited number of kilometers. You can extend the warranty to seven years. The car should be serviced every year or after covering 10,000 kilometers. The service fee is $312 per visit.
Takeaway 
Having covered reasons why a used Toyota is expensive and even comparing it with the Honda CRV, we conclude it is a good brand. Buying a used Toyota will be a good decision, especially if you want something that will be worth your money. Some look new, yet they are used, so not everyone will notice. Remember to research to get the model that will serve you well.