Last Updated on February 12, 2023 by Leepu Da Maxim
Mazda is famous globally for manufacturing high-quality and affordable cars. The brand offers various choices for different driving needs ranging from the convertible MX-5 Miata to the CX-5 SUV. According to Consumer Reports, Mazda is the most reliable car brand, and their vehicles are pretty good.
Key Takeaways
Mazda is a well-regarded automaker with a reputation for creating stylish, reliable, and high-performance vehicles
Mazda tops the reliability list with a reliability score of 83, followed by Toyota at 71 and Honda at 63
The most reliable Mazda models are the CX-5, Mazda 6, and CX-3
Mazda models are equipped with advanced safety features, so they are a great option for drivers who value peace of mind behind the wheel
What Makes Mazda Reliable? 
When you look at reliability surveys and ratings, Mazda ranks top in all of them. According to which? And ReliabilityIndex ratings, Mazda gets 5 out of 5 for reliability. Consumer reports also award the top brand position for reliability with 83. So, what makes it this good? Why is Mazda considered reliable? Let's find out.
1. They Are Trendy And Efficient
Mazda is known for consistently producing models that are appealing to the eye and have impressive performance. Their redesigned new models also don't differ much from the original, and fans love it. This brand has also been successful in demystifying the myth that fun and sporty cars need to be high maintenance and less reliable. Mazda vehicles also feature the best quality infotainment features and unique electronic transmission with a dual-clutch and feel like a manual transmission.
2. Innovative Engineering
Mazda vehicles stand out from their competitors by their impressive race-inspired designs. Their vehicles blend technology, innovation, and utility to produce the perfect vehicle for performance lovers and families alike. A good example is the Mazda MX-5 Miata, an icon for years. This model is convertible with a low stance and tight steering, making it thrilling to drive. This brand's other notable models include Mazda 3 and Mazda 6, which have gained popularity worldwide and have numerous awards for their unique and well-thought-out design and engineering. 
We cannot conclude Mazda's innovative forte without mentioning the SKYACTIV technology. This is their revolutionary engine that has a higher compression ratio compared to conventional engines. It helps vehicles achieve excellent fuel efficiency without sacrificing clean emissions.
3. Fuel Efficiency
Thanks to their famous SKYACTIV technology, Mazda produces powerful but fuel-efficient vehicles. This brand was even named the most fuel-efficient vehicle manufacturer in the USA in 2016 by The Environmental Protection Agency (EPA). Some Mazda models with the best fuel efficiency include Mazda3 with a 36mpg/28mpg highway/city rating and the 2021 Mazda 6 with a 35mpg/26mpg highway/city rating. Compared to the average of 24.9 mpg for vehicles in the US, Mazda performs well.
4. Affordable Maintenance Cost
Proper maintenance is vital if you want your vehicle to run smoothly; different vehicle brands have varying maintenance costs. Mazda's are very reliable and affordable to maintain, with their annual repair costs averaging $462 according to repair pal. This is very affordable compared to other brands. Mazda vehicles are also less prone to breakdown that needs significant repairs, and you won't need to spend hundreds of dollars to keep your car moving. If you want to buy a car that requires minimal maintenance and repairs, you can't go wrong with this brand.
What Are The Most Reliable Mazda Models?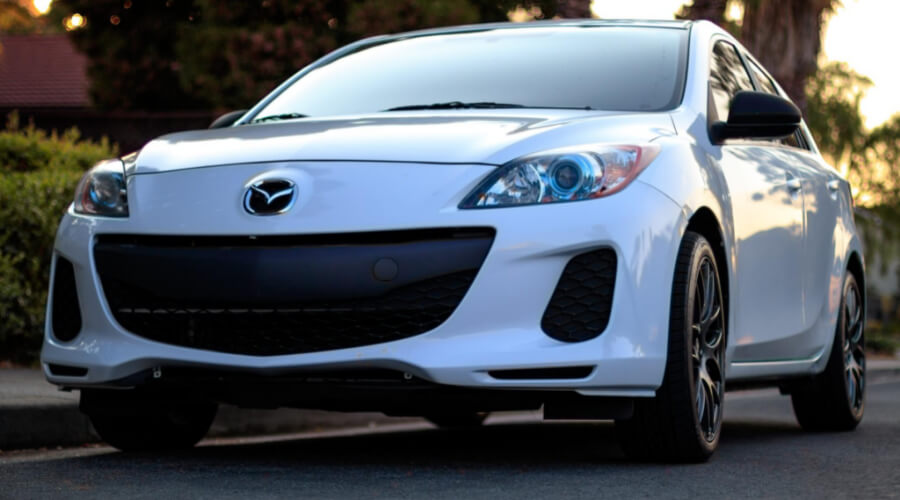 According to consumer reports, Mazda ranks top of the reliability list; this means you can't go wrong with a Mazda. Although all their vehicles are dependable, some rank better than others, let us find out the best models. The criteria we used to come up with this list are selecting those models that have warranty offers, take the least repair time, are affordable to repair, and don't break down a lot. Here's what we found:
1. Mazda 3
Mazda 3 is available as a sedan and hatchback with a 2.5-liter 4-cylinder engine and comes in front-wheel drive (FWD) and all-wheel drive (AWD) options. This model has one of the best driver ratings, and most owners have nothing but praise for the model. It is fuel-efficient, durable, and fun to drive. You will rarely need to worry about repairs because it doesn't break down a lot. It is also quite affordable to maintain, making it great for anyone looking for an inexpensive vehicle.
2. Mazda CX-9 
The Mazda CX-9 is arguably the best SUV model in the market currently: it works both as a family car and a sporty car. It has excellent handling capabilities and is quite spacious for all your driving needs. The engine features a 4-cylinder turbocharged engine that offers excellent performance and fuel efficiency. This model also has impressive infotainment and driver-assist features to ensure your drives are fun and safe all the time.
3. Mazda CX-5
The Mazda CX-5 is a compact crossover SUV ideal for anyone who wants a stylish and quality compact car. It has a 1.6-liter turbo engine that delivers top-level performance. This model has the best acceleration of 0-60mph in 8 seconds. It is also affordable and durable, making it a car that you can depend on at all times.
4. Mazda 6
If you've been looking for an affordable sports sedan that is stylish, you must have considered the Mazda 6. It has a chiseled body and features a turbocharged engine with 6-speed automatic transmission. The model has smooth and superior handling and is also comfortable for long drives because of its luxurious interiors and incredible infotainment features.
Frequently Asked Questions
Q. Do Mazda Cars Last Long?
A. yes, Mazda can last between 150000-200000 miles or 10-15 years when well maintained and serviced frequently. If you want your Mazda to last long, make sure you keep up with the required manufacturer's maintenance schedule and watch your driving habits.
Q. Is Mazda As Good As Toyota?
Various reliability ratings have listed Mazda as the best for reliability: better than Toyota. So in terms of reliability, Mazda is better than Toyota. For better comparison, it is advisable to compare similar vehicles from both brands to determine which one is better for your driving needs.
Q. What Are Some Common Mazda Problems
Even though Mazda is the most reliable car brand, their vehicles still experience some issues. One of the most common issues with Mazda is a failed fuel pump caused by the impeller in the low-pressure pump deforming or cracking. This issue is common in mazda3, Mazda 6, Mazda CX3, and Mazda CX-9 made between 2018-2020. The issue has led to some recalls, although it is not as prominent
Wrapping Up 
Mazda is a famous car brand that ranks top of the reliability lists in various surveys. Not only is the brand reliable, but it is also affordable to buy and maintain. The vehicles are also stylish and ideal for various driving situations. Being a Japanese manufacturer, you are guaranteed quality and excellent performance. If you are looking to buy a good car that requires minimal maintenance, is durable, and is affordable, then Mazda is the brand for you. Not only is it a good car, but it will also hold its value well, making it remain good for years to come.