Last Updated on February 8, 2023 by Leepu Da Maxim
KIA makes reliable cars that come with excellent features at a very affordable price. Most people looking to own a stylish vehicle without breaking the bank will opt for this brand. However, their depreciation rate is relatively high, making them lose their resale value faster than Toyota.
Key Takeaways
Depreciation of a vehicle refers to the difference between a car's buying price and what you would get back when you sell or trade it in
According to caredge.com, automotive research, and listing site, KIAs lose about 55.2% of their value in the first five years
KIA's depreciation rate is relatively high compared to brands such as Toyota
The depreciation rate of Toyota is 32% in 5 years
Depreciation of a vehicle refers to the difference between a car's buying price and what you would get back when you sell or trade it in. you want to buy a vehicle with the least depreciation to ensure that you get rid of it and keep your losses to a minimum. This article looks at how KIA holds its value compared to Toyota and other brands. We take you through the models with the highest depreciation, and those with the least while comparing them to different Toyota models. In the end, you will be in a better position to decide whether KIAs are worth buying. Read on!
KIA Depreciation By Model Year 
Below is a table showing the depreciation percentage of KIA vehicles by their model years. You will notice that the older they get, the more they depreciate.
| | | |
| --- | --- | --- |
| Model year  | Depreciation percentage | Residual value  |
| 2009  | 83.20% | 16.80% |
| 2010 | 79.77% | 20.23% |
| 2011 | 74.04% | 25.96% |
| 2012 | 69.94% | 30.06% |
| 2013 | 65.64% | 34.36% |
| 2014 | 63.34% | 36.66% |
| 2015 | 59.15% | 40.85% |
| 2016  | 51.47% | 48.53% |
| 2017  | 43.82% | 56.18% |
| 2018  | 37.83% | 62.17% |
| 2019 | 34.36% | 65.64% |
| 2020 | 29.02% | 70.98% |
KIA Depreciation By Models 
The table below shows the expected depreciation of different KIA models for the next five years. These are results for cars that are in good condition and average 10,000 to 12,000 miles per year. Depreciation will vary for vehicles with issues or those with higher mileage. 
| | | |
| --- | --- | --- |
| KIA model  | Depreciation percentage in 5 years | Residual value  |
| KIA Cadenza  | 50% | 50% |
| KIA K5 | 50% | 50% |
| KIA Forte | 51% | 49% |
| KIA Optima  | 49% | 51% |
| KIA Niro | 55%  | 45% |
| KIA Sorento  | 55% | 45% |
| KIA Sedona  | 62% | 38% |
| KIA Rio  | 49% | 51% |
| KIA Soul | 39% | 61% |
| KIA Telluride | 55% | 45% |
| KIA Stinger  | 50% | 50% |
| KIA Sportage  | 55% | 45% |
Are KIAs Reliable?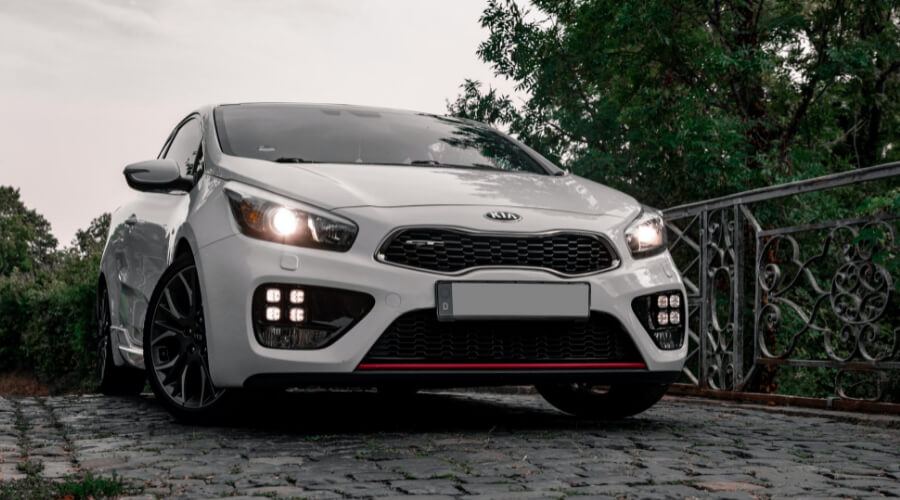 Although KIAs lose their resale value relatively fast compared to Toyota, their reliability is above average. According to repair pal and JD Power, the reliability rating for KIA vehicles is 4 out of 5. When KIA first entered the US market about 20 years ago, they earned a poor reputation, but much has changed since then, and the vehicles have significantly improved.
KIA ranks third out of 32 vehicle brands when it comes to reliability ratings. These vehicles are popular because they are affordable to purchase and are less likely to have mechanical problems that will require significant repairs.
One way that the manufacturer guarantees their vehicles' reliability is by including the best warranty for their new cars. The KIA warranty consists of a 5-year bumper-to-bumper warranty and a ten-year powertrain warranty. Other brands such as Toyota only have a 3-year bumper-to-bumper warranty and a ten-year powertrain warranty. When you buy a KIA, you are guaranteed to get the best use out of the vehicle, even if the resale value is low. 
If you want to buy a car without reselling plans, you will consider getting a KIA because they offer value for money. As long as your vehicle is well maintained, you are assured it will work well for about a decade without significant issues. In case it fails, most points will be covered under warranty.
Factors That Determine How Well A Car Holds Their Resale Value
Now that you know about the resale value of KIAs, it is essential to understand the different factors that affect a car's resale value. Let's get into it.
1. Model And Make
The car's make plays a significant role in determining its resale value. Some car brands have an excellent reputation which creates a strong demand among car buyers. This reputation is what makes brands and models such as the Toyota 4Runner have a high resale value. When a vehicle is known for its reliability or fuel efficiency, buyers will be willing to pay more for a pre-owned car than for an average brand.
2. Mileage 
When a car is about to be resold, most buyers will look at the mileage because it indicates its wear and tear. High mileage means that the vehicle has been used a lot and is highly likely to break down. The resale value decreases as the mileage increases meaning if your car has high mileage, you won't get much value from reselling it.
3. Fuel Economy 
Fuel economy is something almost everyone considers before buying a car, whether new or used. Not everyone is willing to dig deeper into their pockets to afford to buy gas for their vehicle. Vehicles that don't consume much fuel generally have a high resale value compared to guzzlers. Other than economic reasons, fuel-efficient cars are also environmentally friendly. People who are cautious about their carbon footprint will not want a vehicle that consumes fossil fuel making electric cars have a higher market share. In the future, electric vehicles might overtake gas guzzlers. If you are buying a car with a plan to sell it in the future, consider its fuel uptake as it may affect its resale price in the future.
4. Maintenance Of The Interior And Exterior
If you want your car to retain its resale value, ensure that the interior and exterior are well-maintained. If you can afford it, have your vehicle cleaned and polished from time to time. Ensure the upholstery and any attachments are well-taken care of because they are prone to frequent wear and tear. Consider replacing any parts that need replacing to maintain the resale value of your car over the long term.
5. After-sales Care And Maintenance
How you take care of your car is critical in determining how well it will hold its resale value. Always ensure you get your car serviced regularly and follow its recommended maintenance schedule. Maintenance is crucial since it helps to cater for wear and tear and rust. Remember, no one is willing to spend their money on a rusty vehicle that is not well maintained. When you get your car serviced, keep the records to have proof when you need to sell the car. The records come in handy when you need to win a buyer's confidence and make them pay a higher price.
The Takeaway
KIAs are excellent vehicles with their origin in Seoul, South Korea. They are designed for buyers who want inexpensive yet stylish cars that are reliable. These vehicles lose their value quite fast compared to other brands such as Toyota. They depreciate pretty quickly because they are not so popular and have not gained brand loyalty. Brand loyalty is crucial because it makes people more confident when buying a used car. However, KIAs are pretty reliable; if you want to buy a preowned one, do your research and ensure you get value for money.