Last Updated on February 4, 2023 by Leepu Da Maxim
The Armor All Premier Car Care Kit comes with a variety of products to help you clean and protect the interior and exterior of your vehicle. This product is very affordable yet offers various key features.
Key Takeaways
You can use the Armor All Premier Car Care Kit to clean the tires, glasses, interior, exterior, etc. of the car
The Armor All Premier Car Care Kit comes with tire foam, car wash concentrate, leather cleaner, protectant, glass cleaner, etc.
You can use the 10 oz Original Protectant to clean the dashboard and plastic surfaces
The Armor All Complete Car Care Kit has cleaning wipes for quick cleanups on fabric, vinyl, and leather
Now, let's unpack it. 
What Is The Armor All Complete Car Care Kit?
This Armor All care kit is a collection of these eight items:
| | |
| --- | --- |
| Product | Amount (in fl. oz.–fluid ounces)  |
| The Ultra Shine Wash and Wax | 16 |
| Extreme Wheel and Tire Cleaner | 24 |
| Glass Cleaner | 22 |
| Extreme Tire Shine | 22 |
| Original Protectant | 16 |
| Air Freshener Pump Spray | – |
| Multi-Purpose Cleaner | 16 |
| Wash Pad | – |
You'll know what each item does in the features section.
Are There Any Different Variations?
Apart from the premier car care kit, Armor All also offers:
1. Disinfectant wipes (100)
2. Disinfectant wipes (90)
But those are different products, so let's focus on our kit.
Who Is The Armor All Complete Car Care Kit For?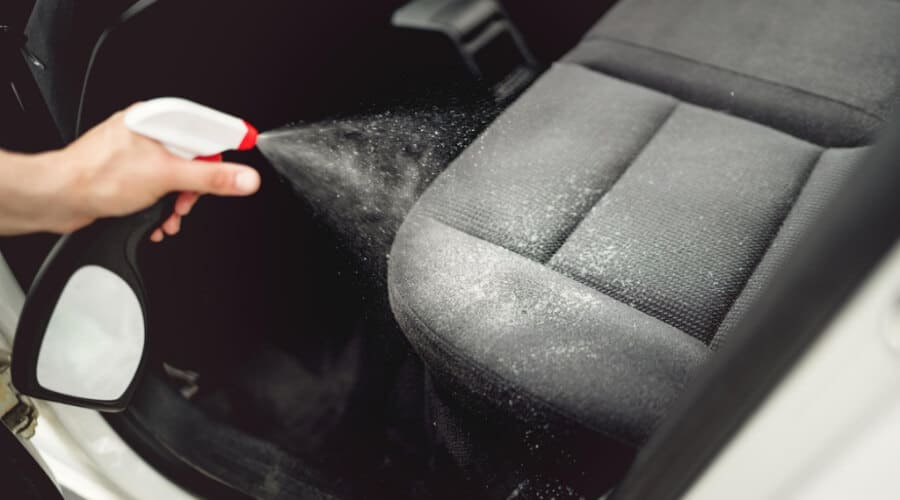 This car cleaning kit is for all car owners. Car cleaning is a regular task, and drivers need the best partner. Armor All is a trusted brand, and this premier package is as functional as it can get.
If you're an auto expert with a carwash, you can use the kit to offer special services. Other liquids will do a standard job, but this product will take cleaning to new heights. How's that for a business upgrade?
How Much Does The Armor All Complete Car Care Kit Cost?
At the time of this writing, this kit costs $39.97.
What Are Its Specifications?
Here are a few technical details:
| | |
| --- | --- |
| Brand | Armor All |
| Item Weight | 9.2 pounds |
| Package Dimensions | 13.11 by 10.94 by 8.54 inches |
| Country of Origin | USA |
What Are Its Features?
Now, let's see what each of the eight items does:
1. The Ultra Shine Wash And Wax
This is a blend of:
1. Cleaning agents
2. Surface Lubricants
3. Carnauba wax
With those 'ingredients,' you get a liquid that meets the most exacting standards.
2. Extreme Wheel And Tire Cleaner
This product has a triple-action formula that deals with grime, grease, and brake dust. It dissolves all the dirt in the rims to reveal their shine.
3. Glass Cleaner
This is an ammonia-free formula that cleans the glass parts without damaging them. It doesn't matter how the job looks; this tackles the toughest stains most gently.
4. Extreme Tire Shine
This product has the Shine-Shield formula, which gives your tires a mirror-like shine. If your tires have dry rot, this liquid will bring back their rich black color. Also, the formula protects and prolongs the life of those wheels you love to bits.
5. Original Protectant
And what about your car's inside? Well, this original protectant cleans, shines, and protects the surfaces. It gives them a renewed look by dealing with cracking, aging, and fading.
6. Air Freshener Pump Spray
To ensure that your car smells fresh, Armor All drops this air freshener in your basket. The scents may vary, but you'll like them still.
7. Multi-Purpose Spray
For car cleaning enthusiasts, perfection is key. This spray delivers precisely that. It lifts away debris and dirt while harming none of the auto parts. In the end, your car will have a detailed look which you'll love.
8. Wash Pad
This piece of equipment helps you to scrub the exterior surfaces. It contains microfibers that lift dirt with ease.
So, say goodbye to those rags and towels—time for the premier car care kit.
Compatibility
You can use these products in any car. 
How To Use The Armor All Complete Car Care Kit
Using this kit is easy; it's washing your car. But, you need to ensure correct product use.
If you're washing the tires, use the Extreme Wheel and Tire Cleaner. If you're working on the dashboard, go for the Glass Cleaner, and so on. 
When you use a product other than for its intended purposes, you'll spoil the look on your car. And that's something you don't want to happen.
To be sure, always read the instructions on each bottle. 
Pros
1. Provides multiple protection
2. Easy to use
3. Disinfects without leaving stickiness or streaks
4. Keeps cars shiny and new 
Cons
1. Doesn't last for long
Customer Questions & Answers
1. Does The Care kit Come Packed Like A Gift?
No, they all come in a shipping box like all other items on Amazon.
2. How Many Washes Can The Entire Kit Accommodate?
That depends on the number of times you wash. But 25 is a reasonable estimate.
3. Are The Car Care Items Okay On Leather Surfaces?
To clarify, you should only use the products on:
1. Vinyl seats
2. Dashboards
3. Trim/tires
4. Bumpers
5. Consoles
6. Door panels
What Buyers Say About This Product
This care kit is an excellent start for beginners. Anyone who's looking for easy-to-manage products will like it. Also, most buyers feel delighted, seeing that each item cleans your car perfectly.
The chief complaint is about delivery. While shipping, Amazon workers may move the box too hard as to spill the liquids. But that shouldn't worry you since you can ask for a replacement.
Final Thoughts
All car enthusiasts will fall in love with this kit. It's like a little care package that keeps your car looking vibrant. If you want your car to have a never-ending glow, this is the go-to item.
No, whenever you're ready, make your way to the shopping cart. The Armor all complete car care kit plus this car vacuum cleaner will light your vehicle up.
Thanks for reading, and don't forget to leave your comment below. Also, sharing this review would be amazing.
Cheers!
References:
https://www.lowes.com/pd/Armor-All-Armor-All-Tool-Box-9-Items-Car-Wash-Detailing-and-Cleaning-Kit/1003195058
https://www.target.com/p/armor-all-complete-car-care-automotive-cleaning-kit/-/A-13547819