Last Updated on February 13, 2023 by Leepu Da Maxim
Dodge Hemi is known for its hemispherical combustion chamber design while the Chevy LS engine is popular among performance enthusiasts. On the other hand, Ford Coyote V8 Engine is known for its high-revving nature, smooth operation, and impressive power output.
Key Takeaways
Dodge Hemi engines are used in muscle and sports cars
Chevy LS engines are small-block design engines and the best part of this engine is, you can interchange the components between different versions of the engine
Ford Coyote V8 engine has a dual overhead cam design for increased airflow and combustion efficiency
Comparing Ford Coyote And Dodge Hemi V8 Engines
| | | |
| --- | --- | --- |
| Engine Qualities | Ford Coyote V8 | Dodge Hemi |
| Manufacturer | Ford | Chrysler |
| Production years | 2003 | 2003 |
| Fuel type | Gasoline | Gasoline |
| Number of cylinders | 8 | 8 |
| Firing order | 1-5-4-8-6-3-7-2 | 1-8-4-3-6-5-7-2 |
| Weight | 202kg | 254kg |
| Capacity | 8.4 | 6.71 |
Let us discuss the three engines and understand them better to have a clear verdict on which is best suited for a V8 engine.
The LS Chevy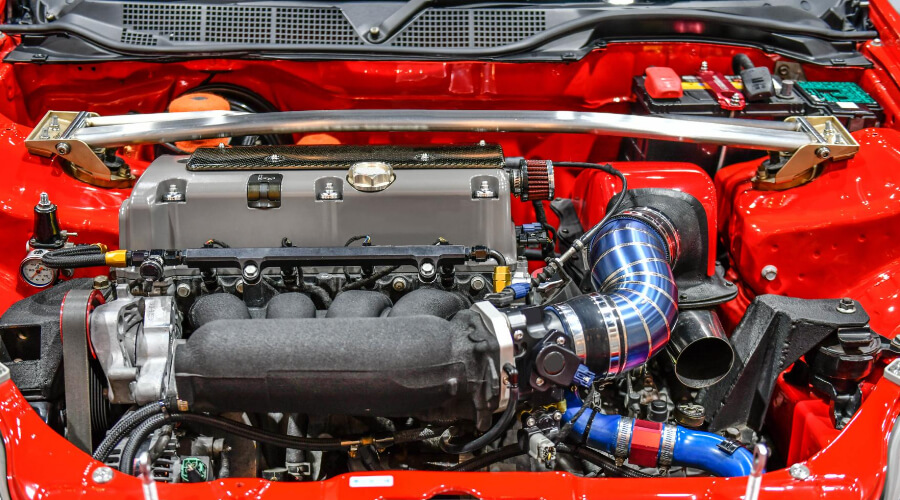 In 1999, Chevrolet unveiled their new V8 design. This new small-block design replaced the LT series of engines, essentially a small-block Chevy with some EFI components attached.
The LS1 was the name given to their innovative small-block engine, which spawned a vast engine family.
Because the LS has a greater displacement than the Ford Modular, it has higher horsepower and torque. The LS, like every previous small block before it (save the LT5), had an OHV engine.
As a result, the LS engine family is incredibly small and light.
How Reliable Is The LS Chevy Engine?
The Chevy LS engine is Strong: The need for a solid foundation in the development of a superb engine was recognized by GM, as seen by the LS block's modeling. The "Y" block design used in the LS engines improves the stiffness of the primary cap sections.
The main cap is secured to the block wall with two horizontal bolts and four vertical bolts. A sturdy top end, in addition to a solid bottom end, was designed to decrease cylinder bore distortion.
Compact Size: The LS engines from Chevrolet are known for their compact designs, which allow them to fit into tiny engine bays. The engines' pushrod design is also one of the reasons they are such small but powerful units.
In addition, due to its significant use of aluminum in manufacturing the engine blocks, the LS engine outweighs its competitors in terms of weight.
Displacement And Upgrading Options: General Motors developed the LS engines for a wide range of vehicles. However, they all fit under the small-block pushrod V8 engine category, with the majority having 4.40″ bore centers. Nonetheless, the engines come in various sizes, making them appropriate for various vehicles.
While LS engines were available in 7.0L, 6.2L, 6.0L, 5.7L, and 5.3L for automobiles, the iron-block 5.3L and 4.8L, and the 6.0L and 6.2L all-aluminum engines were only available for trucks. 
The reaction of the aftermarket to a new engine is a good indicator of its quality. The aftermarket for the LS has been exploding. An upgraded camshaft is also one of the most common engine upgrades, and it is also the best value-for-money adjustment anyone can make to their LS engine.
Turbo kits, cylinder heads, and even basic bolt-ons are examples of further modifications. Swap kits are also widely available in the aftermarket, making it simple to install an LS engine in nearly any vehicle.
Ford Coyote Engine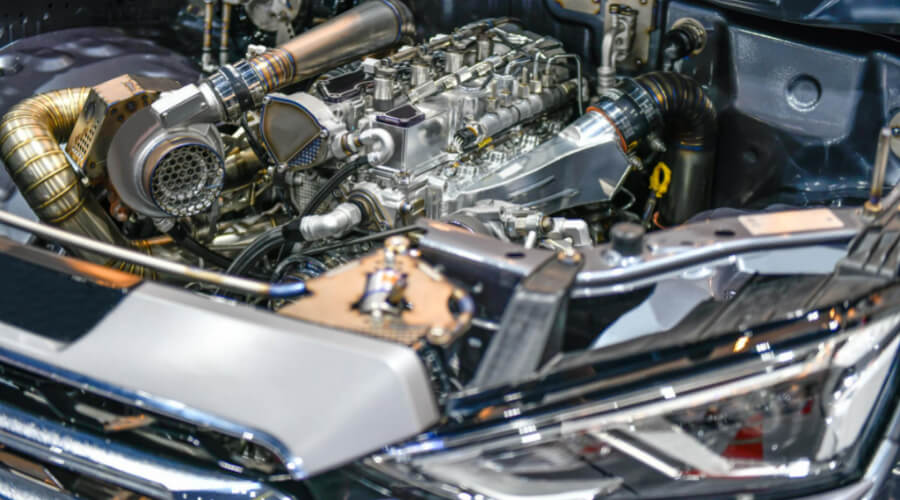 The Ford Coyote engine is typically regarded as a dependable, rock-solid power plant. It has forged rods, a forged crankshaft, and conventional fuel injection. Despite its minor flaws, the Coyote-equipped model is one of the most popular Mustangs on the market.
For the 2011 model, the Ford 5.0 Modular "Coyote" is a 5.0-liter gasoline V8 engine that replaced the previous 4.6L/5.4L Modular variants in the Ford Mustang GT and Ford F-150. The new 5.0L V8 engine was designed to compete with the GM 6.2L V8 and Chrysler 6.4L Hemi engines. 
Therefore, Ford engineers designed a lower displacement engine that provides the same power level as its competitors while running on standard 87 unleaded fuels.
Issues And Performance Of The Ford 5.0 Coyote Engine
The 5.0L Coyote is a naturally aspirated V8 engine with a large displacement that is less sophisticated than turbocharged V6 engines and thus has fewer parts that can fail. The "Five-Oh" engine, which ran from 2011 to 2017, has a reputation for being a rock-solid, dependable engine.
 It is identical to the previous 4.6L engine's relative simplicity and time-tested design. Forged connecting rods, a powerful forged crankshaft, iron sleeves, dependable timing chains, and classic port fuel injection are the exemplary features of this engine. 
This combination offers excellent long-term durability while maintaining a high degree of performance. The sole drawback is that the 5.0 V8's fuel economy is inferior to Ford's EcoBoost range.
Ford made significant changes to the 5.0 Coyote for 2018. Sleeves made of iron are no longer worn. Spray-on bore liners were installed in their stead. Ford added a direct fuel injection that sprays fuel directly into the combustion chamber.
The updated engine became more complex, and expensive to make, and repair to achieve EcoBoost power and fuel economy. It now mostly depends on the type of power supply you like.
What Are Dodge Hemi Engines And How Do They Work?
The original HEMI V8 engines were dubbed "Firepower" rather than "HEMI." The hemispherical combustion chambers and two spark plugs per cylinder are the same.
Due to these characteristics, Briggs Cunningham employed these engines in his international race cars and won the race in 1953.
Where the second-generation HEMI left off, the third-generation HEMI picked up. The combustion is different with more sophisticated engine heads, a coil-on-plug distributor-less ignition system, and two spark plugs per cylinder.
Chrysler improved fuel economy by about 4% with a variable valve timing system.
Like Mercedes' cylinder deactivation system, the HEMI 5.7 has variable displacement technology.
Hemi Dodge Summary
The 5.7 HEMI engine is a blast to drive. A well-designed pushrod engine that is very reliable, durable, and capable of raising the reputation of massive machines to new heights. It is not the best engine ever created, but it is far superior to engines at its level of competition.
With adequate care and maintenance, the 5.7 HEMI may travel between 250,000 and 300,000 miles.