Last Updated on February 8, 2023 by Leepu Da Maxim
Subaru and Toyota are the most popular car brands in the USA, each having numerous loyal customers. Customers love and value these brands because of their performance and reliability. Subaru is known for its all-wheel drive vehicles while Toyota is known for its reliability and efficiency.
Key Takeaways
Subaru is popular for its boxer engines and its Symmetrical All-Wheel Drive system while Toyota is renowned for its hybrid technology and efficient powertrains
Subaru has a limited lineup of vehicles compared to Toyota; Toyota has more vehicle models
Subaru vehicles are more expensive compared to Toyota vehicles
Toyota has a larger global market presence compared to Subaru
How Is A Car's Reliability Determined?
 There are several methods used to determine a car's reliability. They include:
1. Reliability Index
2. The average cost of repairs
3. Cost of basic maintenance
4. Consumer Surveys 
5. After-sale benefits
6. Fuel consumption
Let's look at each method above, describe them in detail, and see how Subaru and Toyota compare in the different reliability measures.
1. Reliability Index
The reliability index is a universal measure computed by accounting for all the times a car fails, the cost of repairs, and the average time a vehicle spends off the road due to repairs. It is comprehensive and also takes into consideration the vehicle's mileage and average age. The lower the reliability index score, the better the vehicle, the higher the index, the worse the car.
Most cars have an average reliability index score of 100, but the standard reliability index score is 118. Cars with a reliability index higher than 118 are considered less reliable, while those scoring less than 118 are very reliable.
According to the reliability index rating, Toyota is more reliable with a 4 out of 5 and ranks 8th out of all brands. Subaru is less reliable with a 3.5 out of 5 and ranks 14th out of the 32 brands.
2. The Average Cost Of Repairs
Another popular method used to determine a vehicle's reliability is the cost of repairs. When comparing different models, to find out which is more reliable, you consider repairing the same problem in the different cars. For example, you compare how much it would cost to repair an axle and suspension problem in a Toyota RAV4 vs. a Subaru forester. I find this method a bit biased because different models will have different complaints, and the cost of labor and spares will also play a role. However, if you are torn between buying two different cars, you can use this method to decide which will be more cost-efficient and less straining on your budget to repair.
Below Is A Table Comparing Cost Of Repair For Diferent Models Of Subaru And Toyota.
| | | |
| --- | --- | --- |
| Vehicle models | Common complains | The average cost of repair |
| Subaru Forester vs Toyota Rav 4 | Engine, axle, and suspension | Forester :$900Rav 4: $450 |
| Subaru legacy vs Toyota corolla | Engine and gearbox | Legacy:$750Corolla: $350 |
| Subaru imprezza vs toyota Axio  | Brakes and axle  | Imprezza: $320 Axio: $280 |
3. Cost Of Basic Maintenance
Every vehicle comes with a manufacturer's manual that provides guidelines on its maintenance schedule for optimal performance. The schedule includes oil changes, checking the brakes and tires, and general maintenance. You will also need to replace some components, such as filters, from time to time. 
The cost of servicing and maintaining your car will vary depending on the specific model and mileage. The average cost of maintaining a Subaru is about $800 per year, with some models costing less and others having a higher maintenance cost. Subaru Impreza is the cheapest to maintain, with costs ranging between $95- $320. The average cost of maintaining a Toyota is $450 per year, making it very economical.
Going by the cost of maintenance, Toyota is more reliable than Subaru.
Comparing How Much It Costs To Maintain Different Vehicle Models
| | |
| --- | --- |
| Car model  | Average 5-year Maintenance cost  |
| Toyota Prius 2016 | $5,365 |
| Toyota Corolla 2016 | $ 4,814 |
| Toyota Rav4  | $6,080 |
| Toyota Camry  | $4,600 |
| Subaru Forester | $6,500 |
| Subaru Impreza  | $6,000 |
| Subaru WRX | $3,400 |
| Subaru Outback  | $ 2,500  |
1. Consumer Surveys
How well a vehicle performs on consumer surveys is also a good measure of reliability. Numerous reliability surveys touch on Subaru and Toyota. Let's look at some of them and see which brands rank better.
| | | |
| --- | --- | --- |
| Consumer survey  | Toyota brand position | Subaru brand position  |
| Telegraph  | 10 | 1 |
| What car survey  | 5 | 2 |
| Driver power survey  | 10 | 6 |
| Reliability index survey  | 4 | 18 |
| Customer satisfaction  | 90.54% | 91.09% |
From consumer surveys, Subaru is more reliable than Toyota; their customer satisfaction index is almost similar. These brands are all popular with loyal customers, and that's why the surveys show excellent reliability for both brands. 
2. After-sale Benefits 
After-sale services and benefits will also determine how reliable a vehicle is. If you are getting a warranty covering the vehicle for long, you will save up on costs and feel comfortable about the car you're getting. Another common dealer benefit is having a mechanic come to you when needed.
According to the JD Power customer service index study, Toyota has better after-sale benefits with a score of 799 compared to Subaru, which is 789.
3. Fuel Consumption 
With the current state of the economy, fuel consumption is a significant factor when determining which car you will buy. Most people consider cars with low consumption as reliable while the guzzlers are less reliable. Most Toyota models consume less fuel than Subaru, but you will need to compare the specific models you want to buy to find which consumes less.
Tips For Improving Your Car's Reliability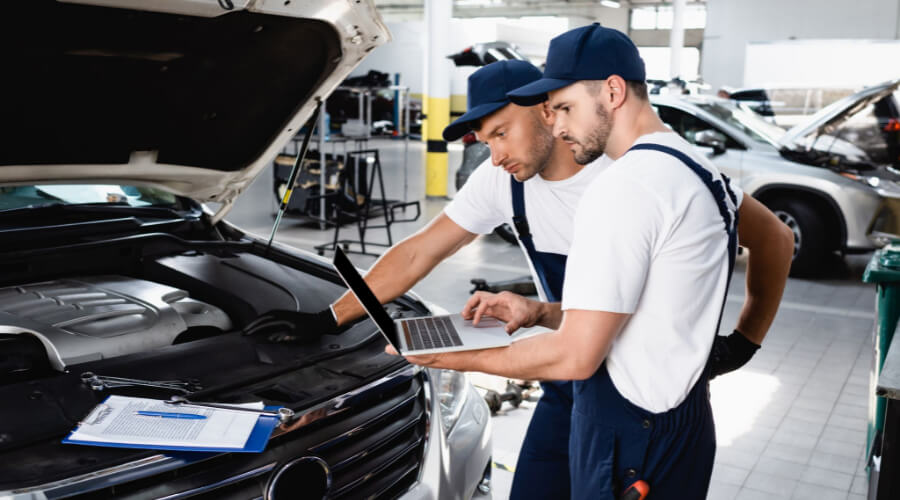 After buying the car you always wanted, it is essential to maintain it and improve its reliability. Here are some helpful tips for improving your vehicle's reliability:
1. Replace the air filter with a washable and more efficient filter.
2. Add an oil catch that will capture and filter any recirculated oil or junk that gets to the combustion chamber.
3. Use a pressurized radiator cap and an overflow tank to catch excess coolant.
4. Upgrade spark plugs and worn-out wires to better quality ones
5. Choose braided brake lines over the usual factory ones
6. Flush your engine oil and regulator regularly
7. Be gentle as you drive 
Conclusion
If you've owned both a Subaru and Toyota, you know that both models are reliable in different situations. Subaru is much better to handle off-road situations thanks to its powerful engine, but the cost of maintaining them is pretty high. Toyotas are also great because they are dependable and relatively simple, they are also more affordable, and the cost of repair and maintenance is relatively inexpensive. After going through all this information, I'm sure you know which brand you are leaning towards between Subaru and Toyota.