Last Updated on February 14, 2023 by Leepu Da Maxim
Yes, the Ford Crown Victoria is a good car. The Crown possesses one of the industry's leading long-term reliability reputations. They are spacious, comfy, and have reliable engines. The Crown Vic is a rugged workhorse of a car, so numerous government organizations have used it for decades.
Key Takeaways
The Ford Crown Victoria has a reputation for being a safe and comfortable vehicle, with a spacious interior and a sturdy body
The Ford Crown Victoria is a full-size sedan and it was in production from 1992 to 2011
The Ford Crown Victoria features a rear-wheel drive platform, a V8 engine, and a seating arrangement of up to six passengers
Because of the durability and reliability of the Ford Crown Victoria, this vehicle was widely used as a police car and taxi 
The History of Ford Crown Vic Cars
Its current version has been manufactured at Ford's St. Thomas Assembly facility since 1992. While the Lincoln Town Car's foundation and components are shared, the Crown Victoria's exterior sheet metal and interior parts are almost entirely different. It has only been offered for fleet sales, primarily in police and taxi form, and rental car firms, since the 2008 model year.
The Crown Victoria and its Mercury and Lincoln stablemates are North America's only full-frame rear-wheel-drive passenger automobile and three of the few remaining US vehicles still in production.
The first "Crown Victoria" emerged in 1955, and it was a 2-door 6-seater coupe from Ford's Fairlane line. It was distinguished from the regular Victoria model (named after a type of carriage) by a stainless steel band that 'crowned' the roofline, passing right over the car as an extension of the B-pillar line.
In front of the steel band, the front half of the roof was made of acrylic glass in and Ford Crown Victoria Skylin version. That made it challenging to market the car, particularly in the southern areas of the United States.
Past Models of the Ford Crown Victoria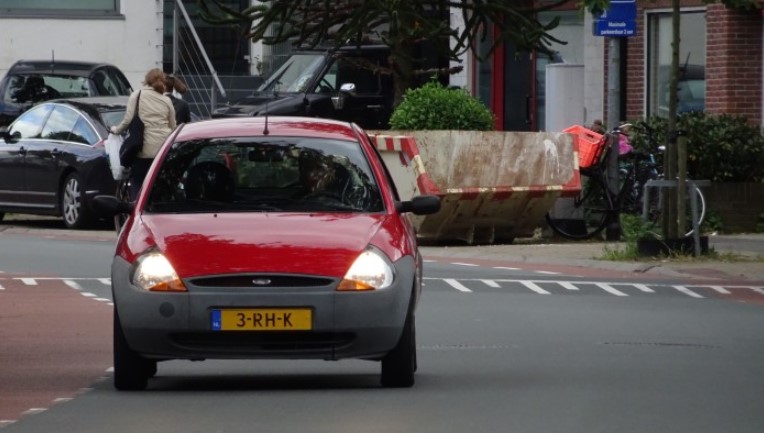 The most recent Crown Victoria is still essentially the same automobile as in 1992 when the last major redesign occurred.
The most recent body style was introduced in 1998, but in 2003 it received a completely new chassis behind that now-familiar body shell. The suspension architecture remained substantially the same, although it received numerous improvements and, for the first time, included more responsive rack-and-pinion steering. 
That year, antilock brakes became standard, and front side airbags were optional on both the LX and the LX Sport.
In 1998, the Crown Victoria was given a significant makeover by adopting the formal roofline that had previously been reserved for its Mercury Grand Marquis twin. The rear suspension was adjusted to improve handling, and the powertrains were upgraded to produce greater power. 
The engine was modified again in 2001 to raise output to 220 horsepower on the base and LX models and a dual-exhaust-enabled 235 hp on the LX Sport. 
The 1992 Ford Crown Victoria debuted with a restyled body and a new-generation, overhead-cam 4.6-liter V8 rated at 190 or 210 hp. We found it smoother and more powerful than the old overhead-valve V8s it replaced. After that, not much changed until the three-year wait for the next major update.
The Most Recent Model of Ford Crown Victorias
The Ford Crown Victoria was a complet six-passenger hatchback last made for civilian usage in 2007. It was available in base and LX trim levels. The LX model came with a few extra upscale amenities and access to optional packages like the premium handling and performance package (previously known as the LX Sport trim level).
The Crown Victoria was rapid despite its 2-ton curb weight, thanks to a 4.6-liter V8 engine with 224 hp and 272 pound-feet of torque; LX vehicles with the enhanced performance package were even faster, with 239 horses and 287 pound-feet of torque. 
The only gearbox option was a four-speed automatic. Crown Vics with the sport package received an improved torque converter and shorter rear-axle gearing for greater acceleration off the line.
The retro design and low-cost materials quality were instantly noticeable inside. The vehicle's strong points were its good value for money and the roomy, comfortable accommodations for five or six people. 
It had a massive 21-cubic-foot trunk capable of holding a week's worth of luggage for four persons or a family.
The Ford Crown Victoria provided a comfortable ride. The handling was adequate but sloppy, and there was no avoiding the enormous sedan's decades-old design, hefty weight, and large size. 
A secondhand, well-kept Crown Vic will suffice if you need a modest family cruiser or a spacious commuter. However, if you're looking for a full-size V8 sedan that's also elegant and smooth, you'll be better with one of Ford's more recent competitors.
Is Crown Victoria a Reliable Car?
The Ford Crown Victoria has an excellent car with a Reliability Rating of three. It has a peak score of ten. However, considerable annual repair expenditures result in poor ownership costs.
Are Crown Victoria Engines Good?
The Ford Crown Vic's 5.2L V10 engine provides strong acceleration, allowing it to reach a top speed of 62 mph. Your car's acceleration will undoubtedly be outstanding, thanks to its torque.
The car runs in manual mode at 120 mph, with a front-to-back ratio of 3:05:1:1 and a rear-to-back ratio of 3:21:1 at 130 mph.
The Crown Victoria Engine Specs for year 1999, 2000, 2001, 2002, 2003 Models
| | |
| --- | --- |
| Power | 223 Hp @ 4750 rpm |
| Torque | 359 Nm @ 4000 rpm |
| Engine location | Front |
| Number of cylinders | 8 cylinders |
| Position | V-engine |
| Number of valves per cylinder | 2 |
| Compression ratio | 9.4 |
| Fuel system | Indirect fuel system |
| Bore cylinder | 90.2 mm |
| Fuel type | Gasoline |
| Max speed | 177 km/h |
Frequently Asked Questions about Ford Victoria Cars
What Is the Life Expectancy of Crown Victoria Engines?
You may be curious about the life expectancy of your Crown Vic. The range of an electric automobile depends on the type of transmission used and whether it is used in the city or country. It can range from 600,000 to 100,000 kilometers.
Is the Crown Vic a Quick Car?
The Crown Vic car has power, and it builds it in a linear and regulated manner. The car has only 250 horsepower and a 4-speed transmission. The ride is well-tuned despite the live rear axle and has excellent handling.
What Are the Performance Alternatives of the Vic?
LX and Base Models of the Ford Crown Victoria: A 4.6-liter V8 engine with 224 horsepower at 4,800 rpm and 275 pound-feet of torque is standard on the Crown Victoria basic model and LX grade. The V8 engine is connected to a 4-speed automatic transmission, rear-wheel drive, and rack-and-pinion steering in the Crown Victoria.
 Independent front suspension and solid axle rear suspension are standard on both Crown Victoria versions. Four-wheel antilock brakes with electronic braking force distribution are standard for Crown Victoria. Generally, a Ford Crown Vic is a good car worth its price tag when considering its reliability and performance.
Reference 1: Crown Victoria Review (thetruthaboutcars.com)
Reference 2: Ford Crown Victoria Reliability – Is This A Good Buy? (carsandwrenches.com)