Last Updated on September 10, 2022 by John K. Clifford
Ford Motor Company has made productions considered some of the best in the motor industry. With so much to choose from, owning a Ford motor is something you can enjoy. The Ford engines are top-notch as it has all the best features and guarantees on reliability. 
When the company launched its Coyote engine in 2011, it was a sigh of relief. The former Mustang engine had a single overhead camshaft and two valves in each cylinder. When choosing engines, it is recommended to opt for reliable ones to promote fuel economy and reduce maintenance. 
This article seeks to answer, how reliable is Ford 5.0 Coyote engine? 
This engine is Ford's modular series found in Mustang and GT models. The engine has undergone several modifications, thus making them reliable. Its automatic transmissions that come with the transmission don't perform well; it experiences clunking sounds, missing gears, irregular shifts, and lurching. Choosing a manual transmission will solve such issues. 
However, they have weak gear connections, but the Coyote engine is reliable despite these problems. This engine is a good alternative to those who perform LS swaps in their vehicles. The engine is no longer the center of ridicule like some of the 90's engines found in the Mustang. With its high revving power band and desire for boost, the Coyote engine is a force to be reckoned with.
Why The Name "Coyote?"
Ford Motor Company uses code names on all of its engine designs. According to Late Motor Restoration, the company uses such names to conceal their work if there is any leak from the staff. Regarding Coyote, they held a competition among a small group to come up with a name.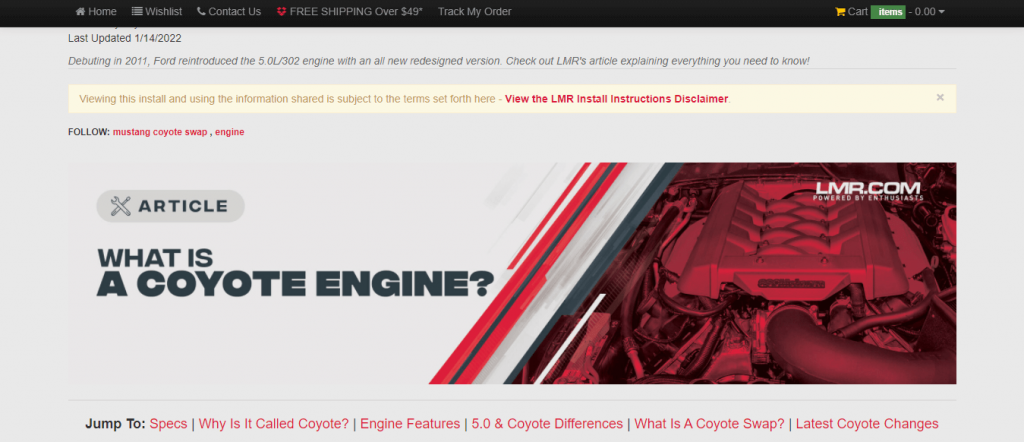 The name they decided to choose was from one John Norcott, who was among their V-8 engine planners. He came up with 'Coyote' because it originated from A.J Foyt's race team. Foyt had a four-valve V8 in 1969 and was the first 4-valve Ford ever made. 
Since Ford's main objective was performance, they bought the idea of it being linked to a high RPM Indy engine. It led to a controversy among the group as some wanted it named Road Runner Coyote or other versions; they ultimately settled on Coyote, a name that has remained popular.
What Makes Coyote Engine Special?
Coyote is an advanced engine that will make your life easier. Some of its great features include:
1. A Powerful Engine
Ford 5.0 Coyote has been modified with the latest technology and consolidated with over 302 output bosses connected to the 2012 make. The presence of the direct injection ensures there is an output that attains over 470 horsepower. Notably, there is an improvement of the 5.0 engine suitable for series such as the F150. 
The Coyote engine is not that expensive and suits the modern Mustang that calls for low transmission and mileage reach.
Its PCM variants equipped with the engine will make your engine run high. Also, it is computerized, thus making it worth acquiring. When purchasing these tools, it comes with every installation tool. They also give a user manual when you buy this crucial car accessory.
2. Exceeds Features Meant For Coyote 5.0
This Coyote 5.0 engine is factory tested and was ensured to have all the good engine specifications. You will attain longer distances and receive the best services when you install it.
How Do I Fix Coyote 5.0 Engine Issues?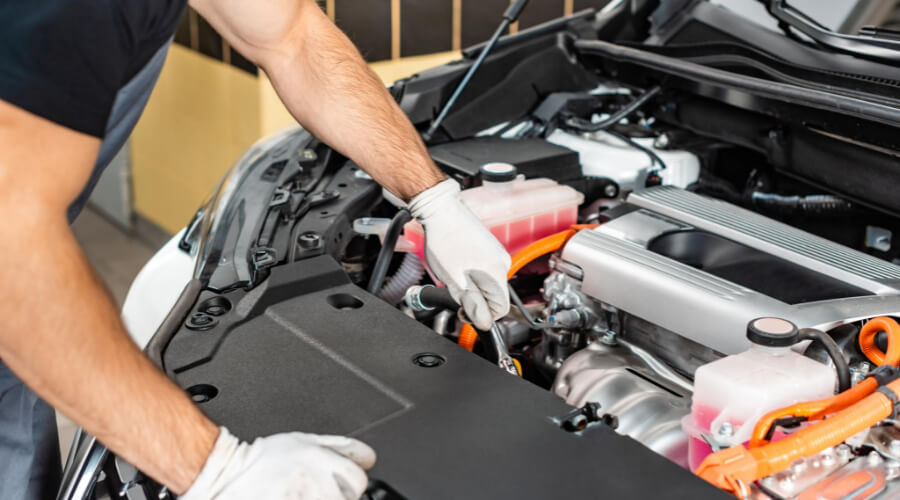 Though it is a reliable engine, you won't miss problems that hinder its operations. Therefore, it is wise to have some insights into how to fix issues facing this great engine. The following are some helpful tips that help solve Coyote 5.0 engine issues:
1. Ignition Issues
Ignition issues require the help of an expert. So, when you see a 'check engine' alert light, consult a professional.
2. Damaged Plugs
Plugs are vital to engine parts, and without quality ones, your vehicle will disappoint you. Avoid such issues by getting a replacement. When you notice that the plugs are not good, replace them with strong ones. If you face problems replacing them, find the help of a professional mechanic.
3. Oil Leakage In The Casket Head
Check if the affected part is appropriately sealed. To get the best blockage, ensure you use a good engine sealer. Once you have put it in place, give it time to dry. Remember this sealer is not permanent, and you should visit the garage for a permanent fix.
4. Problems With Exhaust Gas
The exhaust system is a complicated car accessory, and when they fail, it is recommended to replace the whole set. Concerning issues with the exhaust system, look for the correct replacement compatible with Coyote 5.0. You should hire skilled personnel if you encounter problems installing it.
5. Flawed Electric Throttle
A problem in the electric throttle is seen as a severe car issue. To fix this problem, look for a replacement as soon as possible. Do not carry out the replacement unless you are a skilled automobile mechanic.
6. Problems With Transmission System
The transmission system is a critical part of your car and should often be checked to ensure it's right. It is essential to get a complete transmission system replacement to solve this. Avoid driving your car when there are issues with the transmission system. Signs that the transmission system is not suitable are slipping sounds and dangerous driving.
7. Absence Of Roll Pin
Take your engine to a reputable expert mechanic to deal with this issue. They will conduct a comprehensive scan to see if the rolling pin is present. In case it is absent, it is recommended you seek replacement immediately. Hire a professional for a quality replacement.
The Table Below Shows Coyote 5.0 Specs And Firing Order
| | | | |
| --- | --- | --- | --- |
| Engine Differences | Generation one Coyote (2011-2014 Mustang) | Generation 2 Coyote (2015-2017 Coyote) | Generation 3 Coyote ( 2018+ Mustang |
| Horsepower | 412Hp | 435Hp | 460Hp |
| Torque | 390lb-ft. Torque | 400lb-ft Torque | 420lb-ft Torque |
| Displacement | 4.951lb-ft Torque | 4.951lb-ft Torque | 5.035 liters |
| Compression ratio | 11:1 | 11:1 | 12:1 |
| Stroke | 92.7mm | 92.7mm | 92.7mm |
What Is A Coyote Swap?
A Coyote swap is a significant performance enhancement for Mustang owners and any engine part that can be improved to suit Ford's high revving beast. This engine has been swapped into BMWs and even Scion FR-S. 
Swapping a 5.0 Coyote engine has become one of the leading engine swaps over the last few years and adds remarkable horsepower and torque. You can easily achieve 400rwhp with long tube headers and a good tune.
Requirements For A Coyote Swap
This begins with a Coyote engine, and secondly, you require the crate engine control packs. Other requirements include:
1. Coyote Swap Headers
2. Exhaust Mid-pipe like an X-pipe.
3. Tubular K-members
4. Coil-over kits
5. Steering racks
6. Flywheels
7. T-56 transmission with the corresponding bell-housing.
8. Oil pans
9. Engine mounts
10. Pedal brackets
Any transmission from 1996 to date will technically become the Coyote engine if you are on a budget. 
However, it is recommended to modify it to the earlier mentioned T-56 6-speed or the TKO600 for manual. For automatic, the 4r70w that is designed to withstand the higher horsepower will be a great choice to put behind this great engine. 
With the massive improvements since its inception, we can say that the Coyote engine will serve you to your satisfaction.
Reference:
https://www.motorbiscuit.com/how-reliable-is-the-coyote-engine/
https://www.vehiclehistory.com/articles/fords-coyote-crate-engine