Last Updated on December 28, 2022 by Leepu Da Maxim
To install an air conditioner in an RV, the owner needs approximately $1000 or up to $2000. The actual cost depends on the type and size of the RV air conditioner, the complexity of the installation, labor costs, etc.
Key Takeaways
What will be the ideal RV air conditioner size depends on quite a few things like the size of your RV, weather conditions, your budget, etc.
If you prefer a cooler temperature in your RV, you will need a larger air conditioner
The lifespan of an RV air conditioner can vary depending on a number of factors but it can last anywhere from 3 years to 5-10 years or longer
An RV air conditioner can run for 7 – 8 hours on 2-gallons of gas
Estimated Cost of Installing an RV Air Conditioner
| | |
| --- | --- |
| Ducted air conditioner | $1,000 to $2,500 |
| Non-ducted air conditioner | $800 to $1,500 |
| Roof-mounted air conditioner | $500 to $1,500 |
Installing A Portable Air Conditioner – Important Aspects
| | |
| --- | --- |
| Concepts | Description |
| Air Conditioner by Unit Size and Ton | 1.5 Ton $2,825 2.5 Ton $3,225 3.5 Ton $3,625 5 Ton $4,050 |
| Installation | $500 – $1,000 |
| Economy Tier Air Conditioner | Goodman $2,800 – $3,800Keeprite $2,800 – $3,800York $2,800 – $3,800 |
| Mid-range Air Conditioner | Bryant $3,000 – $4,000+Trane $3,200 – $4,500+Rheem $3,200 – $4,500+ |
| Premium Tier Air Conditioner | Carrier $3,500 – $6,000+Lennox $3,500 – $6,000+ |
What Size Air Conditioner Do I Need For My RV?
Here, it is necessary to consider that not all sizes of air conditioning are appropriate for a recreational vehicle. Therefore, you should seriously consider the size of the RV before installing an air conditioner. Otherwise, it would be difficult to obtain the most appropriate temperature inside the unit.
In principle, if your vehicle has a maximum length of 32 feet, then the vast majority of units will be appropriate. Even people who have such a vehicle only need one air conditioner. If your RV is longer than 32 feet, you will need to add an air conditioner.
Otherwise, the air conditioner will need to work at too high a power level. This will undoubtedly shorten the life of your vehicle's air conditioner. Conversely, when two air conditioners work together, the effort can be divided between the two units. 
How Long Should An RV Air Conditioner Last?
To know how long you can get with an air conditioner, some important factors need to be mentioned. First of all, the frequency of use of the unit is the main aspect. So, frequent use of your air conditioner can shorten and decrease the overall life span.
In combination with the above, you should also consider the intensity of use in your air conditioner. When an air conditioner works at higher power, then the life span could be shortened. Of course, for this to happen, the intensity of use must be too frequent.
Last but not least, the quality of the air conditioner you have purchased also has an influence. That is why it is advisable to purchase a high-quality air conditioner here. If you can choose the most appropriate unit, then the life span could be a decade or more. In turn, the probability of failure and malfunction decreases considerably. 
How Long Can You Run An RV Air Conditioner?
Generally, you will notice that when an air conditioner is running at too high an intensity, the consumption is somewhat high. Here, you do not have to go to about 120 volts is 12 amps. So, you will be able to use this power for a little more than 7 hours in total. Even some of the best units could be used for up to eight hours.
After that, you should consider turning the unit off for several hours. If your air conditioner continues to operate, then the system could easily overheat. That's why the vast majority of experts recommend that an air conditioner be used at an average power setting. This way, the systems will work more properly and you can extend the life of the unit.
Is It Cheaper To Replace Furnace And AC Together?
In principle, it is necessary to mention here that replacing each of these components separately may be more expensive. Of course, the price of each of these units does not vary much when you purchase them together or separately. However, the installation process of these units can be cheaper when you install both devices.
Some users even can perform the installation process themselves. Of course, this allows you to greatly decrease the total costs of both devices. So, by making the appropriate decisions it may be less expensive to charge both devices at the same time.
Can I Just Replace My Outside AC Unit?
In general, many professionals and technicians recommend replacing the entire air conditioning unit. Here, it is necessary to take into account that the wear and tear are usually symmetrical when talking about an air conditioner. Whether it's a home air conditioner or an RV, the wear and tear are the same.
So, you need to consider what the situation is if you want to replace only the outside of your air conditioner. In this case, you will notice uneven wear between the old inside and the new outside.
There may be some failure on the inside that will damage the new outside. So, to avoid further inconvenience, you should replace the entire air conditioner.
Is It Worth Replacing The Compressor On The AC Unit?
Here, it is necessary to consider that the compressor is usually one of the most expensive components of an air conditioner. Therefore, it may be convenient to replace the condenser coil and the fan, in combination with the compressor. So, it is a matter of acquiring a completely new and functional condensing unit.
Otherwise, you would have to replace the entire air conditioner, which will certainly be more expensive. However, this may be more advisable if your air conditioner is too old. Therefore, when your air conditioner can offer a few years of service life, then other failures will appear.
Does RV Height Include An Air Conditioner?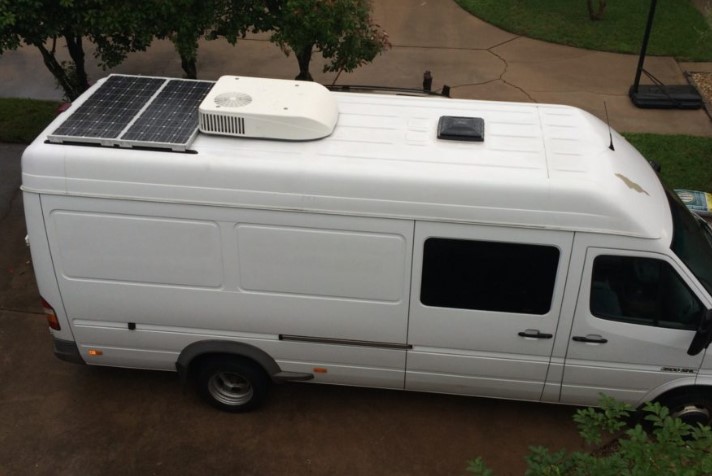 Generally, you need to be aware that an RV manual may not include certain additional vehicle components. Height is often not considered here when an RV has an air-conditioning antenna or a luggage rack.
So, in case you need to incorporate some additional components you should consider these aspects. Beyond that, nowadays there are a lot of air conditioners that consider the ideal height for an RV. The owner of this vehicle will have to take into account this additional height, depending on the places you want to visit. 
What Do RV Air Conditioners Run On?
In particular, the air conditioners used in an RV have a different design than those used in a home. Here, a generator is usually incorporated to provide what is known as AC power. So, this power simply has the same intensity as a portable generator or simply a household power source.
In particular, this 120-volt current is what provides the power needed to keep your RV cool. However, there are also other air conditioners with different functionality. Today, it is possible to find other more expensive appliances that need a gas generator to operate.
Should I Cover My RV Air Conditioner?
Many RV air conditioner experts recommend covering these devices in both winter and summer. Generally, the vast majority of air conditioners are fully prepared to withstand certain climatic factors. So here, some factors such as snow and rain do not harm the unit.
However, other important factors could affect the correct functioning of the unit. Here, nuts, seeds, leaves, and other small objects could be a problem. That's why you should cover the air conditioning in your vehicle, especially when it's in the fall.
How Well Do RV Air Conditioners Work?
Nowadays, a lot of people decide to install an air conditioner in their vehicles. However, here it is necessary to consider that not all air conditioners generally work the same way. In particular, an appliance installed in a home works differently than an air conditioner that has been installed in a recreational vehicle. 
In principle, it is necessary to consider both the quality of an air conditioner as well as the specific location. Therefore, these factors are very important to know what the specific operation of an air conditioner is.
Therefore, some air conditioners can lower the temperature to the level desired by the users. Besides, other lower-value devices only remove the hot air that is inside the vehicle.
Between each of these options, many users prefer to purchase a more expensive unit. This makes both the functionality and the lifetime of a device more affordable.
Can RV Air Conditioner Run Continuously?
Depending on the type of air conditioning you have, you can find two different features. This usually includes an automatic mode, which provides very specific results. Here, you will notice that in the automatic mode the air conditioner adapts to the temperature inside the RV. 
Additionally in the mode, the air conditioner can provide the operation of the user's choice. If the air conditioner is running at full power, continuous use is not recommended.
This could cause the internal components of the unit to deteriorate from excessive temperature. Therefore, if you wish to use this appliance continuously, you should always use the automatic mode.
References:
https://rvshare.com/blog/rv-air-conditioner/
https://www.bankrate.com/homeownership/how-much-to-install-central-air/