Last Updated on February 15, 2023 by Leepu Da Maxim
Well, the answer is Yes. You can drive current Convertible Mustangs on snow. However, due to their design, Mustangs are not the most refined automobile for snowy conditions. Driving muscle vehicles in the snow necessitates extra attention and speed management.
Key Takeaways
Ford Mustang Convertible is a rear-wheel-drive sports car with low ground clearance so you will get less traction in snowy conditions
The Ford Mustang has a low ground clearance of 5.7 inches so you will find it a bit difficult to drive through deep snow or slush
If you want to drive your Ford Mustang Convertible in the snow then you have to install snow tires or use all-season tires with a good tread depth
You must maintain a low speed with low gear and keep safe distance to avoid any accident
How to Tour in Snow with a Ford Mustang Convertible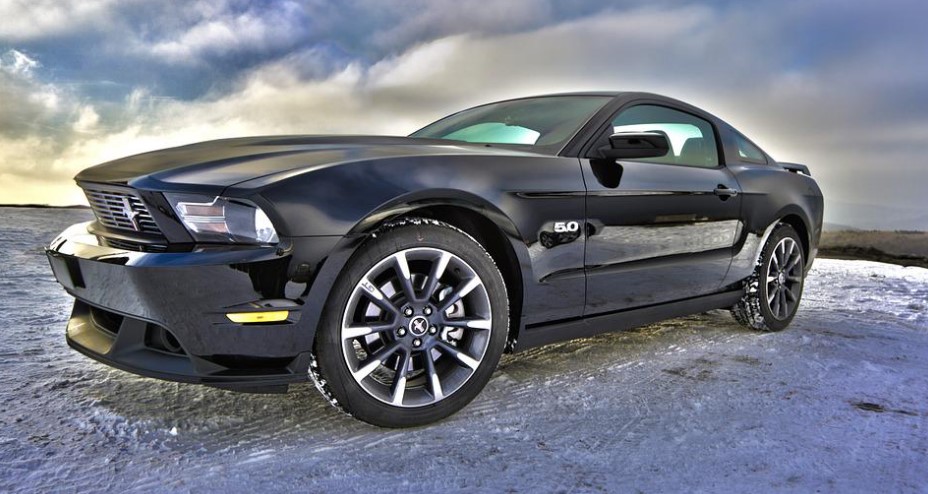 Suppose you ever wanted to own a Ford Mustang Convertible but thought it wouldn't be feasible in the winter, you might wish to reconsider. Of course, they're not quite as efficient as four-wheelers or other off-road vehicles, but with a few minor tweaks and essential considerations, you can get your convertible out on the road this winter.
Ensure the Top of the Convertible is in Good Working Condition
Whether you live in a snowy state, blowing the chilly weather through your car's soft top is not fun. In that scenario, inspecting your car's convertible top for any holes or tears before venturing out on a winter trip is a good idea. 
If you find any, you should consider having them repaired before the winter months arrive. Snow, rain, and chilling breezes can readily pass through those holes and tears, wreaking havoc on your automobile's interior or worse.
Remove the Snow Off the Soft Top
While most convertible soft tops are built to survive snowfall, it's crucial to keep the top of your car as free as possible of snow accumulation. Snow on a car can weigh up to 15 pounds per cubic foot, meaning leaving snow on your soft top for a long time drive might cause damage to the soft top frame.
Purchase Winter Tires
Any discussion over the worth of winter tires should be put to rest. To begin with, when the temperature goes below 7 degrees Celsius, all-season tires start to lose stability. Second, tests found that winter tires have a 35 percent better braking performance than their all-season equivalents.
Regularly clean the automobile with a snow brush or broom to keep this from happening.
Make Use of Traction Control
When driving your Ford Mustang Convertible in the winter, you must do a few things differently. One is to always have your traction control on.
You might be able to leave it off during other seasons, but in the winter, when roads are incredibly slick, traction control will provide you the extra grip you need by reducing how much your wheels spin. That ensures enough friction between your tires and the ground for effective braking.
Slow Down When Driving
If the snow is falling while driving a mustang convertible automobile, try to slow down and take it easy. It may be tempting to drift your rear-drive car now and again, but losing control in a split second might result in months of pricey repairs. Slow down and be responsible!
Ensure Your Heater is in Good Working Order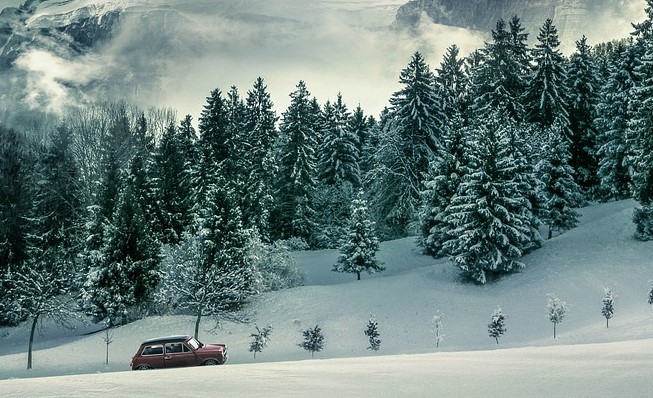 For harsh winters, a convertible must have a well-functioning heating system. If you switch on your automobile and nothing but chilly or cool air comes out, your radiator, thermostat, or heating core may malfunction.
Also, no matter how excellent your automobile is in terms of condition, it will always be cooler than a non-convertible since there are more areas for air to enter the interior. With this in mind, you should dress warmly to concentrate on driving rather than attempting to remain warm.
Frequently Asked Questions
How Awful is the Ford Mustang Convertible on Snow?
On icy and wet roads, vehicles like Convertible Mustangs are more prone to losing control and traction. That is due to the low weight of its back axle, which causes its wheels to slip in the snow.
Stock sports car tires are also ineffective in these conditions, as they have less tread and hence less rolling resistance; this is why most owners keep spare tires during the winter.
Putting weight in the trunk of your automobile is an excellent solution to this problem. Adding weight to your car improves stability by making the back tires more rooted. That also gives you more traction.
One benefit of fast automobiles is that their brakes are more potent than average, implying that their braking systems are superior to standard vehicles and operate better under heavy use. Learning effective braking tactics, especially on slick roads, is a valuable skill that may help you prevent road accidents.
Is it Possible to Drive a Soft-top Mustang Convertible in the Snow?
Don't worry if you feel convertibles aren't as good as hardtops when heating. Convertible roof elements are thick enough to keep your insulation warm in the cold.
The roof comprises a single-texture vinyl with a two-ply composite consisting of a PVC sailcloth coarse outer layer and polyester and cotton inside fabric.
Is There Any Restricted Slip in Convertible Mustangs?
Throughout the years, limited-slip differentials have been on and off in Mustangs. When the Mustang initially debuted, it was available with a limited-slip differential. However, it is now a standard feature of the vehicle. This function is standard on Ford GTs and has been on four and six-cylinder Mustangs since 2011.
If the drive wheels lose traction when power is applied, limited-slip differentials reduce the wheel spin. It works with traction control to prevent accidents caused by a lack of grip on the road in automobiles with high power output. It also improves the car's handling, which helps the engine run more effectively.
Why Do Convertible Mustangs Often Slide Out?
It has more to do with the drivers' personalities than the vehicle itself. The Ford Mustang topped the American muscle car sales list in 2021. Many drivers lack the technical abilities required to operate high-powered cars such as the Convertible Mustang, resulting in road accidents.
The handling skills required for the Convertible Mustang are more complex than other cars because it is a street-ready performance vehicle. It has a 2.3L EcoBoost engine with turbocharging, direct injection, and dual independent variable cam timing that produces 310 horsepower and 350 lb-ft of torque. Its output power might be too great for some people to manage.
Reference 1: Ford Mustang In Snow & Winter Driving? (Explained) (motorandwheels.com)
Reference 2: 2015 Ford Mustang EcoBoost Snow and Winter Driving Review (streetmusclemag.com)