Last Updated on February 12, 2023 by Leepu Da Maxim
If you are looking for a comfortable SUV with off-roading performance, then Toyota RAV4 is an excellent choice. It is designed with impressive off-road capabilities such as high ground clearance, durable suspension, and a powerful engine. It is also an ideal and enjoyable car for daily casual driving.
Key Takeaways
The Toyota RAV4 offers two choices for engine: a fuel-efficient 2.5-liter four-cylinder engine and a powerful hybrid powertrain
The RAV4 has many safety features like a backup camera, blind-spot monitoring, automatic emergency braking, etc.
The Toyota RAV4 has a touchscreen display, Apple CarPlay, Android Auto, and Amazon Alexa compatibility
The Toyota RAV4 is popular for its cargo space, it has 69.8 cubic feet of storage
What Gives The RAV4 Off-road Abilities?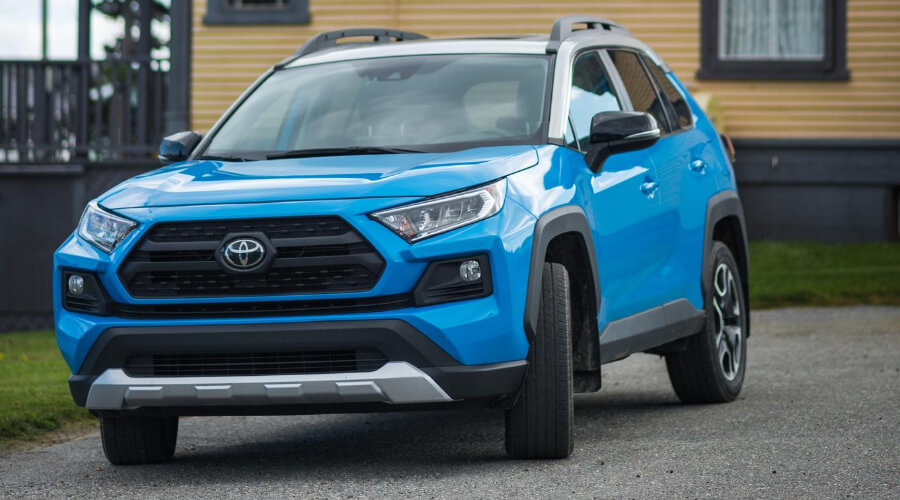 The Toyota RAV4's off-road capabilities are in its construction. This beast is durable and is built to take on the impacts of off-roading with ease. Let's take you through the features that make Toyota RAV4 an impeccable off-road vehicle.
1. Compact And Powerful Engine
The secret of the Toyota RAV4 is hidden beneath the hood. The newer modes have a 2.5-liter 4-cylinder engine with 184lb-ft torque and 203 horsepower. This engine powers the vehicle through all the trails because of how powerful and solid they are. The machine is powerful and has an excellent fuel efficiency of 27mpg in the city and 35 mpg on a highway.
2. High Ground Clearance 
One thing that stands out on all RAV4 models is the high ground clearance that allows the vehicle to drive over rocks and hills without damaging the underbody. This model has an added height to ensure it handles all off-road adventures without experiencing any body damage underneath.
Below Is A Breakdown Of Ground Clearance Heights Of Different Trim Levels Of The Rav4.
| | | | |
| --- | --- | --- | --- |
| Toyota RAV4 generation | Model year  | Drivetrain specifications | Ground clearance |
| First-generation  | 1994 | FWDAWD | 7.3 inches7.5 inches |
| Second generation | 2001 | FWD AWD | 6.3 inches6.7 inches |
| Third generation  | 2006  | FWDAWD | 6.3 inches6.3 inches |
| Fourth generation  | 2013 | FWDAWD | 6.3inches6.3 inches |
| Fifth-generation  | 2019 | lower trim LE/XLETRD off-road | 8.4 inches8.6 inches  |
As you can see from the table above, even the base versions only have a short height disadvantage compared to the more specialized models. Technical models such as the LE and XLE can still do an excellent job on other terrains.
3. Durable Suspension 
Suspension is an essential component of an excellent off-roading vehicle to help it sustain uneven terrain. Your car needs to have proper suspension to handle the trails without experiencing damage. The Toyota RAV4 meets these specifications with durable suspension, enhanced rebound control, stiff shocks, and bump stops. When driving uphill or on uneven trails, drivers feel the improved suspension of this model.
4. Smooth Handling 
For off-roading, you need an easily maneuverable vehicle with responsive steering and brake control for maximum safety. The RAV4 has a light steering that is easy to maneuver even in the tightest spaces. It offers a good ride quality even when driving over bumpy roads; some AWD models have upgraded with torque vectoring technology to better grip the ground. The vehicle also features reactive braking to prevent slow stops, skidding, and sliding.
3. Well-Thought-Out Safety Features
When off-roading, you need all the extra safety features you can get because things can turn hectic quite fast. The Toyota RAV4 has many safety features that are important for all driving experiences. One of the safety features that stand out while off-roading is the high-quality back camera that alerts drivers of potential dangers. This model also features Toyota's star safety system. This system includes vehicle stability control, innovative stop technology, electric brake-force distribution, and brake assist to guarantee the highest safety level.
Interior And Exterior RAV4 Off-road Features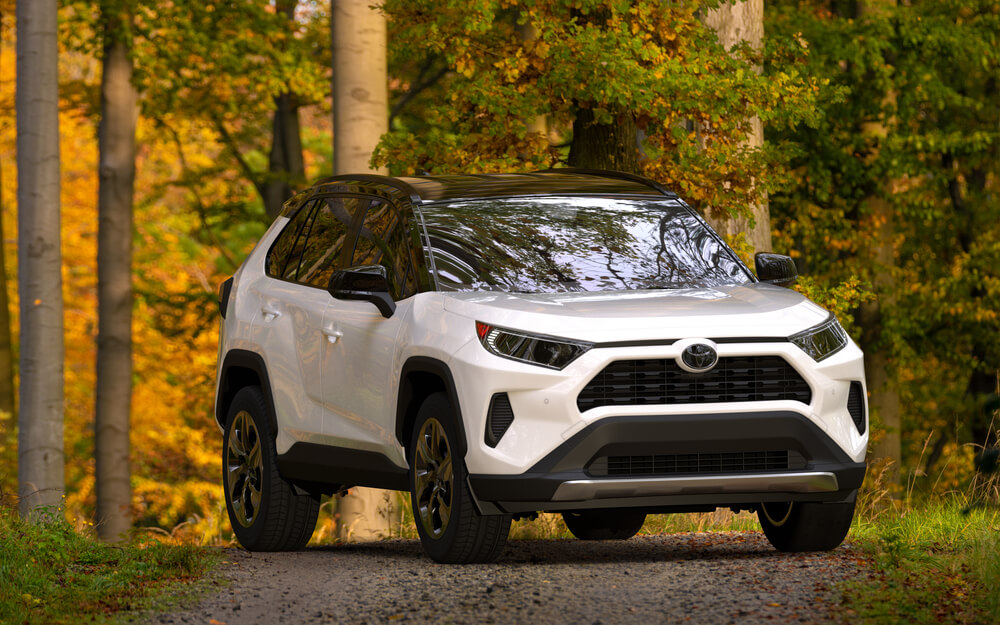 The Toyota RAV4 is built with numerous features to make any off-road excursion a success. Let's look at some features that make it an excellent off-roading vehicle choice.
Interior Features
1. Features embroidered seats made from Toyotas soft leather and all-terrain floor mats to ensure the dust doesn't bother you.
2. Have a touchscreen navigation system that is easy to use
3. Toyota safe sense makes the vehicle safe for everyday driving and off-roading since it alerts you of any potential objects
Exterior Features 
1. High ground clearance makes it able to handle any terrain
2. Tough and durable construction that allows the vehicle to handle trails without falling apart
3. Has roof rack rails in case you need to carry any luggage on your adventure
Does The Toyota RAV4 Have 4WD?
Most RAV4s come with standard front-wheel drive configurations with an option of all-wheel drive on all trim levels. Any version of the RAV4 can have 4WD. The AWD option is standard in the adventure grade and is designed with dynamic torque vectoring to deliver equal power to all the vehicle's wheels. It also gives drivers the ability to shift the wheel's power side to side for extra help when they need it. AWD is essential for off-roading because it gives you more control over the car. 
Understanding Toyota RAV4's Adventure Grade Trim Level
If you plan to drive your RAV4 off-road often, then the adventure grade is the perfect trim level for you. It has a rugged construction and extra features that make off-roading fun and bearable. Let's look at some unique features of this trim level: 
1. Powerful And Sophisticated All-Wheel-Drive System
The AWD system on the adventure grade is simply outstanding; it can disconnect from the rear axle when you don't need AWD to improve fuel efficiency. The AWD system also includes a torque vectoring system that moves torque to the right or left side of the vehicle for better handling.
2. It Has A Terrain Response System That Improves Safety. It Allows Drivers To Adapt To The Terrain
the adventure grade RAV4 has an advanced terrain-select system located at the center console that helps drivers adapt to the terrain. This system allows the driver to choose between mud and sand, rocks and dirt, or snow driving modes. It offers extra security by applying the ideal power to each wheel. This trim level also has an incline or decline driving mode that crawls down steep terrain and drives up a hill effortlessly. 
What Is The Trd Off-road Package
The TRD off-road package is a revamped adventure grade with extra features to make off-road adventures magical. Its suspension is tuned to give it a unique and rugged performance on all trails. You can compare its suspension to that of rally cars. It also has a higher ground clearance and features 18-inch tires to prevent the bottom of the vehicle from damage. Most people also love how this model looks; it is aesthetically pleasing with its aggressive design featuring functional roof rails.
Final word
The Toyota RAV4 has advanced significantly to make it perfect for off-roading. The new TRD off-roading package improves the performance of the RAV4 and makes it more rugged to withstand harsh terrains. If you are looking for a reliable off-road SUV, then the Toyota RAV4 will not disappoint. You will enjoy off-road adventures while being sure you are safe on the road.