Last Updated on February 11, 2023 by Leepu Da Maxim
There are many reasons Toyota Supras is very popular. Some common reasons are performance, style, reliability, parts availability, etc.
Key Takeaways
The Toyota Supra has a powerful engine and it can deliver impressive performance and it is one of the main reasons car enthusiastic love Toyota Supras
This car has a rear-wheel drive configuration and is another reason for its popularity
The Toyota Supra was in several popular video games and movies and it helps to increase the popularity of this model
The Toyota Supra has a sleek and aerodynamic design and it made this model popular among people who want to make a statement on the road
Four Reasons Why Toyota Supra Is Popular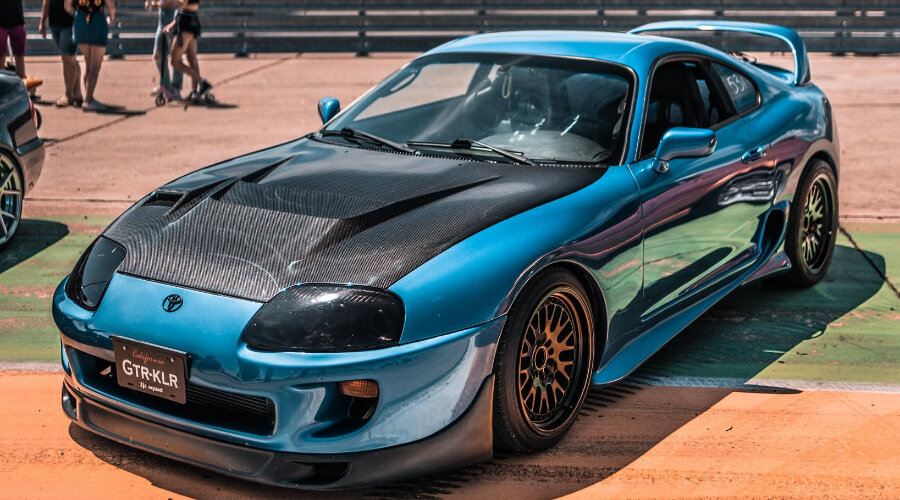 1. It Was The Hero Car In The First Fast And Furious Movie
The MK4 Toyota supra is one of the most famous cars on the planet thanks to its appearance in the first fast and furious movie. If you've watched this movie, you remember the orange car Paul walker built from a wreck and was driving after his green vehicle was detonated. Paul walker later uses the supra to race Dom (Vin Diesel's character). As the movie ends, he also hands him the key to the supra as the ten-second car he owed Vin diesel then watches him drive off. Anyone who watched the movie ended up loving this legendary vehicle, and that's one of the reasons why the Toyota supra is so popular. To prove that this movie played a huge role in making the Toyota supra popular, the orange vehicle was auctioned in 2015 for $185,000.
2. The Toyota Supra Starred In Video Games
In the '90s, most people drew inspiration from video games and movies. Games and movies were the social media of those days. If you saw your favorite movie character with an asset, you would research and be influenced to like it. If a video game you loved featured a certain product, you took it upon yourself to learn more about it. The Toyota Supra's desirability can also be traced back to when it featured in the Gran Turismo game on PlayStation 1. everyone who played this game remembers the music that came on when you opened up Toyota. In this game, the MK4 Toyota Supra is white, red, and green with a Castrol logo. The vehicle looked so cool, and everyone loved it.
This car also appeared in "Need for speed" as a classic sports car, making it win the hearts of many. Most 90's kids who played these games started liking the car that time, and they love the Toyota supra to date. 
3. It Has Unbeatable Tuning Potential
Another reason why the supra is quite popular is due to its incredible potential as a tuner car. A tuner car can be modified easily to improve its speed and performance. The Toyota supra has the best tuning potential after the Nissan Skyline GT-R. Thanks to its gearbox and strong motor, the car has great tuning potential. This vehicle also has impeccable aftermarket support compared to other performance cars. Anyone looking for a performance car that can be easily tuned often ends up with a Toyota supra. Most used Supras in the market today have been tuned, making it hard to find an all-original supra model.
4. The Supra Went Against The Norm For Toyota Models
The Toyota supra surprised many when it was released because it was different from any other Toyota model. It was amongst the most interesting and unique performance vehicles of the 1990s. In our opinion, the uniqueness and "inconsistency" of the Toyota supra made it very popular and desirable to date.
What Makes Toyota Supra So Special?
The Toyota Supra is popular because of its appearance in films and video games and because of its outstanding features. This section takes you through the specifications of the Toyota supra in great detail to help you understand what's so special about the Japanese car. But before we dive into the specifications, let's look at the generations of the Toyota Supra and the history of how it evolved.
1978-1981: First-Generation Toyota Supra
the first Toyota supra was made in japan in 1978, but it came to the US market in 1979. This first generation was called Celica supra because its styling was derived from Toyota Celica, only that it was longer and wider. The car had a larger engine with a 2.6-liter inline-six powered by a 110-horsepower. It came with a standard five-speed manual transmission with a four-speed automatic transmission option.
1981-1985: Second-Generation Supra
The second-generation supra had better horsepower than the first model. It also had independent semi-trailing arms in the rear axle for better handling. It had a twin-cam engine, a 2.8-liter inline-six that produced 145 horsepower
1986-1993: Third-Generation Supra
When Toyota released the third generation supra, they dropped the Celica name, and the car was now called Toyota Supra. It came with a 3.0-liter inline-six engine that gave 200 horsepower. Toyota also released a Supra turbo in 1987 that had a straight-six engine giving off 230 horsepower.
1993-2002: Fourth-Generation Supra
The fourth-generation supra was the talk of the town due to all the drastic changes it came with. His supra model had a redesigned modern body that motor enthusiasts fell in love with. It had the same platform as the Lexus SC coupe and a signature interior and styling. It had a 3.0-liter inline-six engine that produced 220 horsepower with a turbo mode that gave 320 horsepower. It had three-spoke steering and an option between manual and automatic transmissions.
2020- Present: Fifth Generation Supra 
The fifth generation has been produced since March 2019 and is a collaboration between BMW and Toyota. It has a BMW-sourced engine that was reworked to meet Toyota's reliability standards. It comes with two engine options: a 2.0-liter inline-four and a 3.0-liter inline-six engine. The current generation of Toyota supra only comes with automatic transmission.
Specifications Of Toyota Supra That Make It Special
1. It comes with two engine options: turbocharged 2.0-liter inline-four or turbocharged 3.0-liter inline-six engine.
2. Variable power output for the 2.0liter engine: from 4500 to 6500 rpm 145-109kW(194-255hp;197-258 PS) or 5,000-6500rpm and 320–400 N⋅m (236–295 lb-ft) of torque from 1,450 to 4,200 rpm or 1,550 to 4,400 rpm, while the 3.0-liter engine has a power output of 250–285 kW (335–382 hp; 340–387 PS) from 5,000 to 6,500 rpm or 5,800 to 6,500 pm and 495–500 N⋅m (365–369 lb-ft) from 1,600 to 4,500 rpm or 1,800 to 5,000 rpm (Wikipedia)
3. It has a ZF 8HP 8-speed automatic transmission that sends power to the rear wheels.
4. The 2.0-liter model can accelerate from 0-60mph in 3.9-4.1 seconds, while the 3.0-liter one takes 3.9 – 4.1 seconds to go from 0-60 mph
Final Word
The Toyota Supra has won the hearts of many automobile enthusiasts with its sporty nature and well-thought-out features. It has starred in games and movies as a hero car, making it even more popular. Those interested in race cars also love the supra because of its tuning potential: you can easily transform it into your dream race car without much toiling. If you've been wondering why people seem to have an obsession with this model, we hope you've found your answer.