Last Updated on February 15, 2023 by Leepu Da Maxim
Kia models are leaders in best five-year cost with an expected residual value of about 57% of their original price. Since Kias are affordable, their resale value sounds low, but these models hold their value quite well. For example, a Kia Soul whose MSRP is $21,020 will have a resale value of $11,912 after 5 years.
Key Takeaways
Kia vehicles are available at a lower price compared to other brands and vehicles with lower prices usually depreciate at a faster rate than higher-priced vehicles
A Kia vehicle with a lower price will lose its value more quickly than a more expensive car
Over the years, Kia has improved significantly in terms of quality and reliability and it has boosted the resale value of Kia vehicles
How is the Resale Value of Your Kia Determined?
After driving your Kia for three or more years, it is normal to attach some sentimental value to it. Most people wish that they could translate this value and memories to the vehicle's resale value. Unfortunately, it doesn't work because other factors contribute to your car's resale value.
Are you curious to know how your car's resale value is determined? Here are some factors that impact your Kia's resale value.
Mileage 
The number on the odometer plays a massive role in determining a vehicle's resale value. If your car has higher than average annual mileage, it loses its value faster, and its resale value is significantly lower. If you want your vehicle to retain its value significantly, it is best to average between 13,000 to 15,000 miles per year.
Depreciation 
Immediately you drive your car out of the dealer's yard, depreciation starts to creep in. most vehicles lose about 30% of their value in the first year and 15% each year. According to caredge.com, Kia is in the bottom half of popular vehicle manufacturers' resale value.
The only exception is the Kia Soul, which retains its value best. The best Kia model year for value retention is the 2020 model year.
Accidents
Accidents reduce the value of your car by 15% to 30%, even if all the damage has been fully repaired. If a vehicle has never been involved in an accident, its resale value will be higher than one which has had an accident.
Popularity and Demand for the Model
The popularity of a vehicle model also impacts how well the car holds its value. If a car is popular, its demand for both new and used will be high, and its resale value will match the demand. If you want your Kia to have a high resale value, go for a popular model such as the Kia Telluride or Soul.
The Vehicle's Condition
The condition of your car plays a significant role in determining its resale value. To ensure your vehicle holds the majority of its value, always ensure it is clean inside and outside, well-maintained, and free from dents or scratches.
Related Article: What Does Kia Stand For?
Which Kia Models Hold Their Value Best?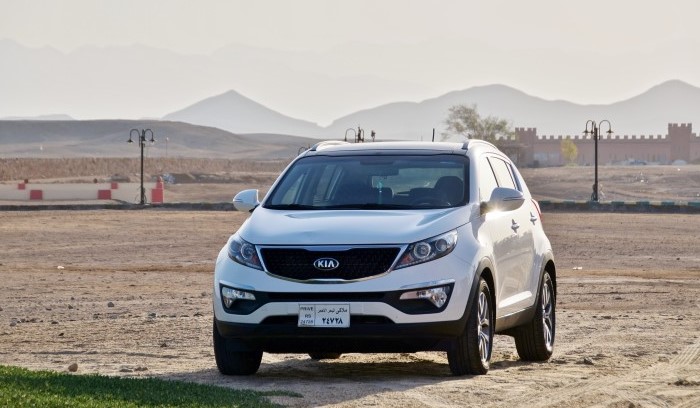 Caredge.com reports that Kia doesn't hold their value quite well, but some models are exceptions. A perfect example is the Kia Soul, which has 70% of its value after 3 years. Below is a table showing some Kia models with the best resale value. We also look at these models in detail.
| | | | |
| --- | --- | --- | --- |
| Kia model  | MSRP | Depreciation | Resale Value (after 5 years) |
| Kia Soul | $21,521 | 39% | $13,128 |
| Kia Rio 5 | $ 168,517 | 54% | $ 76,844 |
| Kia Niro | $31,070 | 55% | $13,944 |
| Kia Telluride | $40,495 | 55% | $18,174 |
| Kia Sportage  | $ 30,750 | 55% | $ 13,770 |
| Kia Sorento | $34,750 | 55% | $15,627 |
| Kia Forte | $21,914 | 51% | $21,914 |
| Kia Optima  | $28,355 | 49% | $14,436 |
| Kia Cadenza  | $41,050 | 50% | $20,681 |
From the breakdown above, you can expect your Kia to lose over half its initial value in 5 years. Some models such as the Soul, Optima, and Cadenza hold more than 50% of their value. If you are considering reselling your car in the future, those are the best options.
Kia Soul
Kia Soul is the best Kia model in retaining its value; after 5 years, the model will only have lost 39% of its initial value. This model is an excellent buy for anyone looking to resell their vehicle as they will get a good deal.
The Kia Soul is the model if you are on the market for a subcompact SUV with ample space and easy-to-use infotainment tech, and it still holds its value excellently.
Kia Optima 
Kia Optima is a plush sedan with an impressive ride, a spacious cabin, and an advanced infotainment system. It also comes with safety features making it one of the safest midsize cars.
This model holds over 51% of its price after 5 years and is affordable to maintain. It is another excellent option for anyone who keeps n eye on depreciation.
Kia Cadenza
The Kia Cadenza holds 50% of its value after five years. The Cadenza is an executive sedan that comes loaded with all the features you need for a smooth and enjoyable ride. It is a good family car that comes at an affordable price. Since it holds its value well, you will recoup back most of your investment if you choose to resell it in the future.
Related Post: How Long Do Kias Last? (Explained in detail)
Is It Worth Buying a Used Kia?
Yes, buying a used Kia is worth it because you get value at a lower price. Even though Kias generally depreciate faster, they still have years of useful life remaining. When buying a used Kia, you get an advantage because most of the depreciation already happened, and you pay the residual value.
A used Kia is also a good option because the vehicle has been tried and tested, and you are confident that no recalls are pending. If you are on a tight budget, a used Kia will serve you right and give you immense value for money.
Conclusion
Kias are growing in popularity every day in the United States; they are dependable and affordable cars that look and feel posh. The only downside of Kias is that they do not hold their value as excellently as you would expect. But some models are overturning this theory by retaining over 60% resale value after 5 years.
The Kia Soul is the best for holding its value, followed by the Telluride, Cadenza, and Optima. Anyone seeking a Kia with a high resale value should consider any of the four.
Reference 1:KIA Depreciation (caredge.com)
Reference 2: Do Kias Hold Their Value? (7 Models Compared) – YourGreatCar.com