Last Updated on May 19, 2022 by MABER SAL
Ford and Toyota are fantastic corporations for cars, trucks, and vehicles. The two brands have maintained a healthy completion for an extended period. Their fight for supremacy is natural and can't end in the foreseeable future. However, which of their most popular trucks is the best when compared to one another? Is the Ford F-150 or Toyota Tundra more reliable?
The Toyota Tundra outperforms the Ford F150 in terms of overall reliability. It is less expensive and has superior engine performance. 
Toyotas are noted for their dependability, which gives them a high resale value. Furthermore, the Tundra is designed for off-roading, whereas the F-150 is not. However, reliability depends on how you handle your car.
The Toyota Tundra is a newcomer to the full-size pickup market. It was first introduced in 2000, and the current second-generation model has been on the market since 2007. Its sales account for a small portion of the pickup market.
On the other hand, since 1977, the Ford F-150 has been the most popular full-size pickup truck. It has been the best-selling truck in the United States since 1982.
With the changeover to lightweight aluminum body construction, driver aid technology, and powerful and efficient turbocharged V6 engines to replace most V8s, Ford has kept the F-150 on the cutting edge. The F-150 has a diesel engine option, but the Tundra does not.
Exploring the Ford F-150 Truck
In 1948, Ford introduced the F-series of pickup trucks. These pickup trucks are full-size pickups. One of the trucks in this series is the Ford F-150. The F-series is notable for being Canada's best-selling truck. It offers users a variety of functions in an appealing style.
The current Ford F-150 model is designed for the modern and rapidly evolving digital world.
It boasts an 8.0-inch touchscreen as standard or a 12.0-inch touchscreen as an option. These attributes make it a very appealing option for consumers.
The Ford F-150 has had several variants, including the XL, XLT, King Ranch, Platinum, and Limited. It contains a 1.5 kWh lithium-ion battery put under the floor and is about the size of a briefcase. 
The car has a hauling capacity of up to 12,700 pounds. Additional features may be available in other versions.
Exterior improvements included C-shaped daytime running lights, fog lights, and metal stamping over the wheels on the new model. 
There's also a built-in phone holder, cup holder, tie-down cleats with a bottle opener, and the front seats can fold down nearly 180 degrees. It also included several security system improvements.
What Exactly is a Toyota Tundra?
Toyota is a Japanese vehicle manufacturing corporation. This company produces the Toyota Tundra pickup truck. It is thought to be the first full-size pickup truck made in Japan. There have been several generations of the Toyota Tundra.
From 2000 until 2006, the first generation of cam was available. The 3.4 LV6 engine has many commonalities with the Toyota T100 and Tacoma generation. These vehicles were previously known as T 150Ss but had to be renamed Toyota Tundra. 
That occurred because Ford had already released its Ford F-150 model into the market. Toyota had to modify the name because it was too similar to the Ford model.
Tundra's second generation entered the market in 2007. Its styling is reminiscent of the Toyota Tacoma and Toyota FTX. It has a maximum towing capability of 10,000 pounds. 
When it was first released, it had 31 different configurations. Extra-large doorknobs, a deck rail system, and many other features are included. Twin front airbags, front-seat side chest airbags, anti-lock brakes, emergency brake distribution, and other safety features are included in the Toyota Tundra.
Toyota Tundra vs. Ford F-150
The most significant distinction between the Ford F-150 and the Toyota Tundra is that the Toyota Tundra has many more safety features than the Ford F-150. These two tracks' power, hauling capacity, and interiors are different. Furthermore, the Ford F-150 is a Ford truck, but the Toyota Tundra is a Toyota truck.
The Ford F-150 is a pickup vehicle part of Ford's F line of trucks. They are reputed to be Canada's best-selling trucks. The original Ford F-150 model was released in 1975, and the business has since released other versions in this series. The most recent model includes all of the features that a consumer requires today, including technology, style, comfort, and power. 
Here are other significant differences between the two:
The Toyota Tundra model has more safety features than the most recent Ford F-150, such as automatic high beam lights and lane departure signals.
The regular Toyota Tundra has a V8 engine, which helps it pull huge loads and go off-road. The Ford F-150, on the other hand, lacks the ability.
Compared to the Toyota Tundra, the Ford F-150 is reported to be far more comfortable inside.
The first F-150 model was released in 1975. On the other hand, the first Toyota Tundra was introduced in 1999.
| | | |
| --- | --- | --- |
| Comparison Factors | Toyota Tundra | Ford F-150 |
| Engine  | 3.4L, V6 Turbo | 3.5L, Twin-Turbo, V6 Hybrid |
| Torque | [email protected] 2000 rpm | 570 lbs. |
| Horsepower | [email protected] rpm | 430 HP |
| Transmission | 5 or 6-speed manual, and 4 or 5 speed automatic | 6-speed automatic and 10-speed automatic |
| Fuel Economy | 18/24 Miles per Gallon | 25/26 Miles per Gallon |
| Towing Capacity | 8300 lbs. | 8200 lbs. |
| Payload | 1940 lbs. | 1985 lbs. |
Ride, Handling, and Performance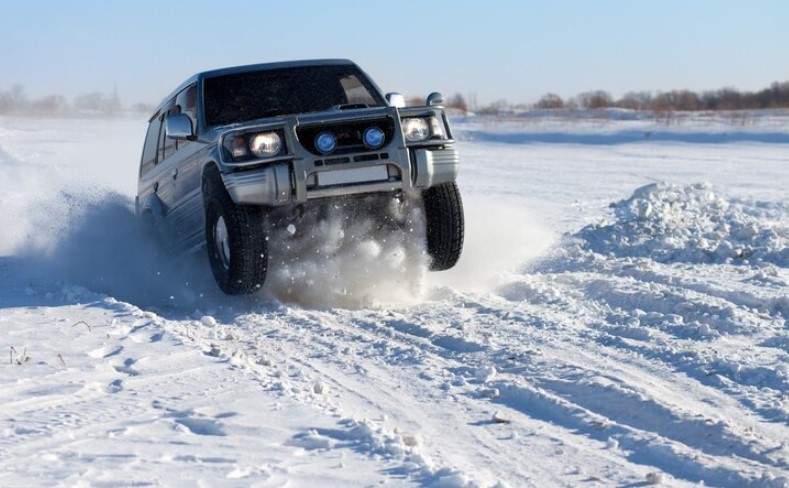 The situation at Toyota is that the Tundra half-ton pickup truck will get updated in 2022 with a new frame and new engines. All V8 engines have been retired in favor of a selection of twin-turbo V6 mills. 
Both engines are 3.5L and mated to a ten-speed automatic, but only one receives Toyota's hybridization expertise. 
The pre-production tester's powertrain produces 437 horsepower and 583 lb-ft of torque, values formerly reserved for heavy-duty diesel vehicles.
Toyota claims that the Tundra's hybrid torque kicks in 600 rpm sooner than the Ford, a claim that can be felt in the seat of your pants on a back-to-back trip. The Tundra's powertrain responds faster than the F-150's, especially in passing situations. 
The ten-speed downshifts like a quiet butler at work, serving up the appropriate gear before realizing it's required. That is a smooth drivetrain that will appeal to even consumers upgrading from a more expensive SUV.
Value
Till now, Toyota has been able to beat some of its half-ton competitors, especially at the high end of its range, at least in terms of asking price, if not incentives and loan rates. Last year's Tundra sold for around $65,000, a substantial figure, but only around $20,000 less than Ford's most expensive. 
In 2022, this will undoubtedly alter. Toyota isn't known for leaving money on the table, so while mid-range trims are unlikely to see significant price hikes, top-spec versions like the TRD Pro are likely to hit the $80,000 level. That's about the same price as our Ford test vehicle, which costs $83,175.
Practicality
In the capacity and innovation sectors, the F-150 outperforms the new Tundra, which is crucial in the half-ton pickup truck segment. 
The Pro Power Onboard system, and incorporated generator that smoothly fits in one wall of the truck bed and delivers a diversity of power outlets for work or pleasure, is a solid example of Ford's effort in hybrid.