Last Updated on February 13, 2023 by Leepu Da Maxim
The definition of foreign cars has evolved in recent years thanks to globalization. Going by the new definition of foreign cars, Honda is a foreign car with its headquarters in Minato, Tokyo, Japan. However, several Honda models have parts made and assembled in the united states.
Key Takeaways
Honda cars offer different designs and features that are distinct from cars that are made in the USA
Honda has a significant presence in markets around the world as a foreign automaker
The perception of Honda as a foreign brand has been reinforced through marketing and advertising
History And Review Of Honda
Honda is popular in America for being one of the most affordable foreign cars. This Japanese brand has a relevant market share in the US, with over 5 models being quite popular. Some popular models in the US from Honda include Honda Acura, Accord, Civic, CRV, and Element.
Honda is a Japanese company with its headquarters in Minato, Tokyo, Japan. Apart from automobiles, the company also manufactures motorcycles and power equipment. And it has been the world's largest motorcycle manufacturer since 1959, reaching 400 million productions by the end of 2019. It is also the largest manufacturer of internal combustion engines producing more than 14 million internal combustion engines each year.
In 2001, Honda became the second-largest Japanese automobile manufacturer, and in 2015, it was the eighth-largest automobile manufacturer worldwide. This company was also the first automobile manufacturer to release a dedicated luxury brand, the Acura, unveiled in 1986.
 Besides manufacturing automobiles, the company also makes garden equipment, personal watercraft, marine engines, power generators, and other products. They have also been involved with robotics and artificial intelligence research and released their ASIMO robot in 2000. The company has also ventured into aerospace and established the GE Honda Aero Engines in 2004 and Honda HA-420 Honda Jet, which began production in 2012. In 2013, Honda became the first Japanese automaker to be a net exporter from the united states exporting 108,705 Honda and Acura models while importing 88,357 models only.
Where Are Hondas Made?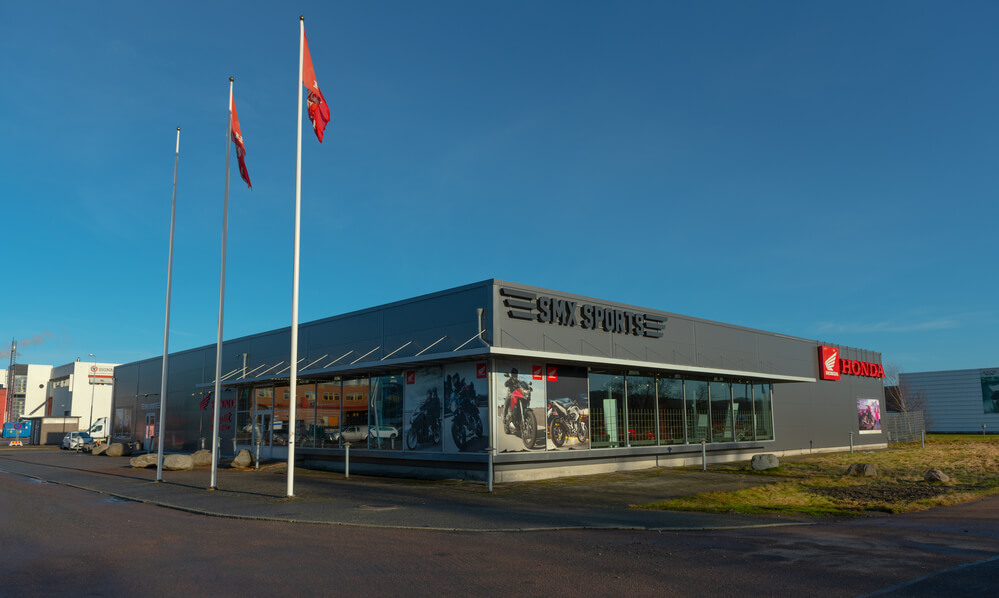 While Honda is a Japanese brand, most of its vehicles sold in North America are made in the United States. More than 12 manufacturing plants in America manufacture Honda parts and components and assemble cars. Below is a list of Honda manufacturing plants and what they specialize in.
| | |
| --- | --- |
| Honda manufacturing plant | What they produce/ specialty |
| United States | |
| Colton, California  | Red rider ranch training facility |
| Lincoln, Alabama  | Odyssey, ridgeline, pilot, V6 engines, Acura MDX (2013-2019), Accord V6(2009-2010) passport from 2019 |
| Marysville, Ohio  | Acura TL (up to 2014) accord sedan/coupe, Acura RDX (2006-22, Acura TLX, Honda CRV (from 2018), Acura ILX, and Motorcycle engines |
| East Liberty, Ohio  | Acura RDX (from 2011), Acura MDX (from 2017), CRV (from 2006) Element up to 2011 and civic sedan/GX( up to 2009) |
| Raymond, Ohio | Vehicle Research and development |
| Anna, Ohio | Engines  |
| Torrance, California | Vehicle research and development and design |
| Russel point, Ohio | Gears and four-wheel-drive components, and automatic transmissions. |
| Greensboro, North Carolina  | Honda jet  |
| Greensburg, Indiana  | Insight (from 2019), CR-Acura ILX (2012-14), and Civic sedan  |
| Tallapoosa, Georgia | Automatic transmissions |
| Timmonsville, South Carolina | Side by side UTVs, All-terrain vehicles pioneer 500, pioneer 700, pioneer 1000, four trax Rubicon, four Trax Rincon, four tr foreman, and four trax rancher. |
| Canada  | |
| Alliston, Ontario | Plant 1: civic (sedan and coupe including Si for North and south America) plant 2: Honda CRV; civic engines |
| Mexico  | |
| Guadalajara, Jalisco  | CR-V SUV, engines and HR-V since 2017 |
| Celaya, Guanajuato | Cars, Honda fit and HR-V |
| Japan | |
| Sayama, Saitama  | Honda Stepwgn, Odyssey, jade, legend, Accord CR-V and fit |
| Hamamatsu  | CVT and automatic transmissions, BF250 and BF20 series outboard motors |
| Suzuka Mie  | Honda super cub, Honda TN360, Honda 1300, Honda S500, and Honda Civic |
As you can tell from the table above, most of the Honda models Sold in the US are manufactured and assembled here. More than 65% of Honda vehicles are made and assembled in the USA.
 Honda has numerous other factories in different parts of the world, including UK, India, and Bangladesh. But most of their manufacturing plants make cars for the location they are situated in. now that we know the different manufacturing plants in the US, let's have a look at the American-made Honda cars, shall we?
Below are some famous Honda models made in the united states
1. 2021 Honda Odyssey
This model is available in 5 trims: LX, EX, EX-L, Touring, Elite. It runs on a 280-hp 3.5l V6 engine with standard auto-start/stop. The vehicle can accommodate 8 persons and has an impressive gas mileage of 28 mpg. The driver-assist features make the car safe and fun to drive. This model is getting quite popular because it is spacious enough for a large family and has an impressive fuel efficiency
2. Honda Ridgeline
The honda ridgeline is another people's favorite manufactured and assembled right here in the united states. This model is available in four trims: RTL, Black edition, RTL-E, sport. It has standard All-Wheel Drive with a 3.5-L V6 engine with 280 horsepower. This model ranks high in performance, exterior styling, and comfort. It also has an outstanding infotainment feature and an exclusive in-bed trunk making it an excellent vehicle for camping and adventure enthusiasts.
3. 2021 Honda Passport
It is impossible to talk about American-made Hondas without mentioning the Honda Passport. This spacious model comes in four trims: EX-L, Sport, Elite, and Touring. It has AWD on all trims and features a 3.5L engine. If you want comfort and luxury in a Honda, this is the perfect model for you.
4. Honda Pilot 
This model is quite unique because it comes in seven trims: EX, LX, EX-L, special edition, elite, touring, and black edition. The model has a 3.5L v6 engine which can produce up to 280 hp. The vehicle can seat seven or eight passengers and ranks high for comfort and reliability. This model also has excellent performance, styling, and design reviews.
Pros And Cons Of Foreign Cars: Should You Buy Honda?
Foreign cars have received lots of praise, but most loyal Americans struggle with whether they are worth buying. This section takes you through the good, bad, and ugly of foreign cars to help you decide whether to buy them or not.
Pros
1. Foreign Cars Are Reliable
It goes without saying that most foreign cars are very reliable and especially Japanese brands. According to repair pal, Honda ranks 1st out of 32 car brands in reliability with a rating of 4.0 out of 5.0. if you are after reliability, then a foreign car, especially Honda, is worth buying.
2. Foreign Cars Are Affordable 
Most foreign vehicles are affordable to buy and maintain compared to domestic or American car brands. This is contributed mainly by the lower cost of production and labor in their home country. If you are on a tight budget, buying a Honda would make more sense than a Jeep.
3. They Are More Fuel-efficient 
Foreign cars are more fuel-efficient than domestic cars, and that's why most Americans prefer them. If you are cautious about how much you spend on gas, a foreign car will be the best choice since it has excellent fuel efficiency.
Cons 
1. Expensive Parts
Some foreign car models have spare parts manufactured in their country of origin or elsewhere. If the parts of your foreign car are made overseas, it can be harder and more expensive to get a replacement. The best thing is that most foreign cars have manufacturing plants that make parts in the US.
Final Word
Honda is a Japanese brand that has successfully penetrated the US market, launching various plants and making people think it is an American car brand. This brand is quite reliable and makes multiple popular models in the US. If you are looking for an affordable foreign car that delivers excellent performance, the honda is good.
References:
https://www.tamaroffhonda.com/exploring-honda-made-in-america/
https://vehiclefreak.com/is-honda-a-foreign-car-is-it-american-made/