Last Updated on February 12, 2023 by Leepu Da Maxim
There are numerous foreign vehicle brands that are American-made, and Toyota is one. Toyota is a foreign car because it is a Japanese brand that originated and has its head office in Japan. Many Toyota models are made and assembled on American soil, but that doesn't make them domestic as Toyota is a Japanese brand.
Overview of Toyota Manufacturing Facilities in the USA
| | |
| --- | --- |
| Facility | Production |
| Toyota Auto Body California | Produces sheet metal and aluminum components, subassemblies, steering columns, catalytic converters, and other parts |
| Toyota Motor Manufacturing Kentucky | Assembles Camry, RAV4, and Lexus ES, and produces engines |
| Toyota Motor Manufacturing Missouri | Produces aluminum cylinder heads |
| Toyota Motor Manufacturing Indiana | Assembles Highlander and Sienna |
| Toyota Motor Manufacturing West Virginia | Produces engines and transmissions |
| Toyota Motor Manufacturing Alabama | Produces engines |
| Toyota Motor Manufacturing de Baja California | Assembles Tacoma and produces truck beds |
| Toyota Motor Manufacturing Tennessee | Produces aluminum engine blocks |
| Toyota Motor Manufacturing Texas | Assembles Sequoia and Tundra |
| Toyota Motor Manufacturing Mississippi | Assembles Corolla |
| Mazda Toyota Manufacturing USA | Assembles Corolla Cross and Mazda CX-50 |
Where Are Toyotas Made?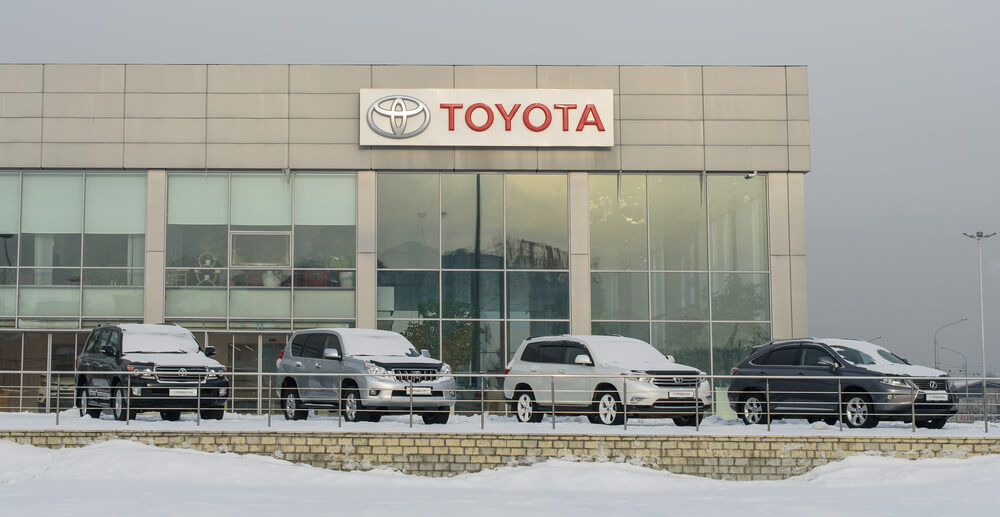 Toyota is a Japanese automaker with its headquarters in Japan and has manufacturing plants worldwide. This brand has been making vehicles in the US for over 35 years and has ten factories with over 450,000 workers. Toyota is a foreign car but with some models made in America. It has numerous manufacturing plants in the US, and this massive presence makes most people confuse the brand for an American car company. Below is a list of the various Toyota manufacturing plants in the US and what they manufacture.
1. Toyota motor manufacturing, Kentucky, Inc – the Kentucky plant is Toyota's largest manufacturing plant with the ability to produce 600,000 engines and 550,000 vehicles. This plant manufactures Toyota Avalon and Toyota Camry and makes V6 and four-cylinder engines.
2. Toyota motor manufacturing, Texas, Inc- this plant is located in San Antonio. It is famous for producing Tacoma pickup trucks and the full-size Toyota tundra.
3. Toyota motor manufacturing Indiana, Princeton, Indiana– this plant assembles the highlander, sienna, and highlander hybrid
4. Toyota motor manufacturing Mississippi– this plant is located in blue springs Mississippi and assembles Toyota corolla.
5. Toyota motor manufacturing Alabama is located in Huntsville, Alabama, and produces engines for various models.
6. Toyota motor manufacturing west Virginia– located in buffalo, west Virginia, manufactures various engines and transmissions.
7. Toyota motor manufacturing Missouri– this plant is located in St Louis and troy, and it manufactures transmission and engine components.
8. Toyota motor manufacturing Tennessee– the plant is located in Jackson, Tennessee, and it also manufactures engine and transmission components.
9. Toyota auto body California– the plant is located in long beach, California, and it produces sheet metal and aluminum components. It also manufactures other parts such as catalytic converters and steering systems
As you can tell from the list above, Toyota plants are prevalent in the US, and they make vehicles and parts from these plants. Since these plants make and assemble different Toyota models, it is easy to think of Toyota as a domestic car. Various Toyota models are American-made, but the brand is foreign. Let's take you through the definition of foreign cars to help you understand why Toyota is considered a foreign car brand.
What Is A Foreign Car?
Defining foreign cars has become more challenging in today's world because the American market is flooded with different models made in America but are foreign. Mergers and collaborations have also blurred the difference between domestic and foreign cars.
Some manufacturers choose to produce parts of a particular model in their country of origin and assemble them in the United States. In contrast, others manufacture the parts in the US and assemble them in their country of origin. A foreign car is one whose parts are manufactured and assembled outside the US. This definition has changed over the years due to globalization. Foreign cars are now defined as vehicles whose headquarters are in countries outside the US regardless of where the vehicles are manufactured and assembled. Going by this definition, foreign car brands in the US include:
1. Toyota 
2. Honda
3. Volvo
4. Volkswagen
5. Audi
6. Nissan 
7. KIA
8. Hyundai
These brands have their origin and headquarters outside the USA, but almost all have a manufacturing or assembling plant here. Understanding the difference between domestic or American cars and foreign cars is crucial when deciding which one to buy. Below is a detailed comparison between American and foreign cars.
Difference Between Foreign Cars And American Cars
| | |
| --- | --- |
| Foreign cars | Domestic cars |
| They hold their value better compared to American cars | They depreciate faster than foreign cars |
| They have better overall reliability | USA made vehicles are less reliable since they require more repairs |
| Most foreign cars are affordable compared to their domestic counterparts | They have luxury features at a significantly lower price |
| They have impeccable fuel efficiency | American vehicles have the lowest fuel efficiency ratings |
| Foreign manufacturers offer better sedans and small cars | Domestic cars have the best trucks and SUVs |
The domestic vs. foreign debate can get confusing and overwhelming when buying a car. It is essential to have in mind the specific features you are interested in and then compare models instead of comparing origin and manufacturers. However, some notable features of foreign cars are not available in domestic cars. For example, if you want a durable and reliable vehicle, you will consider a foreign manufacturer. If you want luxury features without spending a fortune, American cars are your best bet. 
Choosing which one is better, between a domestic car and a foreign car, will depend on your needs and perspective. Let's look at an overview of foreign and American cars to help you determine which one suits your needs best.
Foreign Cars
Foreign cars rank higher in most surveys because they are more reliable and less expensive. They are famous to most consumers for their affordability and reliability, but they also have their fair share of problems. Some are expensive to repair and maintain because the aftermarket parts aren't readily available. Foreign cars are a good option for anyone who wants affordability and reliability. If you are looking for consistent performance and affordable maintenance costs, you should be looking within foreign manufacturer brands.
Domestic cars
Most American manufacturers have focused on SUVs and trucks, producing the best in that category. They are also famous for making luxury affordable; they have luxury features found on cars like BMW or Mercedes Benz but at a lower price point. Their parts are also affordable and readily available compared to foreign cars. If you are not interested in owning a truck or SUV, you will struggle to find an excellent domestic vehicle. The cost of maintaining American cars is also relatively higher compared to foreign models.
Are Foreign Cars More Expensive To Repair?
When looking at foreign cars, the cost of repair and maintenance is an issue that pops up often. Initially, foreign cars cost more to repair because the spare parts had to be imported to the US. Nowadays, that cost has gone down significantly because foreign cars now have manufacturing plants in the US. They also have many suppliers, which reduces the cost of shipping significantly. You will probably spend less to repair a foreign car than you will on an American car.
The Takeaway
Foreign cars are more reliable and affordable to buy and maintain. If you are looking for a car that offers convenience and reliability, foreign cars are the way to go. Various Toyota models are built and assembled in America, but they are American-made and not domestic cars. 
Brands such as Toyota, Hyundai, KIA, and Nissan are known as foreign cars because they originate outside the US. When buying a car, it is more important to consider what features you want than just looking at whether it is foreign or domestic. However, some features can point you in the right direction and make your search more effortless. For example, American cars are your best bet if you want luxury features affordably. We hope you now understand the difference between foreign and American cars and know what to look for in your next car.