Last Updated on February 11, 2023 by Leepu Da Maxim
The most significant difference between ford and Toyota is their country of origin. Toyota is made in Japan, while Ford is an American product. The country of origin plays a significant role in the styling and design of these vehicles and sometimes performance.
Key Takeaways
Ford manufactures cars, trucks, SUVs, and commercial vehicles while Toyota manufactures cars, SUVs, trucks, hybrids, and commercial vehicles
Ford mostly focuses on electric and autonomous technology while Toyota focuses on the hybrid technology
The main market of Ford is North America, and Europe and Toyota's main market is Asia, North America, Europe
Ford's brand image is tough and dependable while Toyota's brand image is reliable, efficient, and innovative
Company Profile: Ford VS Toyota 
| | | |
| --- | --- | --- |
| Company name  | Ford  | Toyota motor corporation  |
| Type  | Public  | Public |
| Industry  | Automotive  | Automotive  |
| Founded on  | June 16, 1903 | August 28, 1937 |
| Founder  | Henry ford | Toyoda Kiichiro |
| Headquarters  | Dearborn, Michigan U.S  | Toyota city Aichi, Japan |
| Number of employees  | 186,000 | 366,283 |
| Divisions  | Ford, Lincoln, motor craft | Lexus, ranz, scion  |
| Key people  | William clay ford jr. (executive chairman), Jim Farley (CEO and president) | Akio Toyoda(president)Takeshi Uchiyamada (chairman), Shigeru Hayakawa (vice Chairman) |
| Services  | Automotive finance, vehicle service, vehicle leasing | Banking, financing, leasing  |
| Revenue  | $127.144 billion | $25.7 billion |
| Production output  | 4.187 million vehicles | 9,213,195 |
| Total assets  | $267.261 billion | $562 billion |
| Website  | Ford.com | global. Toyota  |
Differences Between Ford And Toyota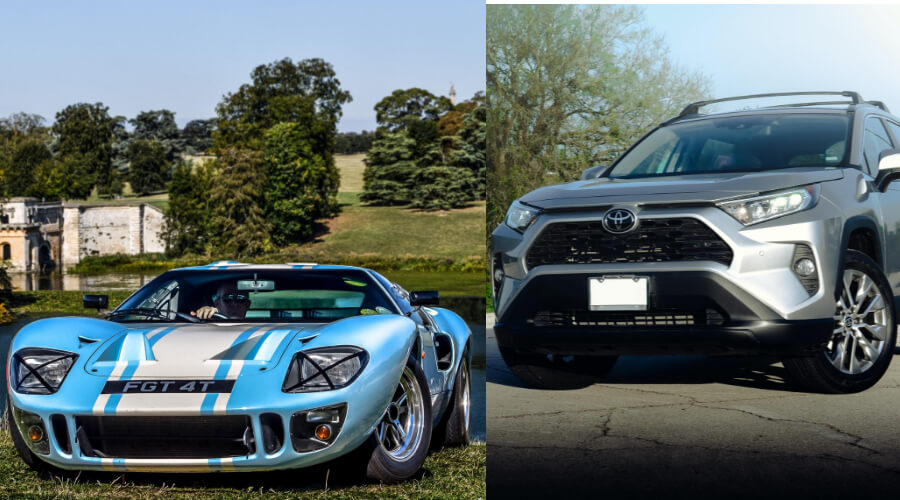 1. Country Of Origin
The most apparent difference between these two brands is that Toyota is Japanese while ford is an American automaker. Both brands make vehicles for the American market, but they are pretty different in concepts and design. Toyota focuses on practicality and functionality, thus taking a minimalist approach while ford models are always after performance and aesthetics. 
2. Product Design 
The design of Ford and Toyota cars is different because they target other purposes. Toyota makes cars targeting commuters and families, while Ford focuses more on performance and commercial vehicles. If you want a vehicle that will make a statement with just looks, you are better off going for a Ford. Toyota is your best bet if you are leaning more towards efficiency and reliability.
Toyota and ford also differ in the type of products they manufacture. With ford, they have trucks, buses, tractors, sports cars, and touring cars either for motorsport or commercial purposes. Toyota is more reserved than Ford, and they make only SUVs and crossovers, luxury cars, pickup trucks, and buses.
3. Safety Features
Both ford and Toyotas have features that guarantee occupant safety, but they have different safety ratings. According to the Insurance Institute for highway safety (IIHS), Toyota beats ford in safety features. Only Ford edge has managed to come close to Toyota in safety features. Most Toyotas have the Toyota safety sense plus TSS+, the Toyota safety plan. This plan protects a car's occupants and pedestrians from accidents while driving.
Ford vehicles have not been left behind since they come with an all-inclusive driver-assist system known as co-pilot 360. This system has emergency braking, blind-spot information, lane-keeping assist, and other features that come in handy to ensure you are safe as you drive.
4. Reliability 
According to J. D Power, repair pal and consumer reports, Toyota is more reliable than Ford. Toyota has a reliability rating of 4 out of 5, making it rank 8th out of 32 car brands, while Ford has a reliability rating of 3.5 out of 5, making it rank 21st out of 32 car brands. Reliability rating is determined by several factors, including the average cost of repair and how many times the car stalls due to maintenance issues. If you are looking for a dependable car that will get you to your destination without stalling, you are better off choosing a Toyota over a Ford.
5. Cost Of Repair And Maintenance 
Toyota cars are the most affordable to maintain in the world. It will cost about $9,000 to support a ford over the first ten years, while it will only cost $5,000 to maintain a Toyota over the same period. Most ford cars come with luxury features that are more complex and expensive to repair and maintain. Toyota cars have essential and straightforward features which cost relatively less to improve if they break down. When buying a car, it is advisable to consider the cost of repair and maintenance and see if it is sustainable for you.
6. Cost Of Buying New 
Most times, it will cost you more to buy a new Ford car than it would for a Toyota. This is because Ford cars come with unique features that make them more expensive than Toyotas. The most affordable Ford car costs $21,000, while the cheapest new Toyota costs $16,000. Another reason why new Ford cars are more expensive is that they are made in the US, where the cost of production and labor is relatively high compared to Japan, where Toyotas are made.
7. Customer Loyalty 
These two brands differ significantly when it comes to customer loyalty. Toyota has managed to gather a cult-like following of loyal customers. Toyota customers have a high level of trust and satisfaction with the brand, and they keep coming back year after year. Ford also has some very loyal customers who wouldn't consider any other brand, but Toyota is unbeatable in their brand impact.
8. Cost Of Buying Used 
You might think that Ford is more expensive to buy new, used Ford cars will also cost more, but that's not the case. Used ford cars cost relatively less compared to Toyotas. Toyotas hold their value quite well and will only depreciate a little after years of use. 
Car buyers are also willing to pay more for used Toyota because they have a long-lasting reputation. Another reason why used ford cars are cheaper than used Toyotas is the dynamics of demand and supply. Since there are many used ford vehicles in the market and few buyers, the price becomes low, but that of Toyota is high since demand is higher than supply.
Comparing The Brands By Vehicle Category And Models
Our comparison cannot be complete before comparing similar vehicle models from both brands. This section will give you a clear understanding of the brands by comparing models of the same class from each brand.
Mid-Size SUV: Toyota Rav4 VS Ford Escape 
These two vehicles are a favorite in their class; they offer AWD, modern safety features, and a five-person seating capacity. They are closely matched and rank close to each other in most rankings. If you are more concerned with a spacious SUV, then the escape is a better choice for you. If you want quality interiors and an impressive layout, then the Toyota Rav4 is a winner for you. The Toyota Rav4 has better fuel economy, but the Ford escape performs better and is more fun to drive. When buying new, the vehicles cost almost the same, so your preference determines what you end up choosing. Toyota rav4 will cost you $26,150, while the Ford Escape will cost $26,010 for the base model.
Full-Size Pickup Truck: Toyota Tundra VS Ford F-150
These vehicles come with different bed lengths and multiple cab configurations and trim levels for various purposes. The Ford F-150 is more affordable than the Toyota Tundra, with a new one having a base price of $28,940, while the tundra starts at $37,645. The Ford F-150 ranks better in surveys and reliability ratings in terms of reliability. The ford is a winner in features and interior quality giving you better value for money. Since ford has been making trucks long before Toyota thought of one, they win in this category. The only thing the tundra stands out for is the extra cargo space and advanced safety features it comes with.
Hatchback Sedans: Ford Focus VS Toyota Corolla
The ford focus and Toyota corolla all feature a 4-cylinder engine, but the Toyota Corolla has better fuel efficiency. The Toyota Corolla has an estimated city/highway EPA of 28/37 mpg while the Ford Focus gets 26/36 mpg city/highway. Both come with fantastic technology and infotainment systems, but what you end up choosing will be determined by your personal preference. A ford focus varies depending on the trim, but it ranges between $16,800 to $44,220, while a Toyota corolla costs $20,075 to $28,360.
Conclusion 
Ford and Toyota are all reputable brands that have gathered loyal customers over the years. Each brand stands out in specific vehicle categories, with Toyota being known for small cars and standing out in trucks and commercial vehicles. After going through this article, we hope that you are in a better position to choose the best brand for your needs.