Last Updated on February 12, 2023 by Leepu Da Maxim
The Toyota FJ Cruiser is a retro-style and mid-size SUV; it has been produced since 2006 after a positive consumer response at the North American international auto show in 2005. The car was sold in the US market until 2014 when it was discontinued due to lackluster sales.
Key Takeaways
One major reason Toyota stop making the FJ was declining sales due to decreasing demand
The design of the FJ Cruiser was considered backdated and according to many cars enthusiastic the design was not in line with contemporary trends
Toyota had very limited production capacity for the FJ Cruiser and failed to keep up with the demand
The production cost of the Toyota FJ Cruiser was very high and Toyota was not able to offer the FJ Cruiser at a lower cost compared to other models
Five Reasons Why The FJ Cruiser Was Discontinued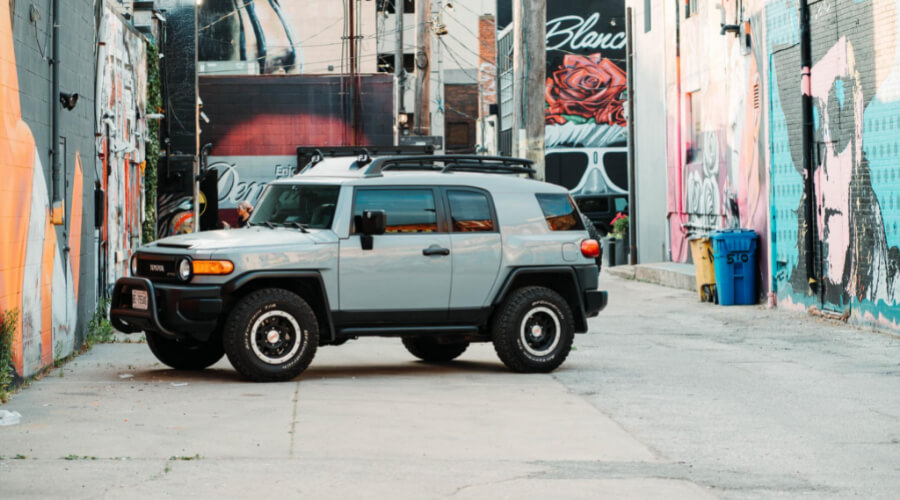 1. Dwindling Sales
When the FJ cruiser was first launched, it had an excellent reception in the US market and elsewhere. Toyota sold 56,225 units in the US and 4919 units in Canada in 2006 alone. However, the sales kept decreasing, and in 2013, they took a nosedive, and they only sold 13,131 units in the US and 656 units in Canada. These numbers were quite disappointing, and Toyota decided to discontinue the production of this model. According to critics, sales decreased due to increased competition and the poor fuel economy of the car. The sales of the FJ cruiser could also have gone down due to the 2008 recession, which caused a massive economic downturn. Below is a summary of the FJ cruiser sales in the US and Canada over the years.
| | | |
| --- | --- | --- |
| Calendar Year  | Sales in Canada | Sales in US |
| 2006 | 4919 | 56225 |
| 2007 | 4901 | 55170 |
| 2008 | 2630 | 28688 |
| 2009 | 89 | 11941 |
| 2010 | 797 | 14959 |
| 2011 | 639 | 13541 |
| 2012 | 726 | 13656 |
| 2013 | 656 | 13131 |
| 2014 | 618 | 14718 |
2. The Critic From Previous Owners
Upon debut, the FJ cruiser received praise from fans and automotive journalists, especially for its unique and aggressive design. The press loved that the car was purpose-driven and unique compared to their other conservative model. People also loved its off-road performance but most criticized it for its low-lateral grip and excessive body roll. The vehicle was also criticized for its design which caused large blind spots, rear seats that were difficult to access and didn't offer enough space, and a limited cargo capacity. Toyota attempted to correct the issues in future models by changing the front seat hinges to allow easy entry and exit at the back and offering a reversing camera to deal with the blind spot. However, critics continued backlashing the vehicle, which could be among the reasons it was discontinued.
3. Toyota's Cost-cutting Gave A Cutting Edge To Competitors
 During the first years of the FJ cruiser, it did well and made sales worldwide; Toyota then released a statement saying it had cut costs in the production of the FJ cruiser to make it a primary and affordable vehicle for all terrains. Toyota cut costs by adapting the design and parts and components from other popular Toyota models. Competitors used this statement from Toyota to win customers over. Their competitors kept proving that they invested in improving their vehicles through research and gave the models similar to FJ cruiser an advantage. 
4. It Had A Poor Fuel Economy Amidst Rising Fuel Prices
According to most owners and drivers, the FJ Cruiser was heavy on fuel, significantly impacting the vehicle's cost. Toyota tried to improve the vehicle's fuel economy by tweaking the engine slightly, and this gave the FJ cruiser a fuel efficiency of 14-17mpg in the city and 19-21 mpg on the highway. Most people noted that the vehicle was best for off-roading instead of city driving. When the FJ cruiser became popular, the recession hit hard, and fuel prices skyrocketed. Since most people were struggling financially, they avoided vehicles heavy on fuel consumption. Toyota decided t discontinue this model and give people only the cars they would afford.
5. Steep Competition From Similar Vehicle Models From Other Manufacturers
The Toyota FJ Cruiser was introduced as a basic and affordable offroad vehicle. Most people looking for offroad cars didn't have enough reason to buy the FJ Cruiser other than its price and Toyota's reputation for reliability. This model competed with other "off-road beasts" that gave buyers all the reasons to own them. One such model is the jeep wrangler; this model provided the FJ cruiser a run for its money. It had better fuel economy, gave drivers different transmission gears to choose from, and was also convertible to make it a lightweight off-roader.
Frequently Asked Questions
Q. What Was Appealing About The FJ Cruiser?
The FJ cruiser had some die-hard fans who loved the vehicle ever since it was released. They loved the car for its rugged build, which was against the norm for Toyota vehicles; off-roaders also loved how this model handled rough terrain smoothly with rocks and steep inclines. This model was built with ample clearance angle to ensure the underside isn't damaged by driving on uneven terrain. Another thing people loved was how reliable the vehicle was as a daily driver and as an off-road vehicle.
Q. Why Are Used FJ Cruisers So Expensive?
Currently, the price of a used FJ cruiser ranges between $14,000 and $27,500, depending on the model year you find. This is quite expensive compared to the cost of its competitors. FJ cruisers hold their value quite well, which makes their resale value relatively high. They also depreciate at a lower rate because they are reliable and durable. This means that even after driving the vehicle for years, it will only have lost a small percentage of its original value. Another reason why used FJ cruisers are expensive is that they are scarce and demand is high. The demand vs. supply dynamics plays a role in making used FJ cruisers pricey.
Q. Is The FJ Cruiser Reliable?
Yes, the FJ cruiser is reliable; according to repair pal, it has a reliability rating of 3.5 out of 5, making it rank 12 out of 26 mid-size SUVs. The vehicle is also affordable to maintain and has an annual maintenance cost of $506 compared to an average of $573 for mid-size SUVs
Q. Will Toyota FJ Cruiser Become A Collectible?
The FJ cruiser is rarely sold nowadays because they have become quite collectible. Enthusiast loves these vehicles, and they are pretty expensive when you find one to buy. Going by this trend, the car could become a collectible very soon.
Final Word
The Toyota FJ Cruiser sparked debate when it was first released. Most people couldn't believe that Toyota took the bold step to design a rugged off-road SUV. If the reception in the first year was anything to g by, the vehicle was truly loved and embraced. However, its sales declined, and it faced competition from various models making Toyota discontinue it. Most FJ Cruiser enthusiasts keep hoping it will come back or have a worthy replacement, but Toyota hasn't promised yet.