Last Updated on March 7, 2022 by
You will certainly look at Ford vehicles if you need a new pickup truck. There is a good reason that Ford trucks are one of the most popular cars globally. Their durability and consistent performance give them an edge over a few competitors in the latest truck world. 
A Ford truck is a good car that can assist you in many ways. Its reliability and sturdiness enable you to enjoy the ride, either in bad weather or when you want to tow or pull something. If you are in the market for a Ford truck, you may wonder what XLT signifies on Ford cars. This article explains this truck type so that you find it easy to choose your favorite among the various trim levels.
Keeping abreast of the various track levels manufacturers give to a car can be challenging. A good example is the XLT Ford truck. However, this trim package doesn't have anything to do with the length of the bed; you can get the package in a short or long truck. XLT means Extra Luxurious Trucks.
This term helps to indicate that the model's lineup comes with better trim levels. This type goes back to 1970 when the higher trim level of the Ford Ranger for the year's model was called XLT. In 1973, the Ford-100 model also had the same designation. Therefore, XLT became the distinction to distinguish it from the XL model.
Features That Make XLT Your Perfect Car
Ford trucks such as the XLT come with distinguishing features that combine style, comfort, and performance to make them impressive vehicles. XLT being the main trim level comes with upgrades for both interior and the exterior. The following are the top features that make XLT the perfect fit for the family:
Comfort
To make everyone comfortable until you arrive at your destination, XLT has the latest comfort packages. It contains a tri-zone electronic temperature control and unique cloth seating surfaces. It also has more features for additional comfort, for instance, a heated steering wheel and double-panel sunroof so that you enjoy the sun and fresh air as you move.
Power And Performance
The XLT comes with a 2.3 liter EcoBoost engine coupled with a 10-speed automatic transmission and SelectShift technology. Such a combination gives your car 300 horsepower and lets it pull up to 5300 pounds. This allows you to easily pull a small RV, boat, or trailer. 
If you get a four-wheel drive, it has an improved grip for various weather conditions so that you can drive anywhere you want. It also offers you the chance of adding a Terrain Management System for better handling under different conditions while driving. Such a trait makes XLT the perfect vehicle for your adventures.
Safety And Driver-Assistance Features
Various driver assistance features protect you and your family on the road. Such features include; a lane-keeping system combined with its assistant, lane-keeping alert, driver alert, and modern reverse sensing ability. It has a Safety Canopy airbag system, driver and passenger knee airbag, and a system that warns of a crash (Post Crash Alert System). 
Such features enable you to drive confidently, knowing your family is safe.
Technology
XLT has a variety of top-notch technology, including an entertainment system to help you get connected while traveling. It has a FordPass Connect system that can connect your phone through Apple CarPlay and Android Auto. Others include 4G LTE Wi-Fi hot spot, SiriusXM Satellite radio, and USB-charging ports on the second row-you don't have to worry about battery low. 
You can add voice-activated navigation to help you concentrate on driving while telling you where to turn.
Over the years, Ford XLT has given various choices of performance and interior and exterior features. For instance, with the XLT, you can have a 3.0 Liter Powerstroke V6 Diesel engine. The other trims, such as the XL, do not give you the option of purchasing a diesel engine. 
XLT also has 17-inch aluminum wheels painted silver. It has an additional six-wheel package and a carpeted floor mat.
Cruise control and MyKey are the standard features in XLT, but you have to pay for them in other vehicles. This car also comes with a voice-activated entertainment system at purchase. 
Concerning bumpers, you get chrome on the rear and front bumpers of the vehicle. It comes with a tailgated assisted by power, halogen fog lamps on the front, power-glass side mirrors, and a manual for the driver and front passenger for better seat control. Ford XLT Ranger trim options are somehow standard apart from the unique sound system.
What Are The Differences Between F150 XL And XLT?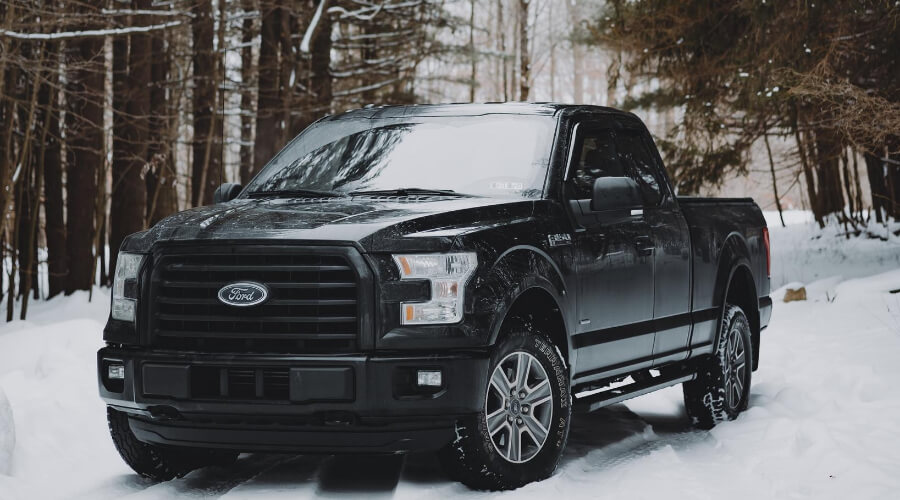 Since its launch in 2019, Ford F-150 has become a popular truck in the market due to its affordability, better performance, capabilities, and comfort. It comes with a variety of trim levels to choose from. If you are not sure which is suitable for you between XL and XLT, here's a comparison between the two:
F150 XL Versus XLT
Generally, the main difference between XL and XLT is that XL is a good deal in budget and efficient, thus giving you the feeling of worth for your money. On the other hand, the XLT has additional characteristics that perfectly suit a decent feature; it improves the former XL. 
The 12-inch display with a touch screen LCD and MyKey enhances the feeling and satisfaction of your XLT, whereas XL has an 8-inch middle tablet screen, the rear screen, and safety technologies. 
XL comes with 3.3 Ti-VCT V6 motors, which are found behind the hood of the 2020 Ford XL. This machine generates a horsepower of 290 and 265 lb-ft of performance. An additional feature in the engine includes an injection system, and in each cylinder, there is a double injection. 
Besides its 6-shift speed transmission, XL has three modes: regular, tow/haul, and sport.
Conversely, XLT trim is more premium with extra features that the XL doesn't have. These features are helpful and improved for comfort. 
However, there is no significant difference in performance between XL and XLT. There are also securities improvements such as SecuriCode keyless entry keypad, remote keyless entry systems, and auto-perimeter anti-theft alarm are found in the more priced heavy-duty XLT models.
Ford F150 XL is cheaper and full of features of several luxury cars produced by Ford Motors at reasonable prices. Regardless of the distance, you cover, the performance of your truck is essential. 
When deciding the car you need, consider efficiency and performance. The XLT is more priced but gives an efficient price to feature ratio. Its interiors are built with elegant features and enhancements. 
With the above comparisons, you will no longer face difficulties getting your preferred choice of F150. Both XL and XLT have the same horsepower features, but the XLT may be the better option if you need improved design and technological features. The following table summarizes these differences:
| | | |
| --- | --- | --- |
| Factors of Comparison | XLT | XL |
| Meaning | Extra Luxurious Truck | Extra Load |
| Engine | 5.4L V82.3L EcoBoost | 3.3 Ti-V6 |
| Transmission | 6-speed transmission | 6-shift speed transmission |
| Horsepower | 310 at 5100rpm300 at 5300 lb-ft. | 290 and 265lb-ft |
If you choose the latest Ford F150, you will find yourself with a multi-purpose vehicle that will impress you in all ways. You will not regret purchasing this type of car as it has received recommendations from various people.