Last Updated on January 21, 2023 by Leepu Da Maxim
Thanks to high-quality sound and durability, many car owners prefer Kicker speakers. Some of the best Kicker speakers in the current market are Kicker DS65 6.5″, Kicker DS60 6.5″, Kicker 40CS654, Kicker DSC69, Kicker 43 DSC69 304, etc.
Key Takeaways
The Kicker DS65 features a polypropylene woofer cone and a balanced dome tweeter for clear and powerful sound reproduction
The Kicker 40CS654 includes a pair of two-way speakers, each with a polypropylene woofer cone and a balanced dome tweeter
The Kicker DS60 is a 6.5-inch car audio speaker that features a polypropylene woofer cone and a balanced dome tweeter for a full range of sound
The Kicker 43DSC69304 D-Series is a 3-way car speaker with a sensitivity of 93 dB and a frequency response of 35 Hz to 21 kHz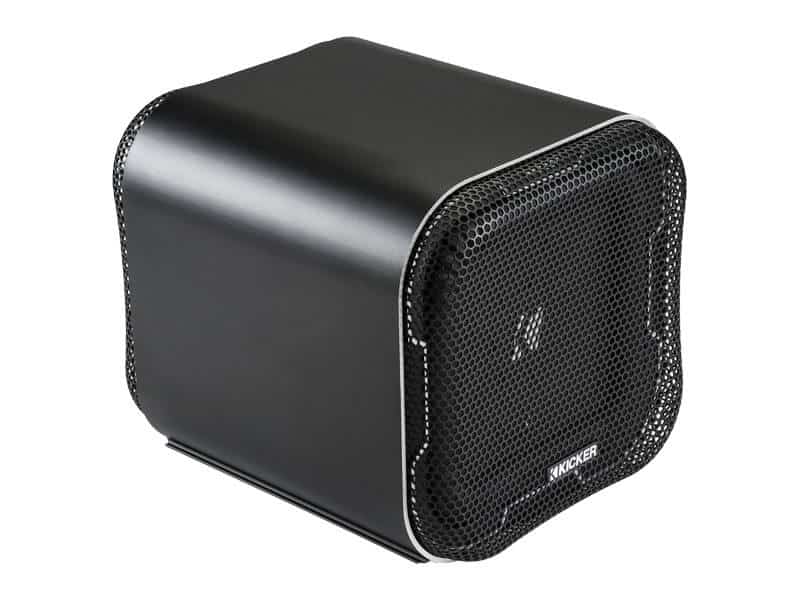 While these speakers come with a higher price tag than other brands of car speakers on the market, they are worth the money because of their durability and dependability.
Overview of Kicker
KICKER Living Loud's legacy began in 1973 as an operation that was two men, building speaker systems in a small garage.
KICKER products are designed and made by hard-working people in a big facility. They exceed audio-design technology limits which creates superior performance.
The company's products are currently sold by approximately 1,200 authorized dealers in the United States.
Best 5 Kicker Speakers For A Car
| | | |
| --- | --- | --- |
| Kicker Speakers | Main Features | Rating |
| Kicker DS65 6.5″ | Flexible and easy installation for most vehicles | 4 / 5 |
| Kicker DS60 6.5″ | UV treatment for clear sound quality | 4.5 / 5 |
| Kicker 40CS654 | Easy-to-install speakers that deliver natural, clear sound | 4.5 / 5  |
| Kicker DSC69 | High-quality sound is achieved with 13 mm naphthalene polyethylene domed tweeters | 4.5 / 5 |
| Kicker 43 DSC69 304 | High level of realism and musical performance | 4.5 / 5 |
What Are the Best Kicker Speakers?
One of the most important components for the well-being and comfort inside a car is the speakers. More often than not, people decide to replace the factory speakers in most new cars. Of course, this happens because the factory speakers are usually not the right choices for people's satisfaction.
However, a wide variety of speakers are usually available at auto parts stores. One of the most popular brands to emerge in recent years is Kicker speakers. In general, these speakers offer proper sound quality, good sensitivity, and excellent frequency. Anyway, it is necessary to mention the most popular options to find out if they are really good.
1. Kicker DS65 6.5″
No products found.
The maximum power of these speakers is 240 watts while incorporating between 40 to 20000 hertz of frequency response. So, a car can get here an excellent sound quality of music. Even these speakers usually include polyester foam which is much more resistant than regular foam.
This special foam allows for great resistance and improves the durability of the speakers. Inside these speakers, we can find a motor that includes a high-end quality. So, it certainly allows optimizing the performance in each song listened to. The sensitivity can reach up to 90 decibels which surpasses other options.
In particular, the noise detrimental to the sounds decreases while the sound quality increases. In short, this is an option that can be very suitable for many people who do not want to spend a big budget. Even the design of these speakers allows for easy installation without major inconveniences.
2. Kicker DS60 6.5″
No products found.
Another one of the most comfortable and efficient options of this manufacturer's speakers is this model. It is a set of speakers with an excellent design for easy installation. So, we can notice that these speakers avoid that a person must make modifications inside a vehicle for installation.
Compared to the previous model these speakers also offer a similar frequency response and 90 decibels of sensitivity. However, the peak power is only 100 watts so it is not the most powerful speaker on the market. Still, people have mentioned that these speakers can deliver great sound quality.
On medium and high hits the performance is formidable. Anyway, these speakers can handle treble sounds better and not so much bass sounds. Beyond that, the durability of these speakers usually convinces users who want an excellent lifespan. Also, these speakers tend to have an excellent cost-benefit balance. 
3. Kicker 40CS654
No products found.
In particular, this loudspeaker model is one of the few affordable options on the market that offers great ultrasound quality. The sensitivity and frequency response of the same as the previous models. The power goes up to 100 watts and the design of these speakers offers a comfortable installation.
In this case, it is also a set of speakers that features Kicker's typical special foam. So, users can get proper durability and a lengthy lifespan. The construction of these speakers is durable although this is not a speaker that can deal with the most powerful sounds.
Regardless, it is still a far superior speaker to the factory speakers in many cars. So, people on a budget opt for these speakers to improve the sound inside. There is even a money-back guarantee in case users encounter any damage. This undoubtedly increases users' confidence in the manufacturer.
4. Kicker DSC69 D-Series
No products found.
Individuals may opt for this speaker set when they wish to enjoy a more complete sound experience. In some cases, a modification to a vehicle may be required for installation. In any case, this speaker model uses little power to provide excellent sound quality.
The materials of the structure include a high-quality magnet. At the same time, the sensitivity is as adequate and superior as the frequency range. The high-sensitivity motor is complemented by special acoustic foam to provide a good result for every sound or song. 
Anyway, users have mentioned that this is an excellent speaker that requires a high budget. Beyond that, it can be a more than appropriate choice for people who want to get high-quality sound. Of course, it is not the most powerful option on the market although excellent features are included.
5. Kicker 43 DSC69 304 D-Series
No products found.
Another one of the most popular options these days is these speakers that offer a very complete result. Here, a proper budget is required although the structure of these speakers features high-end engineering. The low-profile design is more than suitable to complement the interior of different vehicles.
These speakers can cope with a wide volume range and always deliver high-quality sound. Besides, these speakers can replace the factory speakers due to their design. Not only does the design feature a low profile, but they are also shallow speakers. Even ribbed polyester foam is also incorporated into the body.
Specifically, this allows the speakers to be kept safe from various weather factors. Lastly, a much larger magnet than other speakers of similar size has been incorporated inside. In short, it is one of the most popular choices because users can get a good sound experience. 
15 Reasons Why Kicker Speakers Are Good For Cars
Kicker speakers are excellent for cars because they produce great sound without costing too much. They are also durable and weatherproof, making them an investment worth thinking about.
Below are fifteen reasons why kicker speakers are good for cars:
Kicker speakers can provide an improved sound system for your car, making it more pleasurable to drive.
Kicker speakers are the best choice for those who want to have a high-quality sound system in their car. They come in different sizes and power capacities and have a range of features to suit your needs.
The sound quality is unmatched by other brands, the speakers are durable and they have a lifetime warranty which is unheard of in this industry. The kicker speakers also come with an installation kit so you don't need any specialist equipment or knowledge.
Produces immersive sound
Durable and weatherproof
Produces great bass with deep, rich lows
Easy to install
Made of the best materials
Fits properly in any vehicle
Small design that does not take up much space
Can be used with other car products like amps or subwoofers
Some speakers have been made specifically for cars and they have been created in a way that is meant to suit this purpose. These speakers will give you as much bass as possible and will make sure that you can hear every word with clarity.
This speaker series is on top of all others because it has been tested by professionals who know exactly what needs to be done when designing audio equipment for vehicles. These experts guarantee that over time these speakers will perform exceptionally well, no matter where or how hard they are being used.
With kicking power and plenty of innovative design, the QS series is aptly named.
They look great and sound good. They will fit in with any type of decor while sounding fantastic.
Conclusion
Kicker speakers are a top choice for car audio enthusiasts and home theater audiophiles. The KS range offers exceptional sound quality and is the perfect set to buy if you're not looking for anything fancy, or just want to improve the sound in your car or home.
https://www.planetradiocity.com/are-kicker-speakers-good