Last Updated on February 9, 2023 by Leepu Da Maxim
Well, whether you should buy Toyota Tacoma totally depends on your personal preference and requirements. Overall, Toyota Tacoma is an excellent choice for people who are looking for a versatile truck that will be dependable and worth the money.
Key Takeaways
If you are looking for a truck for work or off-road adventures then you can put your trust in Toyota Tacoma
The Toyota Tacoma has a rugged design and it offers an excellent off-road driving experience
The Tacoma offers a comfortable interior for families or people who need a truck for daily driving
The price of Toyota Tacoma is a bit expensive and it is not known for its fuel efficiency
What Is The Toyota Tacoma?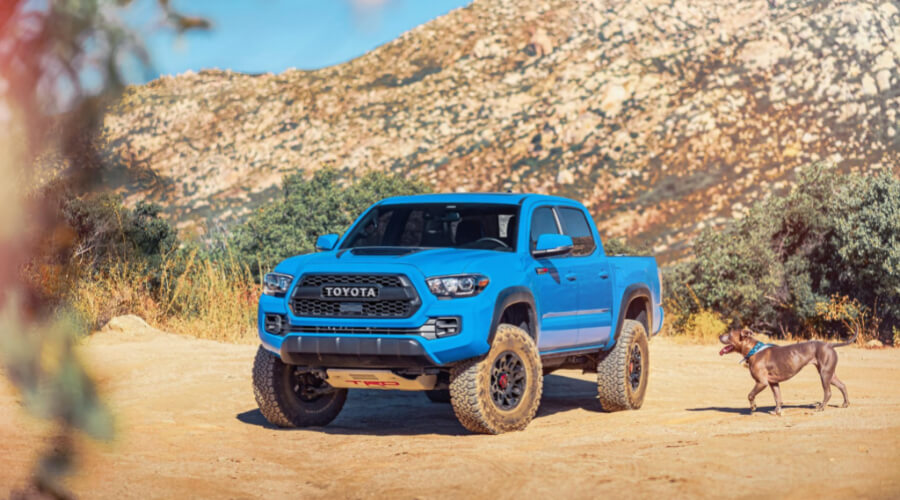 The Toyota Tacoma is a compact pickup truck by the Japanese automaker Toyota; it has been in the U.S. and Mexico since 1995. This vehicle comes in different models just for you to have a wider variety to choose from. Below is an overview of the six Toyota Tacoma models:
1. Toyota Tacoma SR
This model of Toyota Tacoma is the cheapest of them all, with prices starting at $26,150. The vehicle is designed to handle both off-road and city trips exceptionally well. You can have unending pleasure on fun days and undistracted and worry-free work. The interior has a 7-inch touchscreen display compatible with other systems, so you don't need to worry about navigation. It also comes with automatic climate control, and 3 USB ports. The seats are fabric-trimmed, and the driver's seat is 4-way adjustable and has lumbar support. It has a keyless entry system due to the remote control and a tire pressure monitoring system. The exterior has 16-inch wheels, a 5-foot short bed, and a fiber-reinforced sheet. 
2. Toyota Tacoma SR5
The features of this model have been improved, and even better, the price starts at $27,940. The touchscreen display is an 8-inch leather-trimmed steering wheel, deck rail system, hill start assist control, integrated fog lights, and tire pressure monitor system with individual tire location alerts. Toyota Tacoma TRD sport
The pleasure and fun increase with the Toyota Tacoma TRD Sport, and the price starts at $33,060.  The wheels are 17 inches, increasing the stability. It has a smart key and panoramic view monitor with a camera, fabric-trimmed 10-way power-adjustable driver's seat, premium audio with dynamic navigation, and integrated wide-angle fog lights. Toyota Tacoma TRD Off-Road
This Tacoma TRD off-road is a good choice for rough terrains. Prices start at $34,315.  If you visit such terrains frequently, then you should consider this. It is featured 16-inch wheels, a blind-spot monitor, a hill start assist control, a multi-terrain monitor, color-keyed door handles, and a multi-terrain select with crawl control. 
3. Toyota Tacoma Limited
This is one of the most expensive of the five models of Toyota Tacoma, with prices starting from $38,905. If you are affluent and want a Toyota, then this is the best option. With the price come additional features that you will undoubtedly love. This model has 18-inch polished wheels, a power sliding rear window with privacy glass, and a panoramic view monitor with a camera. Toyota Tacoma TRD pro
This is the best Toyota Tacoma model and the most expensive one, starting from $44,075. On top of that, Toyota Tacoma TRD has to offer; it has 16-inch wheels that are all-terrain, hoop scoop, thicker front skid plate, an off-road-oriented suspension, sunroof, and blind-spot monitor with rear cross-traffic alert. 
Specs Of The Tacoma Base Model, 2005-2015
| | |
| --- | --- |
| Horsepower | 159 |
| Torque  | 180 ft/lbs |
| Towing capacity | 3500 lbs |
| Transmission  | Rear-wheel drive  |
| Engine  | 2.7 Liter I4 |
| Price  | $26, 150 |
Pros Of Toyota Tacoma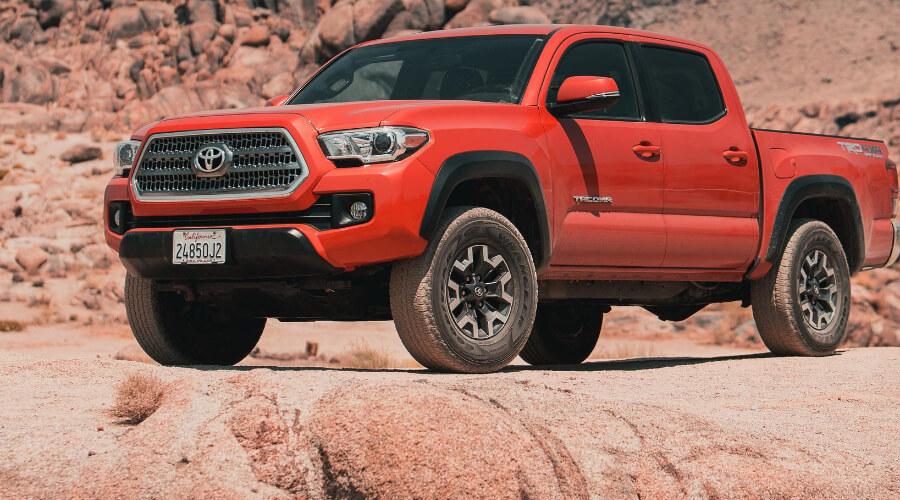 Purchasing a Toyota Tacoma is one of the best car decisions you could make, especially if you are interested in a vehicle for handling off-road adventures. Let us look at the reasons why.
1. Durable 
The Toyota Tacoma is built to last. They are to withstand any challenge they may face, and users rarely report any damage issues. This vehicle is also quite reliable, and it's unlikely that you will incur unexpected repair costs. Just take care of your car by following the recommended maintenance schedule, and it will serve you for a long time. You can use this car and last for up to 300,000 miles if well-maintained.
2. Several Options
The Toyota Tacoma comes in many styles, so you have many options to choose from. There are six models of the Toyota Tacoma and different colors, including voodoo blue. You will be spoilt for choices with his car.
3. Safe For Occupants 
When investing in a car, we all consider factors like safety. In a world where anything can happen, a bulletproof vehicle is worth investing in. It comes with other well-thought-out safety features such as a pre-collision system with pedestrian detection, lane departure alert, and dynamic radar cruise control.
4. It Holds Its Value Exceptionally Well
The Toyota Tacoma is an excellent choice if you consider getting a car that you will resell after some years of use. The vehicle holds its value well and has a high resale even after years of use. If you choose to trade in the car, you will get a good deal. A Toyota Tacoma only depreciates 29% in 5 years, compared to the average 40% of most vehicles; this is quite impressive.
5. Good For Off-Road
The Toyota Tacoma models are great for off-road. If you are one individual that loves going on off-road trips, then you should consider the Toyota Tacoma. It has several models that will be good for any road you'd like to take. For instance, the Toyota Tacoma TRD off-road and TRD Pro are incredibly rugged, and you will love them. The Crawl Control technology ensures ruggedness and comfortability even in such roads. 
Not all the Toyota Tacomas are made for off-road, though. The Toyota Tacoma TRD sport is explicitly made for the city and highways. The sporty design and street tires of this model give you the option of having a 4WD that is great for the road.
6. Panoramic View
Everyone wants a better view when driving. This car has a panoramic view monitor with four cameras ensuring you can have a 360° view. You can quickly get past obstacles without any help.
7. Entune Infotainment System
This car comes with a standard 7-inch monitor that is touchscreen. It is compatible with most systems like Apple, Android, and Alexa. You wouldn't get bored in your car with this system, and you will stay entertained the whole trip.
8. Good For Towing 
If you have a project or activity requiring you to tow your equipment, this car will give you all the confidence you need; for instance, you can tow a boat. The towing capacity of this car can get up to 6,500 lbs, except for the SR model, whose towing capacity is 3,500 lbs.
Cons Of Toyota Tacoma
Anything that has advantages must have its disadvantages because nothing is perfect. However, there are some imperfections you can look beyond. Sometimes if you want something, there are some things you can compromise. Let us have a look at some of those imperfections to see whether you can compromise them or not before you decide.
1. Limited Rear Space
The rear seats have limited space, so some people will not be completely comfortable. This is the weakness that most people complain about. If you are a small family, then this car will still be a good choice.
2. Weak Kick
The base engine of the Toyota Tacoma may not be as strong as you may want. The acceleration is slow and is rated at 159 horsepower, meaning that it is below average. If you have used a car with more significant acceleration, then you will notice this. However, to this problem, there is a solution. Upgrade to Tacoma's V6 engine and experience better acceleration at some cost.
3. Seat Pockets
The Tacoma TRD Sport has no pockets behind the seats. If you are used to a car with pockets behind the seat, this will be an inconvenience. 
4. Slow Infotainment
The 8-inch monitor is sometimes slow as it needs more time to load some features. This may especially be annoying if you are in a hurry.
5. Fuel Economy
The fuel economy of this vehicle could be better. Everyone wants to invest in something that won't be a problem to maintain. With the smaller four-cylinder engine, this car returns 20 mpg city/23 mpg highway. 
Points To Remember
1. Do your research first before settling with a specific model. You don't want to regret it after spending money.
2. Compare prices and know which price is reasonable and which one is not. A dealer may take advantage of your ignorance and sell you the car at an unreasonably high price.
3. Check for repair records for that specific car model and find out whether it is reliable or not.
4. Know how much you are willing to spend. This puts you in a budget range to know which car you can afford and which one you cannot.
Takeaway 
The Toyota Tacoma is an excellent choice if you are looking for a car that can handle both off-road trails and highways. It is powerful and convenient to drive and also has excellent resale value. The car has its downsides, like the slow infotainment system, but it still stands worth it. If the vehicle fits your needs and budget, we recommend buying it as the advantages outweigh the disadvantages.