Last Updated on January 15, 2023 by Leepu Da Maxim
In general, this type of Walmart car battery has a 3-year free replacement warranty. Also, two years of prorated replacement warranty are added to these three years. So, in the event of a malfunction, customers should come in with their car battery purchase receipt for a principal refund within the appropriate time frame. 
Key Takeaway
Walmart's EverStart car batterie warranty varies from 3 – 5 years and it depends on the specific type of battery
EverStart Plus battery comes with a 2-year free replacement warranty and in order to get the warranty you have to provide the warranty receipt
You will get a 3-year free replacement warranty for the EverStart Maxx battery but you have to provide the warranty receipt
You can claim the Walmart (EverStart) car battery warranty without a money receipt but you have to provide the warranty receipt
Walmart Car Battery Warranties With Details
Battery
Features of the Warranty


ValuePower


1-year free replacement warranty. No prorated replacement warranties. A warranty receipt is required
Free lead-acid battery recycling
Free battery testing and installation


EverStart Plus


2 years free replacement warranty
No prorated replacement warranties Warranty receipt is required
Free lead-acid battery recycling
Free battery testing and installation


EverStart Maxx


3 years free replacement warranty
2 years prorated replacement warranty.
A warranty receipt is required
Free lead-acid battery recycling
Free battery testing and installation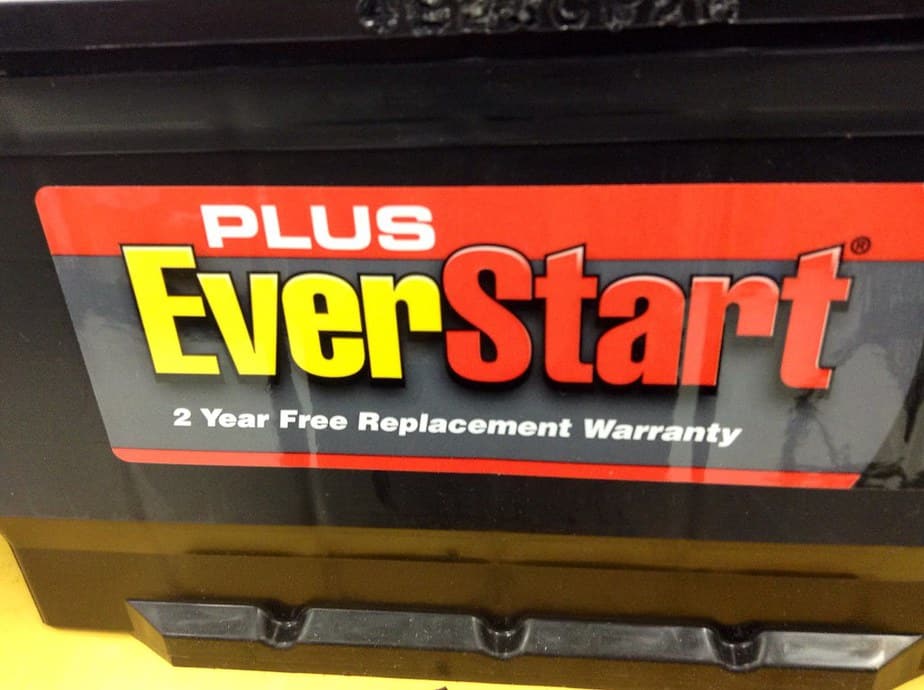 Walmart Car Battery warranty without a Receipt – Is That Possible?
Yes, you can claim the Walmart (EverStart) Car Battery warranty without a receipt.
The Walmart customer care specialist told ABC News reported that even if they have no records of the transaction, they can still help you by providing you with batteries for your car.
Walmart car battery warranties are an important part of owning a car. It's essential that you keep track of your warranty before you need it. Unfortunately, not all companies have a good system for tracking their warranties. Fortunately, Walmart has a system that can give you the information you need about your warranty in seconds without even having a receipt in your hand. Yes, you can purchase a Walmart (EverStart) Car Battery for your vehicle and still be eligible for a warranty without a receipt. The support team will look up your battery model numbers, sales date and even your Name or Address can help them look up the warranty info on their system.
If your Walmart refund or replacement is rejected because you have misplaced your receipt, please print out the following document and take it with you when you go to return or replace your product. If you cannot find this page on the official Walmart website, please call their customer service number at 1-800-890-7778.
Do I Need A Receipt For The Walmart Battery Warranty?
In most cases, it is not necessary to have a receipt for the Walmart battery warranty. When you purchase an Everstart battery from Walmart, the procedure for using the warranty is very simple. First, there is a certain warranty period that can be found in Walmart's database and requires only a few pieces of information.
Besides, the procedure is much simpler when a user decides to return to the same store where he purchased the Walmart battery. Here, the user can provide the exact date of purchase to Walmart employees. This way, Walmart employees will be able to find the receipt for you to use the battery warranty.
Of course, having some additional data can help make it easier to find the warranty receipt. To do this, the user must simply have the battery's serial number. In general, this serial number can always be viewed on the top of the Walmart battery. It is the most commonly used piece of information when users do not have a warranty receipt.
Will Walmart Take Back The Car Battery?
When users have the original packaging and sales receipt, Walmart can accept car battery changes or returns within 90 days of each purchase. Considering the price of the battery, it is possible to choose different possibilities when the customer does not have the purchase receipt. 
1. Obtain A Cash Refund: In this case, Walmart simply proceeds to refund the customer when the battery has not been used.
2. Battery Exchange: The battery exchange is done if the customer has purchased the wrong battery and it is in its original packaging. It could also be the case that the customer has purchased a battery with technical faults and defects.
3. Store Credit: Many times, customers want to return a Walmart battery and get store credit. This allows customers to purchase other products for the same value as the original battery they purchased.
Of course, new batteries are installed free of charge at Walmart Auto Care Centers. However, it is necessary to mention Walmart's auto battery warranty policy below. In principle, Walmart exclusively sells three main types of batteries that cannot be found elsewhere.
1. ValuePower
2. EverStart Plus
3. EverStart Maxx
These three batteries are lead-acid car batteries. Therefore, each of these batteries has a certain life span that is different from the others. Therefore, the warranty on each of these Walmart car batteries is not the same as the warranty on any other battery. 
Walmart Automotive Battery Warranty Policy
As we have mentioned, the three main batteries sold exclusively by Walmart offer different qualities and useful life. Similarly, the warranty on these batteries is different and should be considered before purchasing any of them. However, the Walmart website provides information about the warranty for each of these individual batteries.
Of course, returning to the same Walmart store where the purchase was made is the best way to replace a battery, or simply return the unit. That's why we must mention the specifications for each of these batteries here.
1. ValuePower: Within one year of purchase, Walmart will replace this battery for free.
2. EverStart Plus: This requires replacement within two years of purchase to be a free procedure.
3. EverStart Maxx: Free replacement can be made when made within 3 years of purchase. Additionally, two years after a prorated replacement is also required. 
How Do I Return A Walmart Car Battery?
As mentioned, to return a Walmart car battery, the unit must be in its original packaging. It also requires that the return be made within 90 days of the day of purchase. It is also possible to receive a refund with the same payment method that the customer used if the customer has a receipt.
This is how a large number of customers choose to pay for their Walmart battery in cash. So, if these customers need to return the battery, they can get the same amount of cash they spent on the purchase. Also, customers who do not have a sales receipt can choose from a variety of return methods.
One of the most common possibilities is that Walmart offers a new battery if it verifies that the first unit was defective and the customer bought the wrong battery. The second possibility is that the cash refund is made anyway, without the receipt when the amount is less than $25. Finally, if the amount exceeds $25 Walmart offers store credit.
1. Return by Mail: Mail-in returns are available when the customer uses the Walmart website to make the purchase. At other times, this method is also used when the customer does not want or cannot come to the store.
Here, each customer must verify if a postal company offers the service to securely send a car battery. It is also necessary to print the return shipping label to complete the procedure. The shipment must be made within 90 days and the battery must be sent with the original packaging to complete the procedure.
2. Battery Replacement At Walmart Stores: It is of course possible to obtain the correct battery when customers purchase an incompatible or incorrect battery depending on their vehicle.
However, Walmart Auto Care Centers sites change batteries after performing a free system check. In any case, these sites install car batteries at no additional cost. 
Is EverStart Maxx A Good Battery?
According to a large number of users, EverStart batteries, in general, can provide excellent characteristics in most cases. It is a battery that is available exclusively at Walmart stores. This means that this type of lead-acid battery is not available at other stores.
Users who use these batteries feel that they get an excellent battery life considering the cost of each unit. In other words, these batteries manage to combine excellent performance, wide availability, and balanced cost. So, people who have to make a sudden battery change can choose this option to get an affordable and reliable battery at the same time.
Also, Walmart offers free battery installation and testing. Of course, this is a great way to save some money on your entire budget. In contrast, other automotive stores often charge for the installation procedure as well. In these cases, the total budget of each user must be increased.
How Long Do EverStart Maxx Batteries Last?
In most cases, EverStart batteries can provide a minimum of 3 years and a maximum of approximately 5 years. Of course, the total life that each user can get can vary considerably depending on a variety of factors. The frequency of use of a vehicle is one of the most important factors.
The amount of electrical or electronic accessories and implements that have been included in a vehicle also plays a role. Those cars that are stored for more than 15 days without being used shorten the battery life considerably.
Anyway, users assure that it is a reliable and decent battery considering the cost of each unit. This is one of the reasons why this is a battery group that is only available exclusively at Walmart. 
References:
https://www.walmart.com/ip/EverStart-Maxx-Lead-Acid-Automotive-Battery-Group-Size-24F/28275657