Last Updated on February 15, 2023 by Leepu Da Maxim
Kia is a South-Korean brand that makes reliable and affordable cars for daily driving. Compared to similar models from competitors, Kia cars are cheaper by over a thousand bucks. Kia cars are cheap mainly because they target buyers on a budget, and their cost of production is relatively lower.
Key Takeaways
Lower production costs are one of the main reasons Kia can sell their cars at a cheaper price
Kia offers simplified options and features for their cars and it is an important reason for a low price
Kia's brand perception has always been more affordable and entry-level vehicles and it leads to lower demand for their cars
The brand value of Kia doesn't represent luxury and it helps Kia to keep their vehicle price lower
Why is Kia so Cheap?
Cheap sounds weird when describing the price of Kias because they are inexpensive, not cheap, but cheap is relative. Kia models are reasonably priced and more affordable than their competitors.
Before we get into why these cars are priced this way, it is essential to know what they cost compared to similar models for context. Let's compare the cost of popular Kia models in the USA to competitors.
| | | | |
| --- | --- | --- | --- |
| Popular Kia model | Price (MSRP) | Similar model from different brand | Price (MSRP) |
| Kia Forte 2022 | $19,090 | Honda Civic  | $21,700 |
| Kia Soul 2022 | $19,290  | Nissan Kicks | $19,700 |
| Kia Optima 2020 | $25,615 | Honda Accord | $26,120 |
| Kia Sorento 2022 | $29,590  | Toyota highlander | $35,405 |
| Kia Sportage 2022 | $24,090 | Honda CR-V | $ $26,400 |
| Kia K5 | $23,790 | Hyundai Sonata | $24,350 |
| Kia Telluride | $32,790  | Hyundai Palisade | $33,150  |
| Kia Stinger | $36,090  | Ford Mustang GT | $33,000 |
As shown in the table above, almost all Kias are cheaper than their closest competitors and similar models. This doesn't mean they are inferior because they outperform their competitors.
Now that you've seen the considerable pricing gap, let's see why Kias are cheaper and how the brand keeps its prices low.
Five reasons why Kias are cheaper 
1. To Make Up for a History of a Bad Reputation  
Reputation is crucial to the success of any business, which is true even for the automotive industry. When Kia first launched in the USA, its vehicles were reported to experience many problems.
The brand has since improved to produce reliable and excellent vehicles, but its initial reputation still impacts its image. Kia has to find a way of attracting customers who will sample their models.
There's no better way to do it than through competitive pricing. The brand ensures that its models are inexpensive and have premium features to attract buyers. This way, customers are willing to take a leap of faith and buy these vehicles to experience them.
2. They Have a Relatively Higher Depreciation Rate
Kias are inexpensive because they lose their value faster than competitor brands. According to caredge.com, Kias loses over 50% of its worth in the first five years. If you buy a Kia intending to resell it later, you may not get back half its initial price.
Compared to brands such as Toyota, which depreciates by about 30% in 5 years, this depreciation rate is relatively high. Models that depreciate fast tend to be cheaper than their counterparts, which is another reason Kias are inexpensive.
3. Low Labor Cost
The labor cost plays a significant role in determining the end product's price. The delivery cost in South Korea is 2.1% cheaper than in Japan, 28% cheaper than in Germany, and 2.5% cheaper than in the USA.
This automatically means that cars manufactured in south Korea will cost much less. Even those assembled in the USA cost less. Why? Because the bulk of the work has already been done in South Korea at low costs. This advantage of the availability of cheap labor makes Kia able to produce quality vehicles and still price them lower than their competitors.
4. They Have Cheaper Body Parts
Kia cars can cost less than their competitors because their body parts don't cost much to produce. This is possible because first, they are a subsidiary of Hyundai motor group, and their parts can be made on a large scale, thus saving on cost. Secondly, over a third of Kia parts are made of plastics and polymers, costing less than other materials.
5. Kia Has a Short Production Line and Procedure
Did you know that the average vehicle has about 300,000 parts? All these parts are assembled under well-thought-out processes. Most trusted brands use complicated techniques geared toward quality control and assurance.
The production line is long, but it delivers high-end, performance-oriented, fault-free vehicles ready for the road. For Kia, the process isn't so long, so it doesn't cost as much, and Kia can make their cars affordable.
How Does Kia Manage to Keep Prices Low?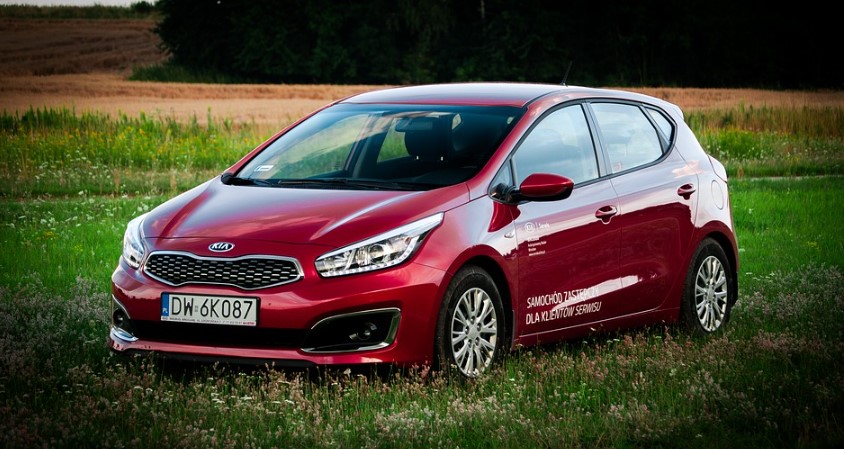 Kia vehicles are quality, reliable and well-priced. They are also affordable to maintain and repair as they have outstanding warranties. So how does kia keep its prices low? Let's find out:
They leverage cheap labor
They take advantage of large economies of scale by being part of the Hyundai motor group. They can produce or source parts at an affordable price.
They assemble their models where they are sold to cut shipping costs. For example, American Kias are built in West Point, Georgia.
They offer value for money by including lots of safety and functionality features. This ensures they make millions of sales that bring in huge profits. The high volume of sales at low cost allows them to maintain their pricing model instead of making low sales at high prices.
Benefits of Owning a Kia
Kia is a reliable and durable brand that you can get at affordable prices. The brand has various unique advantages that make it worth owning. Let's look at some of the benefits of buying a Kia.
Kia has one of the best warranty coverages on the market today. When buying a Kia, you know you will save a lot on repair and maintenance in the first five years or 60,000 miles because most of that cost is covered by a warranty. Below is a breakdown of Kia warranty details:
Five years or 60,000 miles limited basic warranty 
Ten years or 100,000 miles limited powertrain warranty
Five years or 100,000 miles limited anti-perforation warranty
Five years or 60,000 miles roadside assistance plan
Cost-effective to buy and maintain
It has a wide range of safety features, including a rear-view monitor, rear cross-traffic collision warning, lane-keeping assist, blind-spot collision warning, electronic stability control, and many more.
Reliable performance: When you buy Kia, you are guaranteed years of dependable service.
Outstanding customer service: The Kia customer service team is hands down the best in the game. They are always available to help you with any issue you might be having with your Kia.
Frequently Asked Questions
Are Kias reliable?
According to consumer reports and JD Power, Kia ranks top of the reliability ratings. You can depend on any Kia model to take you to your destination without stalling.
You are also less likely to experience any severe breakdown with Kia. There have been some issues with engines that made some models recalled, but overall, Kia is a very reliable brand.
How long do Kias last?
With proper care and maintenance, newer Kia models can last up to 200,000 miles. If you want to extend the service life of your Kia, you need to keep up with scheduled maintenance and also repair any faults as soon as they occur.
Should I buy a Kia?
If it fits your budget and needs, we recommend getting one. Kias are affordable to buy and maintain and are also quite reliable.
Final word
Kias are inexpensive because the manufacturer targets middle-income earners who want a quality and reliable ride without breaking the bank. They also have a cost advantage by being part of Hyundai Motors and producing vehicles in a country where labor costs are meager. All these factors come together to help the brand make good vehicles that are affordable for most people.
Reference 1: Why Are Kia Cars So Cheap? – Car, Truck And Vehicle How To Guides – Vehicle Freak
Reference2: Why Are Kias So Cheap? – CoPilot (copilotsearch.com)